ES short term trading 6-04
ES short term trading 6-04
Here is a composite profile that includes all this consolidation from 5-20 including Tuesdays Trade. You may remember that Tuesday closed down at 1068 which is far below that huge volume node at 1085. This also shows what happened on Wednesday and today. Wednesday closed back above the 1085 and then today they established Value higher than Wednesday.
If I was writing an
MP
book then this would be "Textbook" with that high node at 1085 and then closing and building value higher today.
With any luck we will have a nice rally from here. The simplistic view is that if this rally fails then that 1085 becomes the attractor price and back down we go.
Click image for original size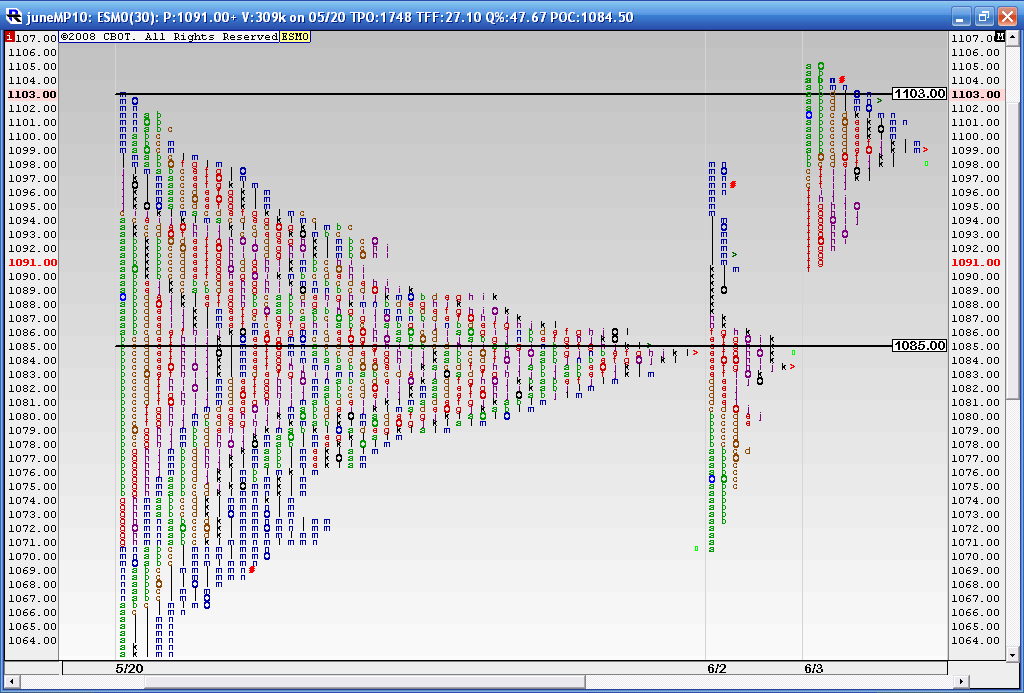 u sure did Phileo...I'd like to buy but I'm waiting to see if we get an atomic flush down into all those numbers that everybody is waiting for,,,,they always make them suffer when they get real close..
The 2:00 market has opened in the low of a 30 min
doji
formed on 2/06 can it hold.... I am long here. Posted this entry in the morning
it seems as if they do it intentionally run it back up slightly above the key numbers, that gets all those shorts out who can't hold on..then they run it down and all those who exited try and get short again.....but usually a little too late....then they bring it up from below the numbers....I'd prefer 68.75 ..or an
air pocket
with expanded range down.. to buy into
Not giving me anything...very efficient selling....
Originally posted by BruceM
it was brought to my attention that some were still a bit confused so while I'm waiting here is the first "air pocket " that formed on the lows...

On the 11:20 E.S.T bar we had a new 5 minute closing low....look to the left of that 11:20 bar , all the way back to the RTH open at 9:30....there were no other bars that traded at those prices...so when the 11:20 bar closed it left a bar that didn't overlap with all the prices of it's range...as it was new 'Ground' on the day...that is air.....virgin territory...and it gets filled in a lot with bars that come after it.....they fill in the air pocket

---------------------------------------------------


here is the other beauty from today..the 12 noon bar made a new closing low and look all the way back to the 9:30 open.....no other bars traded there.....so the only bars left to fill in that air can only come after 12 noon....this is a picture of the air pocket...again new low ground...vigin territory and a close that isn't part of any other bars range for the day...perhaps that is the key that willhelp some understand a bit..


Click image for original size



Thanks Bruce. Now my question is this. After the air was created by the second low you mention, is the air created by the first low you mentioned no longer valid? Or do both
air pockets
need to be filled?
ideal target is only 71.25...but no 68.75 print either....oh man...this may be a mistake
flat 71.50..will try again if new lows...71 - 72 is a high volume bar so a natural target