ES short term trading 6-04
ES short term trading 6-04
Here is a composite profile that includes all this consolidation from 5-20 including Tuesdays Trade. You may remember that Tuesday closed down at 1068 which is far below that huge volume node at 1085. This also shows what happened on Wednesday and today. Wednesday closed back above the 1085 and then today they established Value higher than Wednesday.
If I was writing an
MP
book then this would be "Textbook" with that high node at 1085 and then closing and building value higher today.
With any luck we will have a nice rally from here. The simplistic view is that if this rally fails then that 1085 becomes the attractor price and back down we go.
Click image for original size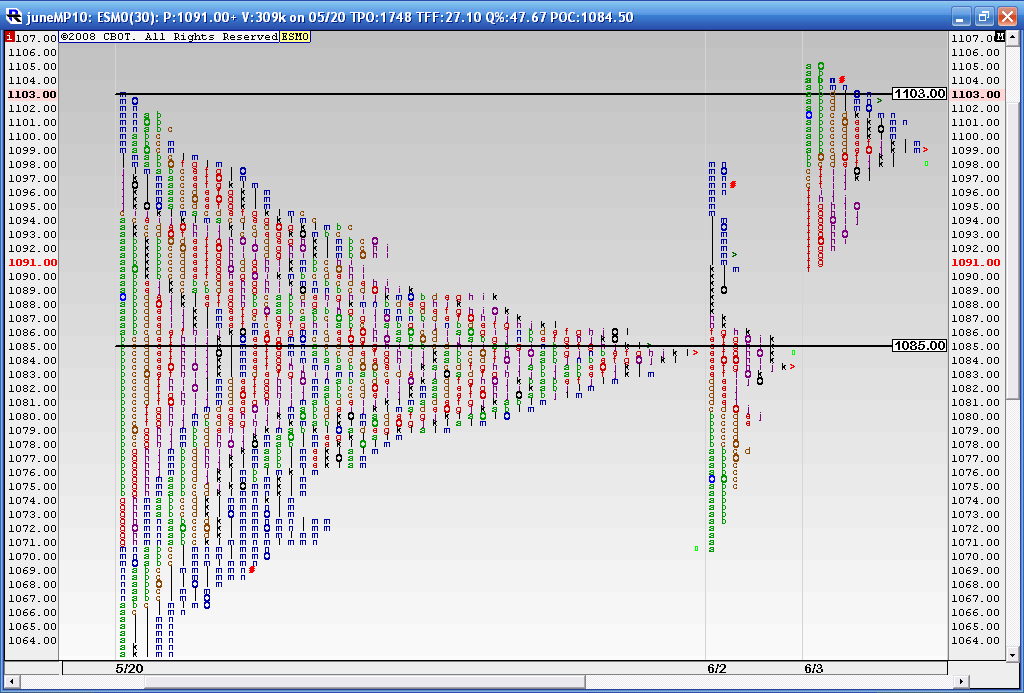 Originally posted by feng456

im out at 86.5 for a loss of 5.5 and a net gain of 0 for the week with commissions. yay.

exiting at 1082 when you had 2 chances to do so would have saved you 4.5 pts.
So I guess the issue here becomes:
is there a quantifiable condition where capital preservation becomes a higher priority than following your trading plan so relentessly rigidly.
nice hindsight. following ur advice on other days would lead to me losing out on profit and also possibly taking a loss. serioulsy there's a reason for discipline.
Originally posted by feng456

nice hindsight. following ur advice on other days would lead to me losing out on profit and also possibly taking a loss. serioulsy there's a reason for discipline.

I apologize if my previous post came across as an attack, please understand that I'm not trying to criticize what you did at all, I know i should be the last person on earth to criticize anyone.
you know i've been following your hybrid
gap
fade
strategy with interest. I guess what i'm trying to say is, is there any modification that you can make to your trading plan which will minimize losses like today in particular?
I am interested in helping to improve your hybrid
gap
fade
strategy, because I think there is enough potential there that I may even use it myself..... Based on my stats that I've collected for the past 4months, over 72% of all
gaps
fill. The challenge is to minimize the losses from the 28% of the ones that don't.
yeah i
gap
faded for a while and for a while it was really profitable but i found from march to may, my particular strategy first became barely profitable (like 4 points a month or something) to severely negative for May.
i am just really frustrated right now because despite the hours of hard work analysing and ****, despite following my plan with discipline, i just lost an entire week's work. again! it's been months since ive made any gains (jan was my last positive month) and i am beyond frustrated at this. im getting old here ffs. time isnt gonna stop because i cant make **** happen. seriously i duno wtf im doing wrong. thats why i made the thread about my trading plan.
right now the thing i do is based on 1 month of backtesting really. i have no idea if that's enough but the months before that were really different in volatility so they are kinda skewed. from what im getting i think im on right track? i really dont know...i just know it's been the same old losing money or no making any for the past half a year and im ****ing tired of it.
well, I think we are headed to 1070, unfortunately, I just don't know where to get in for the elevator ride down.
Today's avg range is 33pts. Avg. range for past 5 sessions is 28.8pts. today's
RTH
range is 14pts.
I think 1074 may be the
LoD
, what does everyone think?
phileo, I keep track of average (5 day)
RTH
range and that average is 21.40 for today, so on average, price range
RTH
has not hit average.