ES short term trading 6-25-10
ES short term trading 6-25-10
Here's the chart of what I'm seeing:
Click image for original size
Here are the numbers I will be watching for potential trades:
1065.5 - 1066.5: Yesterday's Lo and
O/N
Lo
1069.5-70.5: Yesterday's
VPOC
and close
1075-76: daily
PP
,
O/N
hi, and
POC
1079-1081: that hugh composite
HVN
, prior daily hi, and yesterday's swing hi
O/N
action has been consolidating sideways, no bias, and trying to build a base around yesterday's close. Price is currently below yesterday's
value area
, which suggests looking for shorts near 1075. However, with 4 days of selling, we are overdue for a bounce. I will be looking for a rally in the afternoon.
Here's a 30-min. chart of this week:
Click image for original size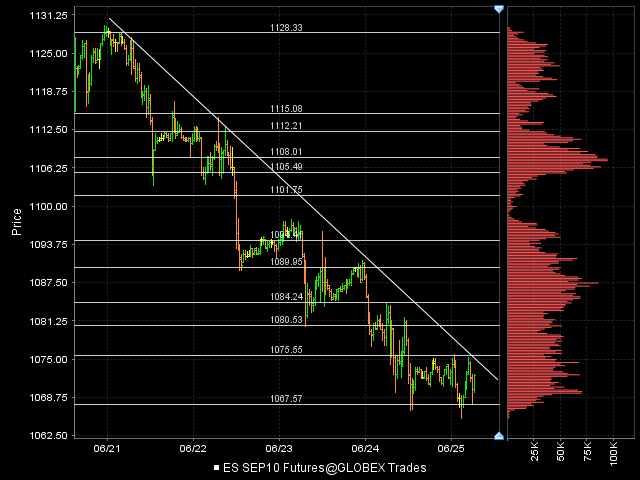 PreMarket is actually starting to trend up.
The only thing that bothers me is that yesterday we had an unfilled
gap
down. If we don't get back to 1070 in the
RTH
, then that would be a 2nd consecutive unfilled
gap
, which has not happened since May 4/10, which happened to mark the top.
Just covered 1070.50...like takin candy from a bunch of rich babies... now maybe i'll have time to throw up the one min chart so you can see why! lol
Sure looks like the market is ready for a day of gains.
in phileo's 30min chart, descending trendline is obvious.
Potential reversal pattern that could take place has many names, all refer to same style
PA
(Trader Vic 1-2-3 bullish reversal pattern possible)
WHat could happen:
Price breaks above declining trendline, retraces alittle, stays above trendline and then goes UP past intermediate high.
O/N
market has tipped hand for the signficance Support at 65 and resistance at 75.
75 also critical as most recent resistance obvious in 5 min 24hour prices. there have been 3 earnest attempts to move above it, all thwarted. next attempt at 75 (if it happens) would be the 4th attempt to break resistance.
I have saying, 4 is the door it either opens up or closes down.
iniitial break has to get past 75 and then find buying support in 75 area.
we're below the
POC
, below the
VAL
, below the opening price, and now below yesterday's close.
sell sequence 4pts, but +ve
TICk
only caused a 3pt bounce.
I think sellers are still in control until the chart shows otherwise.