ES short term trading 6-29-10
ES short term trading 6-29-10
LOL well, i going to start out with a big essay on why i thought we'd see a surprisingly large down move today but the market has frontrunned me again!....
Click image for original size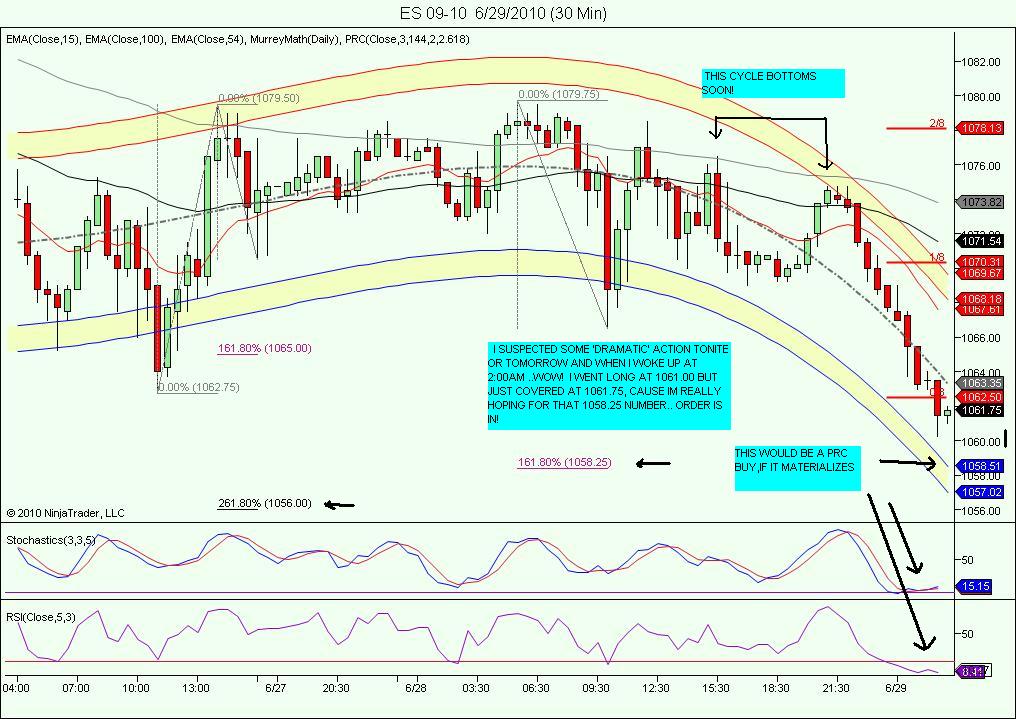 GOT KILLED STOPPED
AT
1048.00..still up but 2 whole
ticks
!...sheese.. heres what to watch....
Click image for original size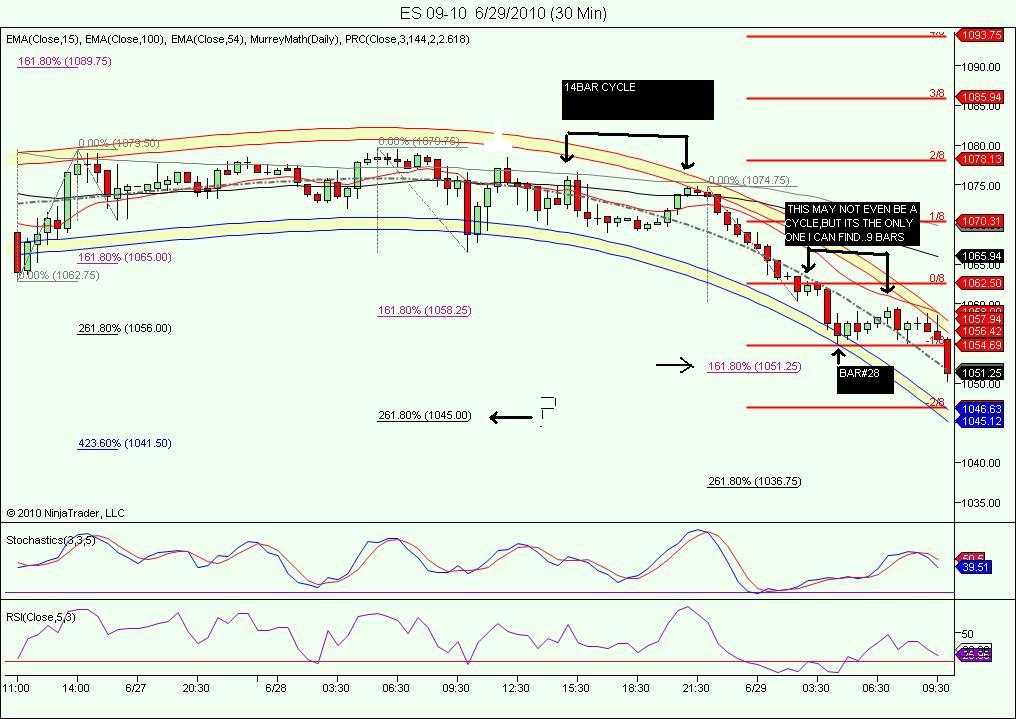 wow...just in time.....awesome ...but runners stopped out..trying again and small form 42.50
have two runners left for 50 even and 57.50 ...LOL...u never know...anyway ...no good place for stop as we have the hour range completeing soon...and they might still run the lows again...
I stand back everytime I see price open BELOW S2 (1059, open today was 1055.50) so I'm off to do errands.
flush lower to 1042 print coincided with announcement of big drop in consumer confidence. down to 52.9 from 62.7 in May
Maybe that was a short-term flush
today, any rise that comes short of today's
gap
and then starts to fail can produce another leg lower.
If there is a morning
DB
(new intraday Low 11am-12am and a rise that still can't get above today's open, then after 3:20, sometimes, if longs give up hope for
gap
fill, can have final leg lower into the close (like a capitulation sell (sometimes))
good luck to all. I have already paid my tuition for days that open below S2 and break down. The lesson I learned was go away, emotional
PA
.
If price had gapped down to open below S2 and then had put in up bar up bar up bar (5min), a move to fill can unfold, but it didn't. action today can be reactionary.
Potential short-term struggle for intraday upside in place as today's 5 day average of Low versus Open calcs to 1042.15, and that is a natural bounce point.
5 day average of H versus open calcs to 1059.45 today.
range expansion in place, High for the
RTH
session so far is 55.75, which is 3.70 shy of 5 day average of H versus OPen, if that level (55.75) is not exceeded, then extension of 3.70 BELOW calculated L versus OPen might unfold for 1) secondary Low pre-noon, or undercut existing Low late in day,
1042.15 - 3.70 = 1038.45
if they run the lows I will get stopped and look for longs again..under there....somewhere!!! hopefully a good volume push
LOL.. I know what you mean Bruce... if i had the guts to hold on my 1074.25 short from last nite id be rich! But thats ok, i'll take my nickles and dimes as long as im taking and not giving. Fwiw, after abottom here or more likely soon tomorrow the gann day today was supposed to be a low, and longer term i expect a rebound into friday, giving bulls false hope, but we;ll see. God,
if only i could have gotten that 1048.00 short(i think the market stalled at 1047.25 or .50 ) i would have held for at least 41. That would have been sweet, but i guess theres always tomorrow!