ES Short Term Trading 7/14/10
ES Short Term Trading 7/14/10
Mornin,
If there's another thread please let me know.
Here's a chart for you Bruce from your ah inquiry. Will post info for it later.
Click image for original size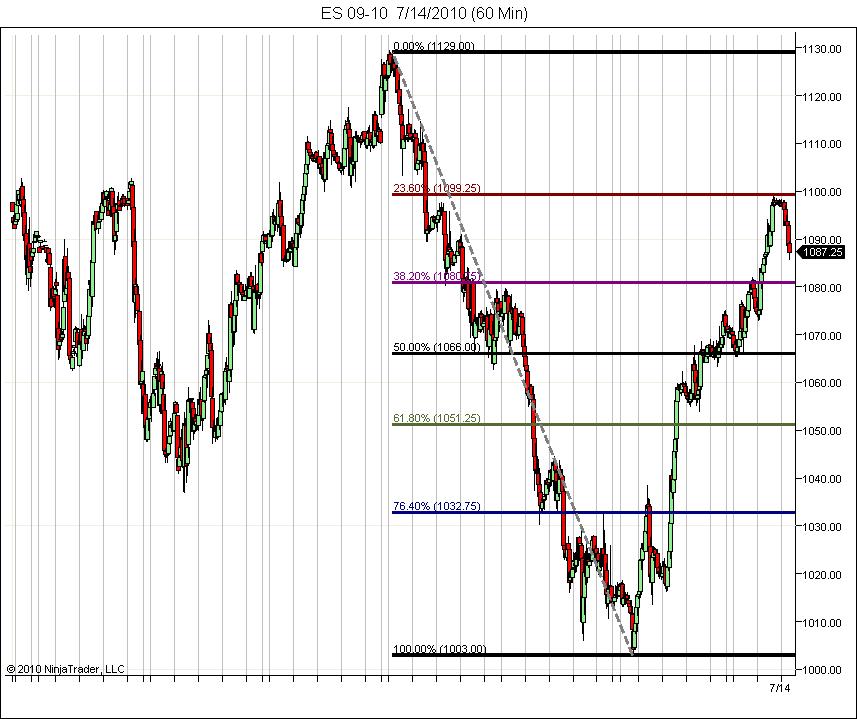 My crude charts are screwing up! So untill i can get it rectified, im dabbling in the es.... lot of catching up to do tho...tried to take one off at 1093.25..hit but no fill! Will hold the other if lucky for a bit longer
Little longer term, i think the prefered strategy this afternoon is likely to be short... at least according to the 30 min chart.. so longs need to be cautious here!
Ideally we want to see a close below the
single prints
on the 30 minute but just knowing that two 30 minute periods traded in there reduces the effectiveness as a buying zone... so now we have lots of time spent below the low of the high 30 minute bar and the
single prints
got filled in....so it will probably take a lot of new buyers to get a rally going...
we still haven't printed the 60 minute high again.....so that is the only concern.....we need it to get back in that range and soon...
only trade above 94.25 will start me to think that my short bias is in question...that is a low range bar up there!!
still stuck inside yesterdays range...I think if we can get some volume and hold above 94.25 then 97.50 and higher is coming even up into 1101....but until that happens I'm leaning short for the 89 - 90 tests and further thinking they want the 50% test on a consolidationday
I only have it as the 9th trading day of the month.....the big kahuna...the big bopper of buyers should be here today.....!!

Welcome back Kool...glad crude is messed up for the selfish reason that you can hang with us...!!!
Kool on your projection up from the 84.5 low, why did you use the 3rd bar which did not make a lower low. Are u now using a bar that does not make a higher high?
Thanks David...you showed confluence of two differt Fib lines at 92...so what would make you actually take a trde long off those ? Or what would make you reverse to short below it....?

I'm trying to get a grip on how you incorporate the ideas like I asked about last week so I can understand your methods better

when u have time...no rush


HERe is our hour high test..!
Excellant question , Rburns.. i just felt that looked most likely for the 'initial move off of the low! I think it was easier to see on the one min chart and that influenced my target of 1095.75 and hence my short (which i wish i still had!..lol)
ideal would be to have the 2
PM
bar (30 minute) close below the
single prints
that filled in and the hour high!!
in that case Rburns it was the one minute volume spikes !!!If I had my I r/t up at that time it would have helped refine it a bit...but look at all one minute volume spikes begining with the open spike..!all the major ones came in the same zone today....so 87 - 89 is still critical!