ES short term trading 7-27-10
ES short term trading 7-27-10
All numbers below Mondays low remain the same but on my radar are
1115 - 1116
Value area high
of the composite I'm watching - Ideal to sell above there on a
gap
higher in
RTH
or in
O/N
if you dare..
1108- 1109
- peak volume of composite and now todays session
1104.50 _ Ledge but I think they may get that in
O/N session
1101 - 1102.50
The breakout point and
single prints
We've had two large closing
$ticks
recently.
Most will look at today as a trend day....I don't, but still like a sell the rally mentality. Third up day in a row..
I think they will want to test 1000 and even down into the mid 80's as per the weekly pivot....Volume lower the last two days as per my I/rt data.. My bias is short for
RTH
ESPECIALLY if we
gap
higher. A
gap
lower will need to wait and sell a first strong rally up with high
$ticks
.
Snapshot of the 2:30pm close. Still unable to close above
VWAP
.
Click image for original size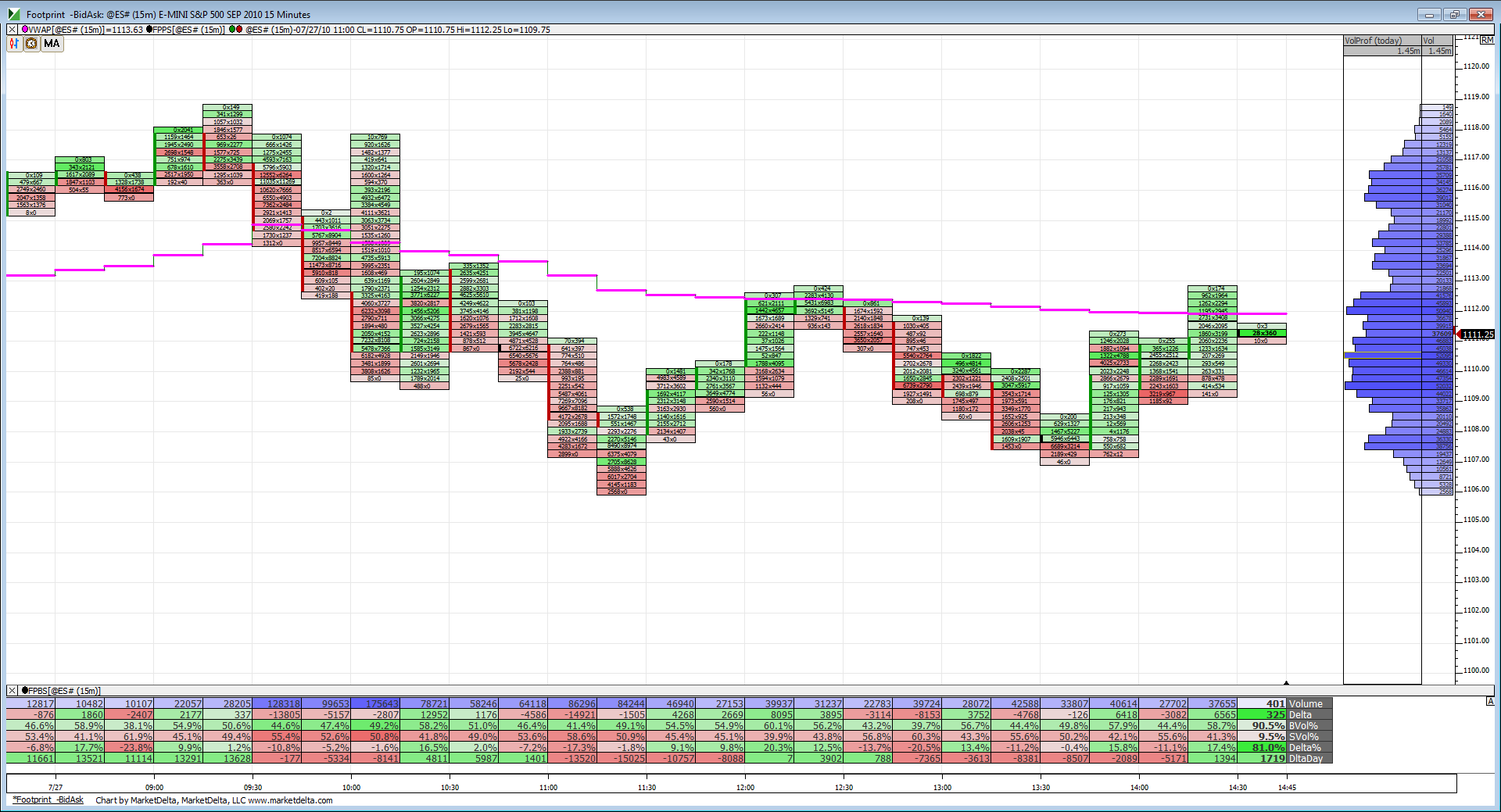 F ing
IB
!!!!!!!!!
System prb reject 1111.25 sell
damn look at it fall
good for you bruce.
taking 3 off at 10.75 as that was initial entry...holding three...want those
trips
still..so far they did want I wanted.....the trip run will make it perfect...don't want to see 13 again...new ledge up there again...lets see if
trips
have any pull...
no more
fades
for me..this will either get the
trips
or will stop at B/e.....odds increase for a run for new value...but which way is a toss up still
Originally posted by BruceM

not thrilled with that 30 minute high as it matches another 30 minute 12.75 price...they gonna run that out I think so I couldn't add...yet!!

nice call Bruce....
the composite area has a high near 1115.50...today they tried to break out above only to accept price below that for most of the day...if any of that is true then they may try to run it to the other side of that
VA
which would be down near 1102.50...so this is a big ASS- umption...and that run would hopefully come tomorrow...
I need reasons that are repeatable over time......NOBODY should be "listening" to anybody on here unless you have seen the calls work out and you know WHY over time!!!....no offense but that has no meaning for me...
Originally posted by blue

get out bruce going back up

Funny thing ... after reading this post, I'd planned on watching it. Then I roll over to my girlfriend's place for the evening and the first thing she tells me is that she wants to watch a Tony Robbins show coming on tonight.
Btw, there's a really cool presentation he gave that's on TED online. I'm not much into the self-help books/gurus/arena ... because I'm beyond help. My degree in Psych confirmed that to me. But I really got a kick out of the vid of Tony on the TED site ... he rocked the house. Here's the TED link of the video for anyone interested:
http://www.ted.com/talks/tony_robbins_asks_why_we_do_what_we_do.html
Originally posted by BruceM

Thanks.....one of my mentors from the late 80's and early 90's is on TV with his own show tonight......Tony Robbins....doesn't matter if you like him or not....I'm sure he'll have a few "choice words" that may inspire you to improve your life or inspire you to take action at improving your life in some way...perhaps it will only motivate you to get going in some new direction....

Reality TV on NBC at 8 PM est....