Es short term trading 7-29-10
Es short term trading 7-29-10
Numbers I'm using on Thursday
1115.25 -1117
1108 - 1110 *********
1096
1089 - 1091
1082 - 1084
let see if the reports and
O/N
can help refine these a bit
just an FYI ...when tips fail they run it 8 - 10 points...so the
triple
failure will try for weekly PV near 84 - 85!!
Stepping aside and not trading now.......too confused here now...
If this HR candle closes below 1090, I could see 1078-1080 being reached as it's the next support area to be tested.
Bruce, you were wondering about fibs up higher... I don't have anything there but 89.5 is 50% of
RTH
move from 60.75 - 117.75, we hadn't had any retrace from 60.75 until now
Here is the action so far on a footprint chart. Notice prices falling through
VWAP
at 10:00 and never regaining it. Also notice the absence of volume in the middle of the range. Prices seem to be working to fill this area and on a course to hit
VWAP
again?
Click image for original size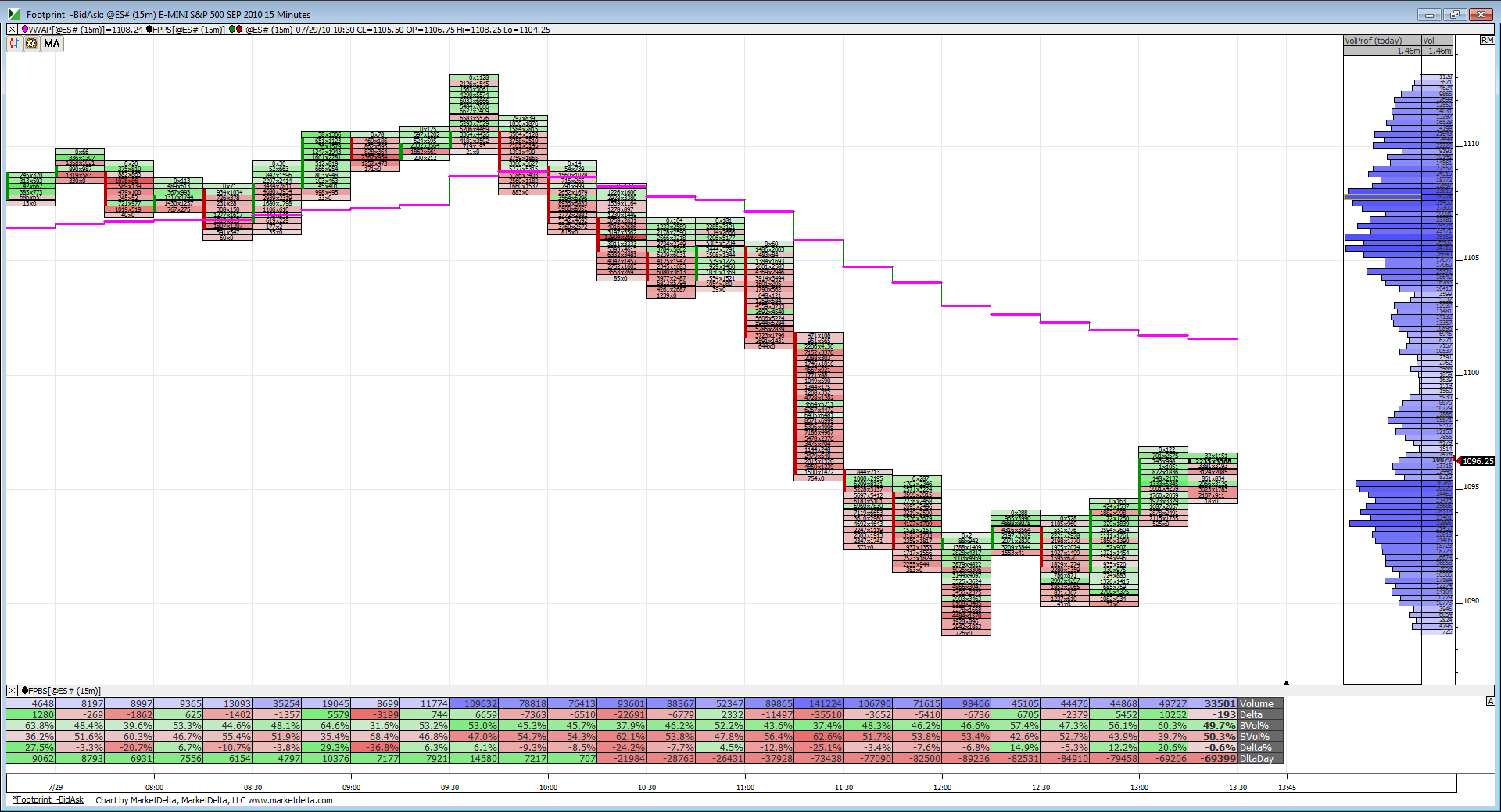 look at that 12:30 low range bar..15 minute...I was hoping to get below that to take the short for those
trips
at 90...will start thinking aboutthem if we get down near 2nd low range bar near 95
If Phileo where here I think he'd be telling us how the
$ticks
have changed over to buyers at around 1 pm or so...not sure....1102.50 is the
VA low
of the composite!! I want to try shorts up here...but a bad time...
Have done nothing since this mornings trade....I missed that 95
triple
and kicking self because there was also a
gap
there that I didn't notice.....I would have taken it if I saw the
gap
..."woulda, coulda , shoulda" doesn't make any money...
the
triples
that held at 90 got their 8 - 10 point objective too...just an FYI on that
Did anyone read about the
CSCO
halt. Appears the liquidity at the top of the book exhausted and some trades higher were questioned, but eventually let to stand.
CSCO
ended the day near the low if my screen correct. I'm not sure but the first release I read came about the time of the low today.
Another funny thing today.
GS
seemed to be the only bullish bank stock I watch. Read several that think it's going higher than today. I don't care but thought it interesting how it acted. Read there is a lockup period after earnings and that's why it's down recently? I'll watch it
AM
. Any red and it's a warning to me.
I bring these two things up because in the context of Friday, it might matter.
Did you note how the selling pressure lifted at the Europe close but the initial reaction was less than fast? End of month might not matter if they're selling prior to their August holiday period.Will be interesting to see
AM
before they close tomorrow.
I mention these things as anomolies. I defer to a chart but recognize what I consider could be manipulation, if one believes in such fantasies.
Some fed gov said today he's against anymore monetary support for the economy and the fed has done a good job. Sounds like a nail to me. Hope it's not the last?