ES Short Term Trading 8-3-2010
ES Short Term Trading 8-3-2010
02-Aug
1124.25
1110.25

possible highs for the 3rd:

1110.50
1110.75
1111.00
1111.25
1111.50
1111.75
1112.00
1112.25
1112.50
1112.75
1113.00
1113.25
1113.50
1113.75
1114.00
1114.25
1114.50
1114.75
1115.00
1115.25
1115.50
1115.75
1116.00
1116.25
1116.50
1116.75
1117.00
1117.25
1117.50
1117.75
1118.00
1118.25
1118.50
1118.75
1119.00
1119.25
1119.50
1119.75
1120.00
1120.25
1120.50
1120.75
1121.00
1121.25
1121.50
1121.75
1122.00
1122.25
1122.50
1122.75
1123.00
1123.25
1123.50
1123.75
1124.00
1124.25
1124.50
1124.75
1125.00
1125.25
1125.50
1125.75
1126.00
1126.25
1126.50
1126.75
1127.00
1127.25
1127.50
1127.75
1128.00
1128.25
1128.50
1128.75
1129.00
1129.25
1129.50
1129.75
1130.00
1130.25
1130.50
1130.75
1131.00
1131.25
1131.50
1131.75
1132.00
1132.25
1132.50
1132.75
1133.00
1133.25
1133.50
1133.75
1134.00
1134.25
1134.50
1134.75
1135.00
1135.25
1135.50
1135.75
1136.00
1136.25
1136.50
1136.75
1137.00
1137.25
1137.50
1137.75
1138.00
1138.25
1138.50
1138.75
1139.00
1139.25
1139.50
1139.75
1140.00
1140.25
1140.50
1140.75
1141.00
1141.25
1141.50
1141.75
1142.00
1142.25
1142.50
1142.75
1143.00
1143.25
1143.50
1143.75
1144.00
1144.25
1144.50
1144.75
1145.00
so far we are consolidating UNDER the 17.75 and we are filling in the
single prints
from YD...not a great thing to do if you are bullish..so sellers are taking over and we should think like them now...agressive if you sell new lows..
all markets filled in their singles.....so I think they want YD lows and much further only trade above 17.75 really changes that now!!
Damn..I forgot about an area I mentioned YD....look at this
low volume
on Hsitogram and how smart buyers stepped in..sloppy on my part...but we still need to get above 17.75...
Click image for original size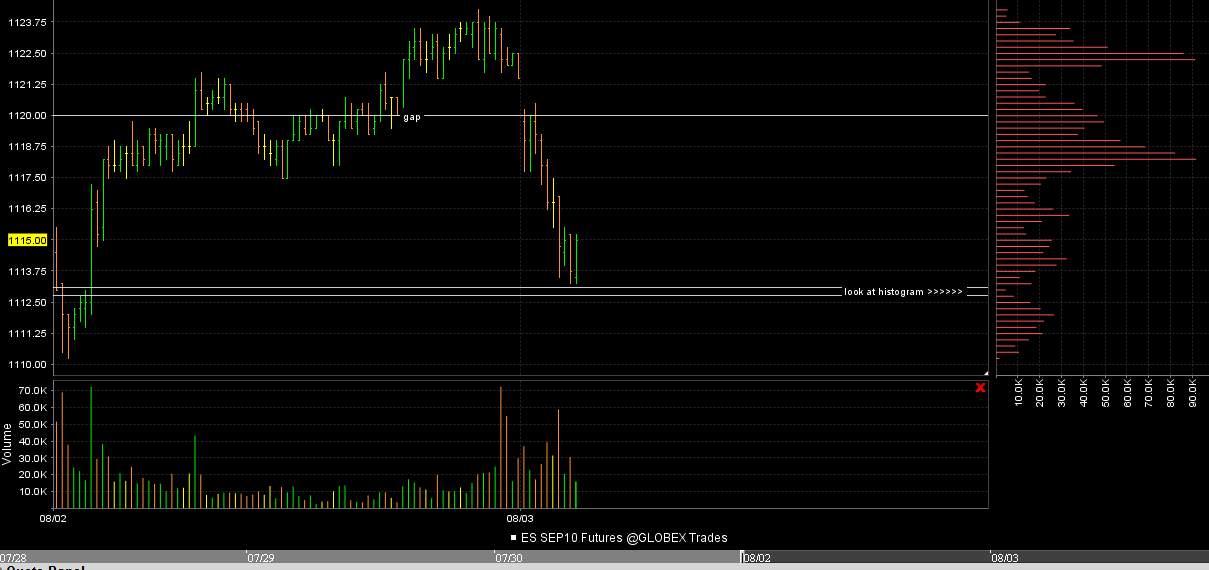 Today's OR:




      OR     5min     15min    30min    60min



      High   1120.25  1120.50  1120.50  1120.50



      Low    1117.75  1117.75  1115.50  1113.25



      Range  2.5pts   2.75pts  5pts     7.25pts




Is 1120.50 going to be the
HOD
today???
short 17.25...will monitor the 11 am close and if we are above 17.75 at that time I will exit...expecting some consolidatin in the 15.50 - 17.75 area just not completely convinced STRONG buyers are stepping back in ..Initiating in hours range and YD range leads me to draw one conclusion and that is this:


I'm a bit off this week so far..
reshorting small at 19.50 for the 17.75 retest..in the back of my mind is the
gap
, the hour high and YD high...will
add
up at 23 if 22 if needed
The reason that we are here is to learn more from each other. The quality of discussion on this forum is exceptionally high when compared to other trading forums.
Getting into arguments in cyberspace is a losing battle. You will never win and all parties will leave upset and frustrated.
Let's follow the popular sentiment already expressed and put this behind us and move on.
We all want to learn more and be more profitable and fighting works directly against that.
I frequently receive
PM
's from site members when this sort of thing happens. If you have any concerns that you don't want to post in public then feel free to
PM
me.