ES Short Term Trading 8-3-2010
ES Short Term Trading 8-3-2010
02-Aug
1124.25
1110.25

possible highs for the 3rd:

1110.50
1110.75
1111.00
1111.25
1111.50
1111.75
1112.00
1112.25
1112.50
1112.75
1113.00
1113.25
1113.50
1113.75
1114.00
1114.25
1114.50
1114.75
1115.00
1115.25
1115.50
1115.75
1116.00
1116.25
1116.50
1116.75
1117.00
1117.25
1117.50
1117.75
1118.00
1118.25
1118.50
1118.75
1119.00
1119.25
1119.50
1119.75
1120.00
1120.25
1120.50
1120.75
1121.00
1121.25
1121.50
1121.75
1122.00
1122.25
1122.50
1122.75
1123.00
1123.25
1123.50
1123.75
1124.00
1124.25
1124.50
1124.75
1125.00
1125.25
1125.50
1125.75
1126.00
1126.25
1126.50
1126.75
1127.00
1127.25
1127.50
1127.75
1128.00
1128.25
1128.50
1128.75
1129.00
1129.25
1129.50
1129.75
1130.00
1130.25
1130.50
1130.75
1131.00
1131.25
1131.50
1131.75
1132.00
1132.25
1132.50
1132.75
1133.00
1133.25
1133.50
1133.75
1134.00
1134.25
1134.50
1134.75
1135.00
1135.25
1135.50
1135.75
1136.00
1136.25
1136.50
1136.75
1137.00
1137.25
1137.50
1137.75
1138.00
1138.25
1138.50
1138.75
1139.00
1139.25
1139.50
1139.75
1140.00
1140.25
1140.50
1140.75
1141.00
1141.25
1141.50
1141.75
1142.00
1142.25
1142.50
1142.75
1143.00
1143.25
1143.50
1143.75
1144.00
1144.25
1144.50
1144.75
1145.00
I'm not sure I know what question you are refering to ...I think it was Kool who thought you used his method...I wasn't sure what method you used to get your 1124.24 - 1125.75 zone...so I asked!!
I certainly hope you are not asking me to post trades because that would imply that you don't read the day trading threads or some of my posts over the YEARS.......get back to me an we'll straighten this out...If I owe you an apology then you will get an apology but I'm not really sure what you are asking with this post.
If you want a specific projection in the middle of the day then I suggest you ask Kool for one....beyond the
ratchets
and having specific chart points for targets ( hour highs and lows,
triples
, ledges ,
gaps
etc)I'm fairly lame with projections... why do you want a projection from me?
I could give you projections now based on the
RATs
....and you could have used these this morning...here they are
1125...that is a
Rat
...it missed by 3
ticks
and you had that number since the begining of TIME......every 6.25 points....I told you all about the 1118 number this morning...what is 1118.50....a
rat
!! Like anything else, you need to find things that YOU can use...I don't talk about the
rats
as much because there doesn't seem that much interest...which is ok by me..just a guide anyway..
A
Originally posted by blue

Hi Bruce,

The more I think about your question the more rude it seems - though I'm sure (hopefully) that you didn't mean it.

Your question implied that:
1. I was too stupid to pick a trade to within 1.50pts on my own
and
2. that I was intellectually dishonest enough to do so.

When you look at the enormous numbers of possible highs that K posted it seems to me that it is stupid to imply that I could have, if I had chosen to, guess which of the 30 odd choices was the number.

So now that you have insulted me in the forum, perhaps tomorrow around the middle of the day you will shift through the copious choices of k and post a trade from them.

Either up to (x to x+1.50)
OR
down to (y to y-1.50) as I did.

No evasion now Bruce.
Read K's post and come up with one clear trade.

Blue is a plagerist at the very least, but most certainly a complete idiot ! i dont remember any calls of his except after those stated by others... good riddance asshole!
Yesterday's Low was the Low of 15 min OR
Unfilled
Gaps
so Far: 7/22: 1064 to 1078.25
8/2 : 1100.25 to 1110.25
The overnight tested the ledge and the
single prints
and so far is holding. We are consolidating the gains above the 1117.75 breakout point. So that in theory should be good for long continuation.
We certainly donot want to start getting 30 minute closes below the begining of the
single prints
so the 15.50 - 1117.75 arear will be the one to watch for support. If we start failing there then they will try to get down to the 1108 area nd then the 1100 area.
Because of the big move in Sundays
O/N
and the first hour of Mondays trade we are a bit extended so selling the rallies, especially above YD highs may still be a good idea. I'm not expecting a trend day today. YD wasn't a trend day as we consolidated for over 4 hours and such a big part of the move came from the
O/N session
.
The best sells will come above the 1130 - 1132 area if it goes up there quick. Reports at 10 a.m. A very tight
O/N
range so as usual we will monitor those extremes and the peak volume at the
gap
area from YD at 1220!
Air pockets
should work well today so that is my key plan in early trade.
Lots of fluff in this post but the first paragraph is most important.
Here is a look at the consolidation Bruce just pointed out. Coiling around
VWAP
. Will need volume to sustain a move away from
VWAP
.
Click image for original size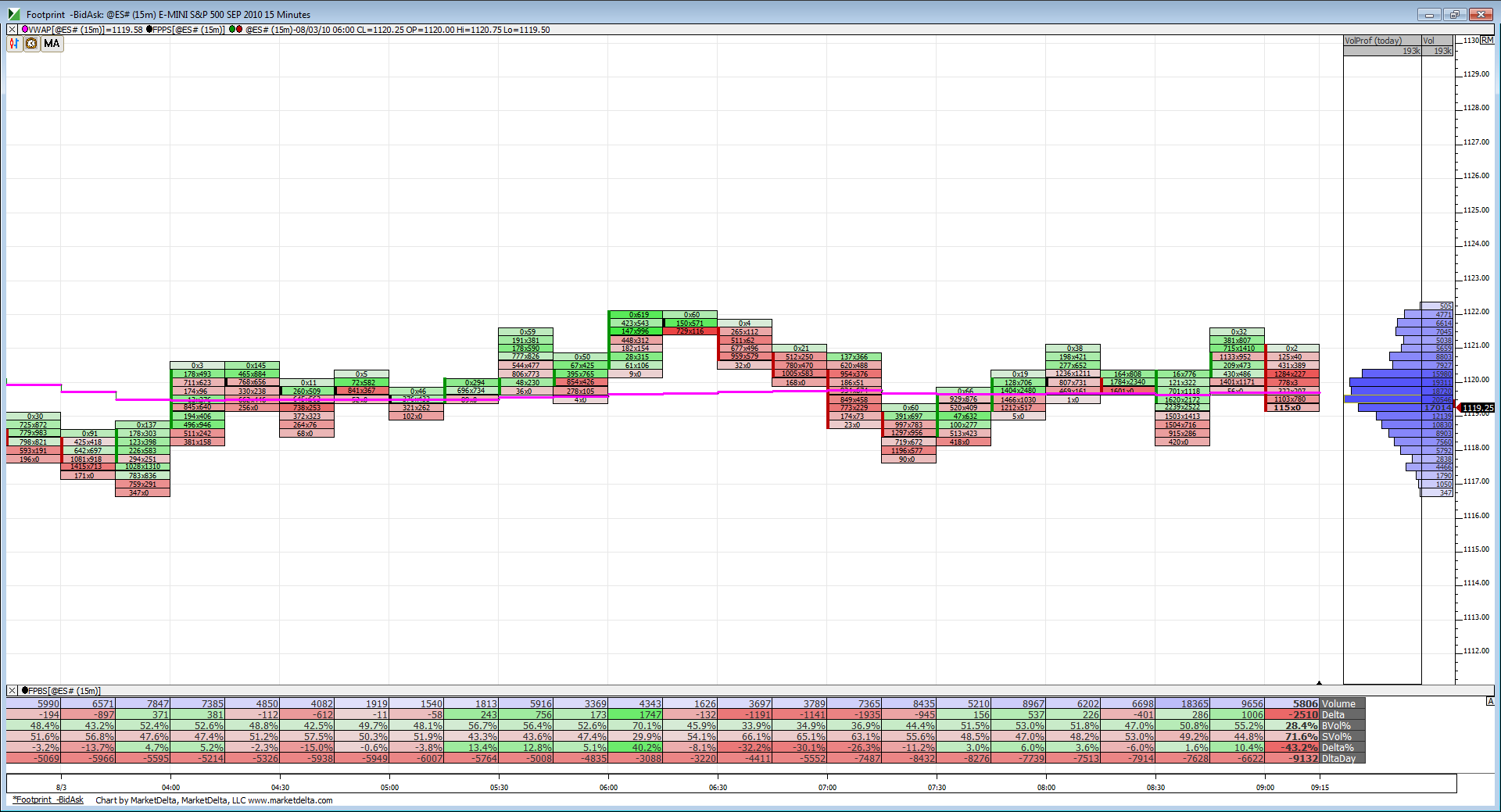 lots of babble in my last post....so while I like to sell rallies, my core idea is looking for that support area to hold to trade above YD highs.......we may need some more time to consolidte and fill up the "P" profile from YD as that looks incomplete ..you can see that on the
MP
thread
I'm long 19.25..looking for
gap
fill BUT key longs will be if we drop down below the 17 area first today...in
RTh
1121.44 the 50% level for the
S&P
I have the 1107.5 as that for the futures. Just noting my
divergence
as I've only just started trading futures a few months ago and don't know if significant??
Watching 1115 for a possible am low if it goes down that far. That would match this last leg, if up?, to 1145 if equidistant? If it doesn't decline to there and it ramps, move it higher from the low(approx 30 pts).
Losing the 50% retrace would not be good here since a wave C can be complete already for the
ABC
upward wave from the low of last month. It can remain in the 50% indecision area, but not forever.
The problem here is that the 1129 previous high has not been eliminated. My targets today are targets, and that's all.
If it declines and continues,1107.5, 1102,1088,1065???
I'll be wary if high stalls 1132/3 without new low from
O/N session
.
The reason that we are here is to learn more from each other. The quality of discussion on this forum is exceptionally high when compared to other trading forums.
Getting into arguments in cyberspace is a losing battle. You will never win and all parties will leave upset and frustrated.
Let's follow the popular sentiment already expressed and put this behind us and move on.
We all want to learn more and be more profitable and fighting works directly against that.
I frequently receive
PM
's from site members when this sort of thing happens. If you have any concerns that you don't want to post in public then feel free to
PM
me.