ES Short Term Trading 8-3-2010
ES Short Term Trading 8-3-2010
02-Aug
1124.25
1110.25

possible highs for the 3rd:

1110.50
1110.75
1111.00
1111.25
1111.50
1111.75
1112.00
1112.25
1112.50
1112.75
1113.00
1113.25
1113.50
1113.75
1114.00
1114.25
1114.50
1114.75
1115.00
1115.25
1115.50
1115.75
1116.00
1116.25
1116.50
1116.75
1117.00
1117.25
1117.50
1117.75
1118.00
1118.25
1118.50
1118.75
1119.00
1119.25
1119.50
1119.75
1120.00
1120.25
1120.50
1120.75
1121.00
1121.25
1121.50
1121.75
1122.00
1122.25
1122.50
1122.75
1123.00
1123.25
1123.50
1123.75
1124.00
1124.25
1124.50
1124.75
1125.00
1125.25
1125.50
1125.75
1126.00
1126.25
1126.50
1126.75
1127.00
1127.25
1127.50
1127.75
1128.00
1128.25
1128.50
1128.75
1129.00
1129.25
1129.50
1129.75
1130.00
1130.25
1130.50
1130.75
1131.00
1131.25
1131.50
1131.75
1132.00
1132.25
1132.50
1132.75
1133.00
1133.25
1133.50
1133.75
1134.00
1134.25
1134.50
1134.75
1135.00
1135.25
1135.50
1135.75
1136.00
1136.25
1136.50
1136.75
1137.00
1137.25
1137.50
1137.75
1138.00
1138.25
1138.50
1138.75
1139.00
1139.25
1139.50
1139.75
1140.00
1140.25
1140.50
1140.75
1141.00
1141.25
1141.50
1141.75
1142.00
1142.25
1142.50
1142.75
1143.00
1143.25
1143.50
1143.75
1144.00
1144.25
1144.50
1144.75
1145.00
that 22.25 was the peak volume from yesterday and many times the 4
PM
close creates that. It is often a much better reference point then the 4:15 close due to the VOLUME surges there
Hey Koolio,
I wouldn't let what happened last night turn you off.....so many here value your work and effort.....Lets not focus on just the one person who has some challenges with us. Lets focus on the light!!!
so ends today's pleas and words of wisdom.....
This 19 has shown lots of interest...especially if you create a zone at 19 - 20 and what happened in the
O/N session
so if we can't maintain above
O/N
highs we will drift back to the middle...like they are trying to do now
last short covered at 16.50...sure wish I had more.....somebody besides me liked that 17.75 swing high point on the dailies
On my 30 minute charts I have
Naked POC
per volum edown at 14.50 from today and 12.50 FROM YESTERDAY...ON THE UPSIDE THERE is one at 21.75..Odds favor the 14 and 12 test down here as we are so close
here is what a naked 30 minute
POC
chart looks like from the past two day so far....the untouched Red lines are the
POC
from 30 minute trade
Click image for original size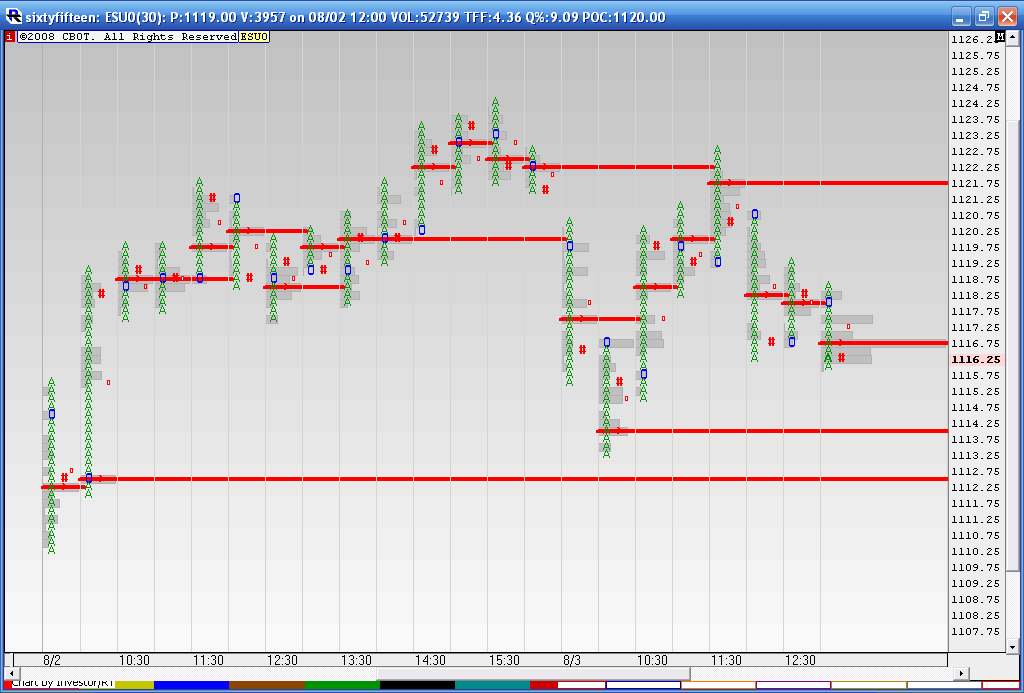 16.75 is peak volume from today...not surprising as that is the big spike on
Tick
data at 10 am reports...volume attracted to that..
I think that will be more important then the 30 minute
POC
's... those are still experimental for me... so this will be the battle line
ledge trying to form at the 19.25 high...I'm tring to get long at 18 even....watching 16.75 for support until lefdge runs
Those of you successfully trading for several years, can you please share any money management rules that you follow?
Anything like:




      Stop trading for the day if the loss equals 0.5% of acc equity

      Daily profit target of 1% of acc equity

      Stop trading for the day if 20% of the day's profit is lost

      ..........




Thanks in advance!
The reason that we are here is to learn more from each other. The quality of discussion on this forum is exceptionally high when compared to other trading forums.
Getting into arguments in cyberspace is a losing battle. You will never win and all parties will leave upset and frustrated.
Let's follow the popular sentiment already expressed and put this behind us and move on.
We all want to learn more and be more profitable and fighting works directly against that.
I frequently receive
PM
's from site members when this sort of thing happens. If you have any concerns that you don't want to post in public then feel free to
PM
me.