ES Short Term Trading 8-5-2010
ES Short Term Trading 8-5-2010
Range Based
S/R
R1 = 1129.50
S1 = 1108.75
R2 = 1132.875
S2 = 1105.375
Steenbarger Pivot = 1122.00
14.75 is where the volume came in from YD
O/N session
and that 8:15 report..so we can lean on that if needed
I may be wrong about that 21.50...volume from Official volume
POc
YD and in
O/N
at 19.50 - 20.50...we certainly don't want to see that sto[p the rally up and then start on new daily lows..
I'm done at 19.75 except for one...target on last is 21.50 out of stubbornness.....watching the 17.75 volume...this may get a
gap
fill, it may decline....just too many numbers when inside this giant range...so my best trade is essentially over....no more trades for now.....need a breather and it's only 9:52
Yesterday we opened Higher hit the volume lower ( on the downside)and went back up...will today do the opposite...open lower trade back into the volume and roll back down......I don't know but the open print will help determine that'
21 is final...just too close and
single prints
from
O/N
, volume nodes...lunar eclipes, gann, fibs...the kithcen sink...just too much crap in my way
Here is footprint and
VWAP
. The challenge but no close above. As you say Bruce, no strength in this. Must get a close above
VWAP
on larger time frame chart before the bulls get the upper hand.
Click image for original size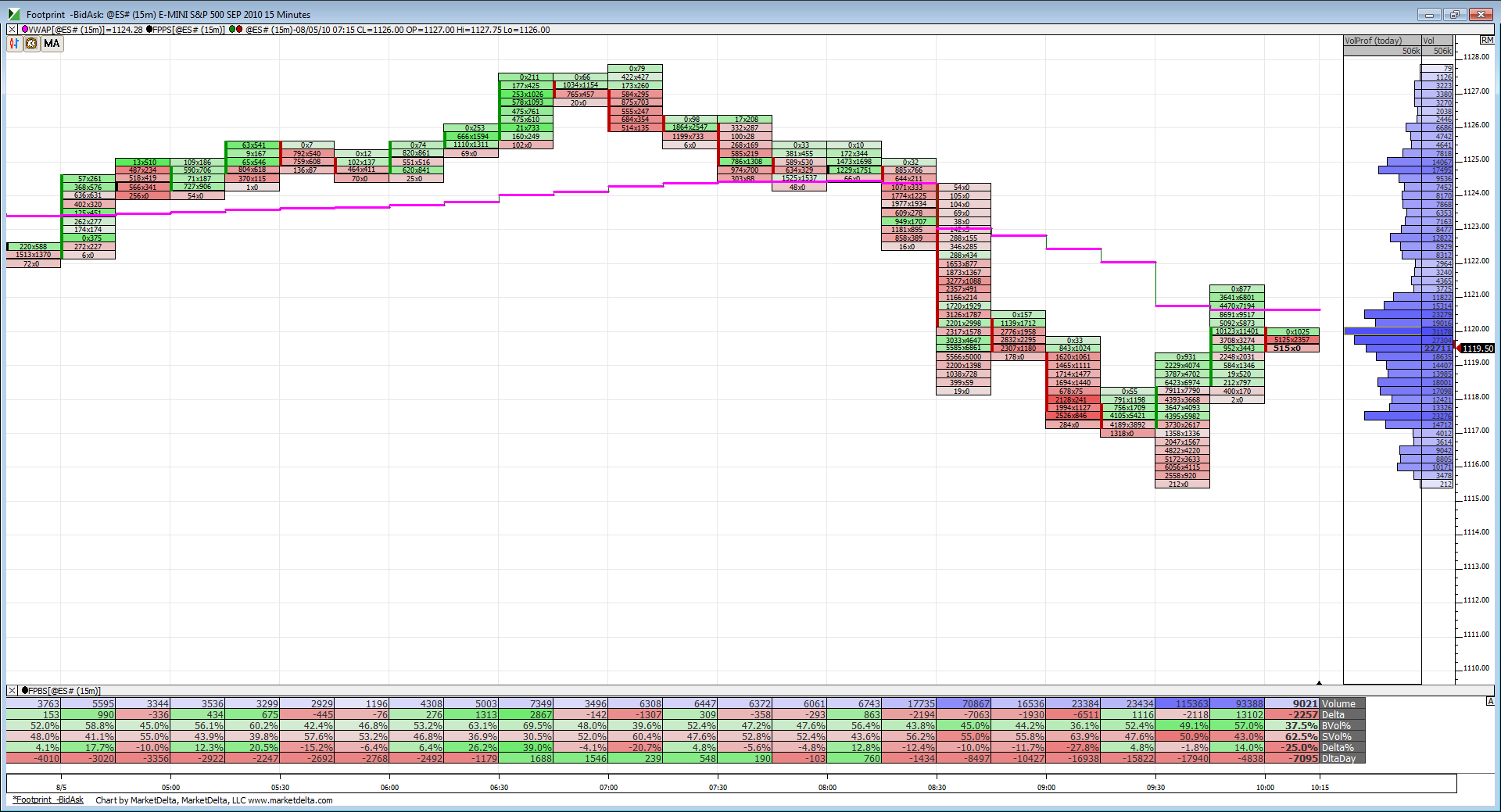 Here is an update. We have had one 15 min close above
VWAP
, prices seem to be struggling here, could just be a consolidation before we see higher numbers. Look at all the volume building in this area.
Click image for original size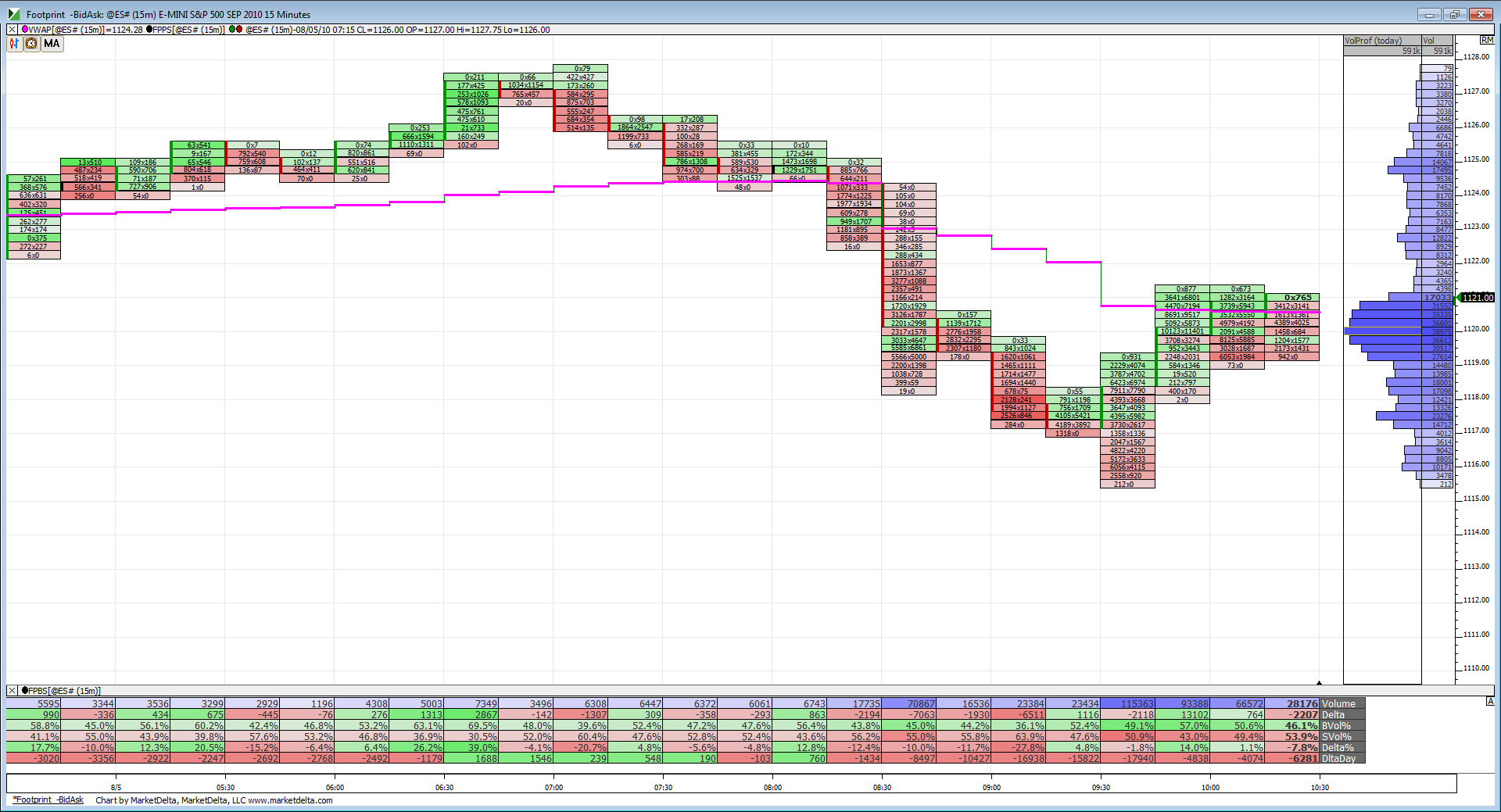 Today's OR:




      OR     5min     15min    30min    60min



      High   1119     1119.25  1121.25  1122.25



      Low    1115.75  1115.50  1115.50  1115.50



      Range  3.25pts  3.75pts  5.75pts  6.75pts




YD's
LOD
/
HOD
did not occur in the first 60min, but they were off by only a few
ticks
.
YD's
LOD
/
HOD
/Range : 1116.25 / 1126 / 9.75 pts
YD's 60min OR: 1116.75 / 1125.25 / 8.5 pts
Here is a look at average volume compared to today on a 15 minute basis.
It was tracking nicely until that last 15 minutes.
Click image for original size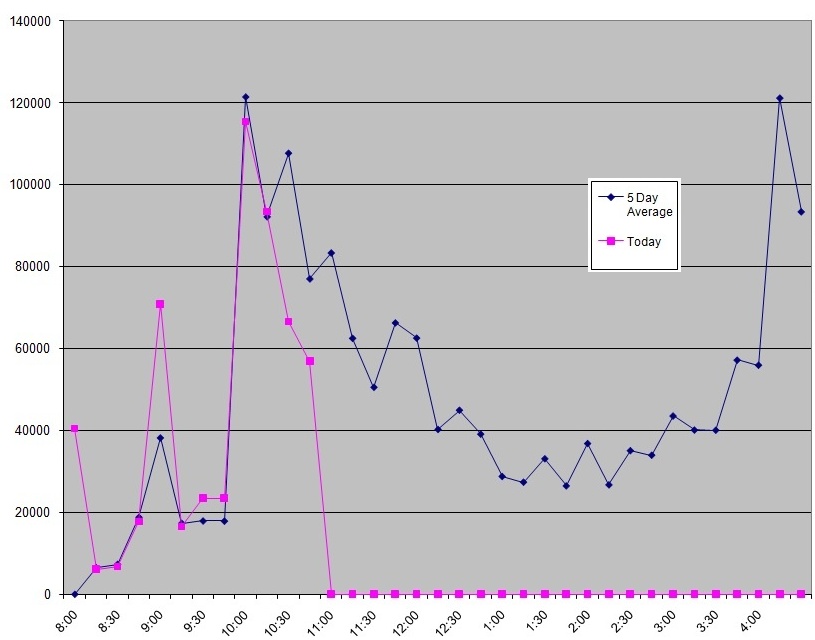 same thing as YD so far....ticking out the
IB
and then going in opposite direction.......19 is a ledge trying to form