ES short term trading 9-22-10
ES short term trading 9-22-10
I think the
O/N session
sums up all the key areas which are
1127 - 1128.75 - Key volume from Mondays rally, breakout point and just under
O/N
low *******
1133.75 - 1136 - peak volume when Fed announced and magnet price from YD,
gap
fill and
O/N
midpoint
1140 -
O/N
high and near Mondays high
we know they like to break the Mon- Tuesday range!
we need to be aware of Pauls .62 concept and it's targets . From now on I'll call it the P-62. I like it !
My early bias is long at 31.75 to get above 34.50 but if we start spending time near 27 ( when day session opens) and buyers don't show up then the bias needs to shift.
At 9 am we are set to open inside YD range. So be careful if they drive it right out of that range lower with volume at the open. Then I will be long and wrong and will need to cover. Will watch volume closely and a report at 10 a.m.
Coming into the open you can see most of the volume between 1134 and 1132 with
VWAP
right in the middle. Multiple tests of
VWAP
from underneath show pressure to the downside.
Click image for original size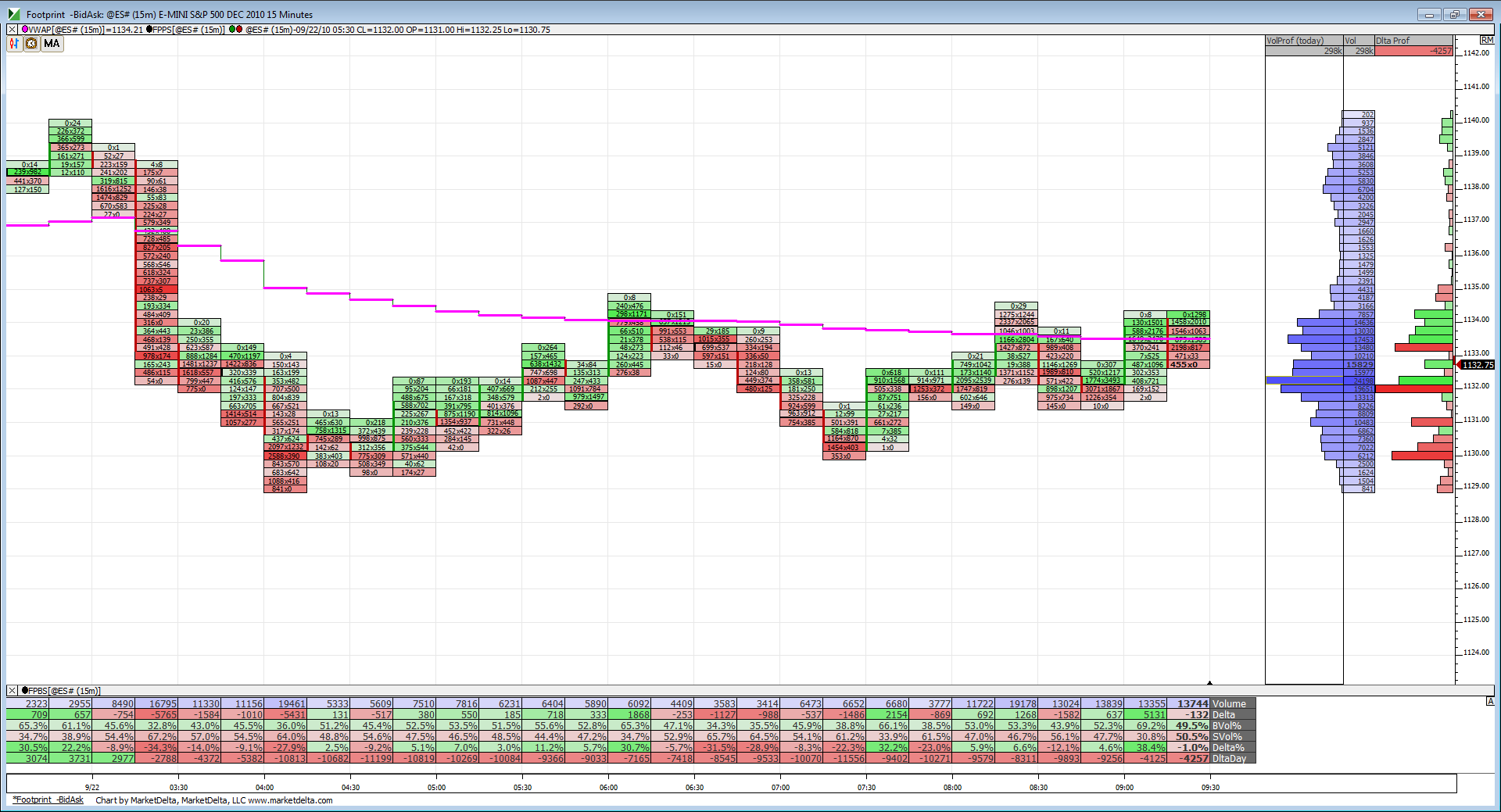 P-62. I like it.
green area could be an extended impulse wave and has 2 possibilities.
1. will retrace back to 1122 area of the 2nd wave
2, is indicative of a 1st wave that keeps on going without the required retrace of most extensions
Note the 1137 area was 50% for the after fed lift. Currently 1136.5 is the 50% retrace for the move down to the former high 1129 area from 1144. So the 1137 area is of note today for whatever they do.
If they go down the 1130.5 is the 50% retrace of the wave up from 1117.
Click image for original size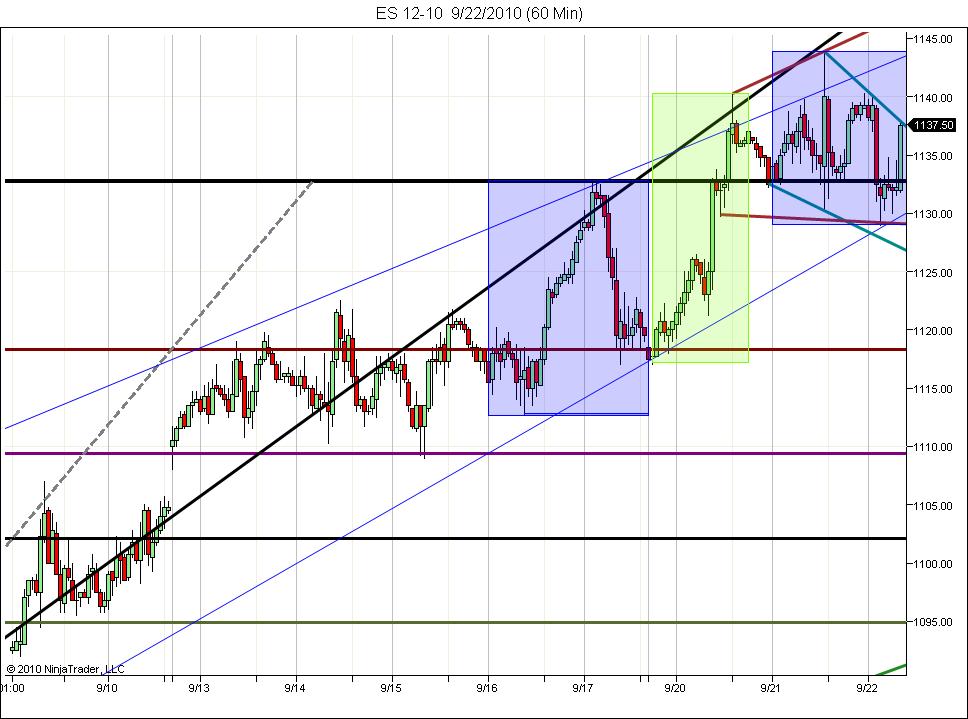 I only see news out at 10:30...crude inventories.
Originally posted by BruceM

now on the 38 for the 36.25 test...small as report in 18 minutes

normally I would have added up there above the plus 5.5 number but knowing a report is coming spooked me from
add
ons/.//anyway, I'm flat at 36.50......good trade but could have been better with the
add
on......waiting now..
all
air pockets
were filled..that is real point
i can hold back rallies off 33.75 then they should push out the
O/N
low and try to test that 27 - 28.75 area I've been watching since Monday's trade...so i like shorts!!
most everything I watch looks stable except BKX with
GS
under 150 and
DB
down about 5 from yesterday(
DB
to offer 300B in stock,not sure when sale is, at 33 euros which I assume converts to less than the $60 price of Tuesday.)Not sure
DB
in BKX,doesn't matter.If selling them now will hold em down awhile. If selling later can ramp higher before sale. I'm just watching for the move in BKX
MSFT
down after announcing 23% increase in
dividend
.selling em to buy em?
even
INTC
holding 19 so far
so does everything else follow banks and
MSFT
or do they flip a switch? We'll see.
bounce off 1130.5
wow,
I have no handle on this market at all...but, I also had nothing coming into it. Yesterday I could understand today, I might as well start drinking early.
with price under the 50% of the week, next line of support could be Monday's Low of 21.75
currently at last week's
RTH
H of 1126.75, could produce a stall and a minor retrace up.
...but 32.50 (50% of the
RTH
week) is critical mass and I would have to guess that if it is tested from underneath, fail and go down and undercut whatever the low put in place right now (11:35am) is
so far,
LOD
is 26.50.
if you look at the time 12:10 EST ...you will see the other volume spike and why I started shorts at that 31 print....it's all about volume...the rest is just silly lines on our charts


They ALWAYS like to TRY and test volume....it doesn't mean they will actually be able to push it far enough for a complete test though...we capitalize on them TRYING to make the test.....and make more money when they get a complete test...just try and pick pieces off along the way.....the greedy get what they deserve....you know the old saying!!!