ES Short Term Trading 9-24-10
ES Short Term Trading 9-24-10
Already broke yesterdays high and my downtrend line quickly.. Things like this can happen when you don't break 1117.
Thick black line at 1124.75 is the former high previously known as 1129 on the old contract.I think we all know the other levels. 1100 or 1160?
Click image for original size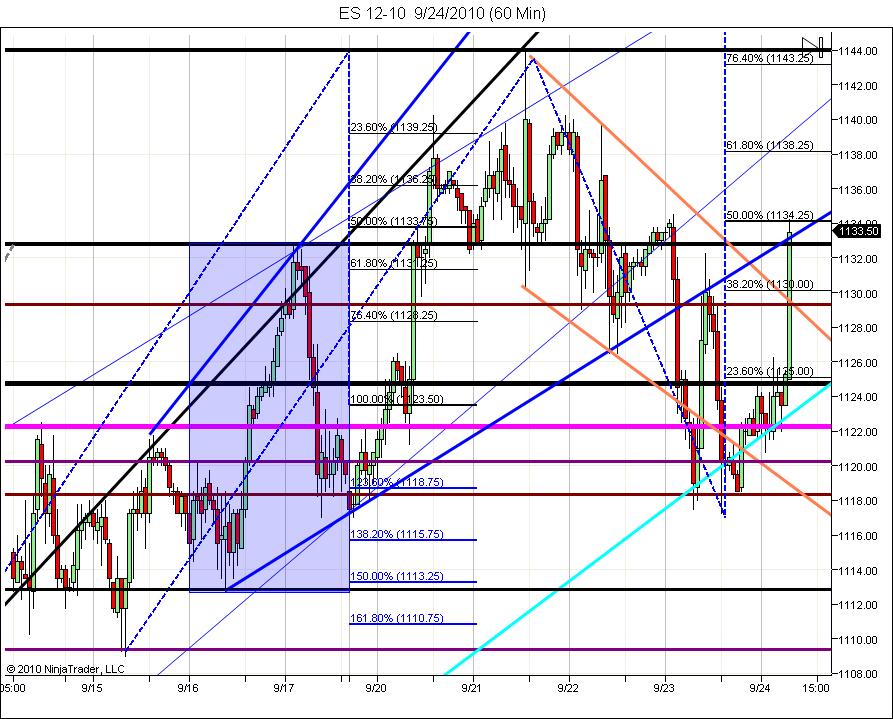 runners are going for 38.75.....and we know how poorly they have done today.....perhaps posting the target will help me...ha!

Gotta resolve that one point bar on 15 minute..
runners stopped at 43.25...not fading any highs...would need to see a 42 print to THINK of shorts from here
can they knock a 4 th time? trend went flat on 5 min chart
as u note 1142 S here
worth the risk
double top hr chart
The market closed above 1140.00...that for me is a key area and
is bullish...this is a good point for a pull back...
Ben Bernanke
spoke
yesterday (Friday) @ 4:30 et...speaking on a Friday after the market
had closed...we won't know his effect on the market till Sunday
so that open may be interesting cuz, from what I have noticed in
the past, when Ben speaks traders short...LOL
That's a bit two sided for me to make money RED...!! What is the time frame for the bearishness and the Bullishness....? Do u expect Sunday night to open weak or strong....? Would you be buying weakness on Sunday night?

You know where I'm going with this...I can't be long and short///

This is unlike you but if you were a newsletter writer you will end up being right because the Market always goes up and down on different time frames...perhaps you can narrow it down..
The way that I read what Red had said was "pull back" & "traders short
Bernanke
" gave me the impression that Red thinks that it's going down on Sunday evening. I had discounted his bullish statement as a "this is what usually happens" but because of Helicopter Ben it's not going to happen.
What I have seen in the past is when I get a bullish close above
a key area "most" of the time there is a pull back of that signal
before going in the direction of the signal...some may call it
head fake...I don't...and I don't look for a big pull back, but then
again I don't know how Ben affected the market. So I am looking
for a move back...

(1) because of the bullish close.. (2) Ben B. has probably made an inpact on the market and "most" of the time traders short Ben.

also, if Ben HAD NOT spoke I would still be looking for some
move back
Friday was the continuation from 3 day pullback of the bullish run began Sept 1 and has gone for 100 points thus far and should reach 1160.
IMO
.
Good luck to all.
Let me
add
to my prior post...My rule here is simple:
if we close above a key area we should continue to the
next key area
what may be confusing is I say we will pull back prior
to continuing up...but this has happened so many times
I can't discount it not happening this time....but for
me the major trend is still up to the next zone 1163.25/1167.50
It is now up to each trader to make the call to stay short
or buy the pull back
Originally posted by redsixspeed

Friday close was above the 1140 which is the top of the zone it also closed above 1141 a key # for me...this was a weekly close as well so I am still looking for more up...gotta have a plan..

====================================================================
We made it to zone 1163.25/1167.50..this area is hit 80% 0f
the time...the next zone above is 1176.00/1180.00 and is hit
90% of the time....I view these as giant magnets...we seem
to have stalled at these areas...some say a reversal is near.
Its one thing to see a cluster of #s in an area...but if I know
how often the area is hit I have a better idea of market direction