ES key levels on the downside
ES key levels on the downside
some levels as we go forward....downside only..wishful thinking perhaps as the world seems on bullish. Ranges are fairly small so zones are tight...not much room from level to level
1213.50 - 15.25 -
VPOC
and spike initiation point ****** key support for friday,,longs don't want it to open below that on Friday morning!!
1207.50 - 09.50 Thursdays
RTH
open and
low volume
1202 - 1204.75 -
VPOC
from Thursdays
O/N session
1197- 98.75
Gap
and
VPOC
from ON
87 -91
VPOC
and
low volume
- may rotate here a bunch to fill in the profile
84.50 -
low volume
area begins and HV from composite
78 - 81 ***** major support , the center of the universe....we have been watching this number for a long time
This Viagra Market needs a Maalox Moment. Just watching the DOM (tape reading) ... heavier and more persistent/consistent buying came in and any time the bids were pushed down a
tick
or two, they'd pop right back up to where they were within a second or few, while most upticks on offer side were not answered in the same fashion. And there was consistent trading going off both at the bid and ask...
so I cut out of 2 different short positions early with small losses. Don't know if this is going to continue, but the grind up seems to have a lot of helium in it and I don't have any resistance levels above to work off of and no immediate
AIR
below.
If mkt holds above the Daily R1 and
O/N
High = a Maalox Moment for me!
trading for the 21.50 retest...they may need to print the 25
RAT
first though...23.75 is 5 points above YD
RTH
high...a likely shake out point...
FWIW and an interesting data point.
1129.41 is the .618 retracement in the cash
S&P500
of the entire decline from the 2007 high to the 2009 low.
Currently sitting at 1226.24 in the cash.
official 30 minute
single prints
under this 30 minute bars low.....volume drying up on this bar should lead to the retrace down a bit
heres how that looks in my world and why the short is working...so far !
Click image for original size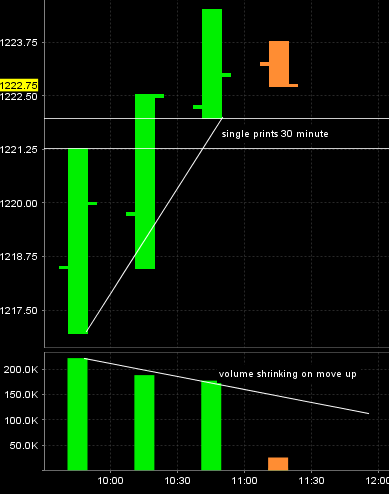 Originally posted by prestwickdrive

Kool's Tools projection off retrace to 17.0 (17.0-19.25) gives 24.25 projection, fwiw

Nice ... within a
tick
of the high of the first semi-decent pullback. Would be nice to see a chart with that next time. Keep it coming!!