ES key numbers 3-11-11
1390.50 all that great volume on Thursday
1394.50 - a peak volume price based on time and
VWAP
1301 - 1302 Thursdays highs and a key area
1308 - 1309- adjusted numbers from March contract
1316 - 1317.50 - adjusted numbers from march contract
It seems like we may be overcooked to the downside so Hoping for a
gap
lower in the morning to set up buys......and will need to use overnight numbers to key off of as I really don't have any good volume numbers below todays lows..
Its also a reflection of account size. If you are trading a 25k account its difficult to have the risk holding ability required to reach a larger target. Those larger targets will be reached but price movement up/down to get to that target would most likely reach levels a small account couldn't afford to hold through.

If you are trading a 1 million+ account it almost becomes paramount you hold for larger targets since the contract size one is trading would impact ones ability to trade for the small scalps.
flat at 85.50 ...will go again in day session...plan is to buy the open and lean on 82.50 if needed....target will be 90 and higher if I
add
at 82.50
O/N
profile along with current
VWAP
. A very bell shaped curve look to it.
Click image for original size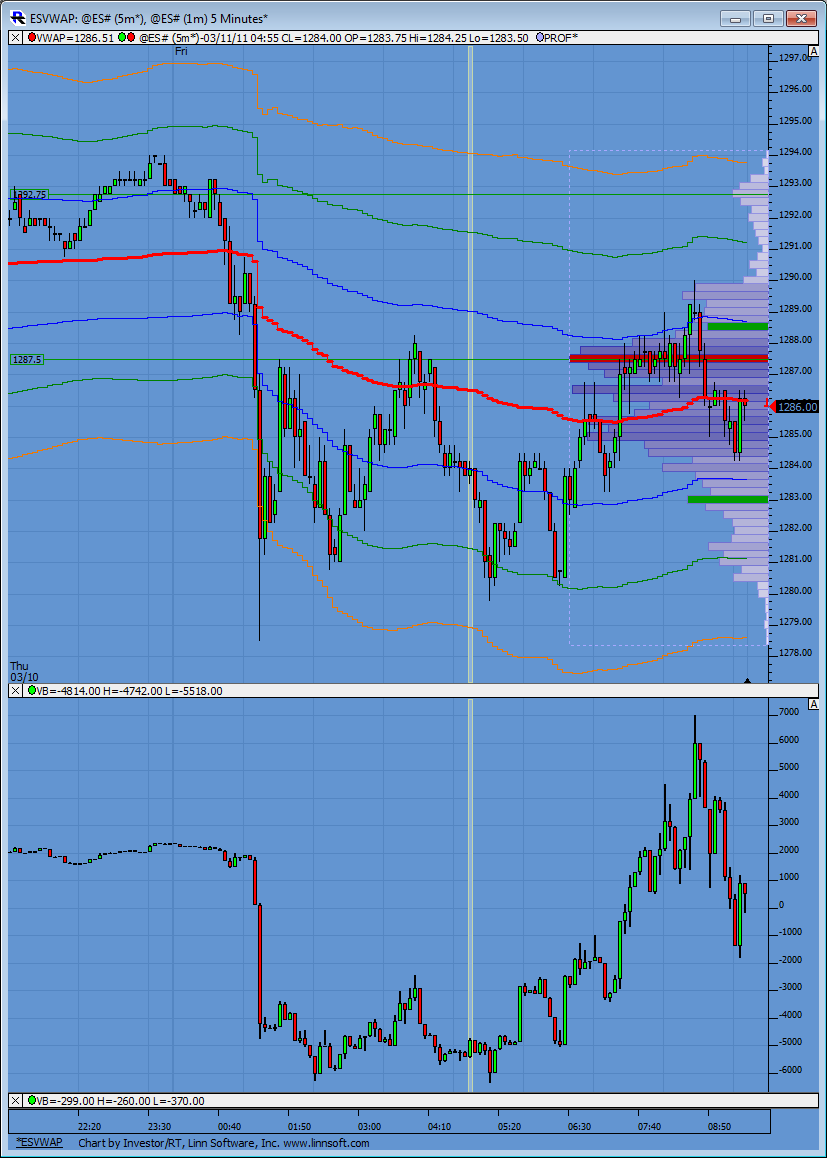 flat at 90 print...just don't like this area now and reports coming
lucky holders will be trying for 94.50
so if we have volume nodes at 82.50 and then 90.50 we can
split
the difference...so at 86.50 and under for a buy point IF your bias is up.....like mine was.....and YD close was there as magnet...just an FYI
Bingo!... if short ,you have air on the 5 min chart at 1289.50 the needs attention!... i have to leave for an hour to run momma to work!(a Friday ritual) so i'll exit 90.50(from short 2 es at 1292.75)
Theres the air fill... now you have the red avg (5 min) at 88.50 and the median line 30 min around 85.25(which is also the lower band on the 5 min...c ya!
and see where that stopped.......? Right at the Overnight high.....just pointing that out for those who deny the power of the Overnight session..the On high was 93.50!!