ES key numbers 3-11-11
1390.50 all that great volume on Thursday
1394.50 - a peak volume price based on time and
VWAP
1301 - 1302 Thursdays highs and a key area
1308 - 1309- adjusted numbers from March contract
1316 - 1317.50 - adjusted numbers from march contract
It seems like we may be overcooked to the downside so Hoping for a
gap
lower in the morning to set up buys......and will need to use overnight numbers to key off of as I really don't have any good volume numbers below todays lows..
Sheese! They musta stayed there for at least 2 min but i never got filled! It was worth a try i guess.. getting late and im going to get a couple hours sleep now... sure wish others would comment besides me,Bruce,Lorn,and P.T. I dont know why others dont unless its because i dominate the board too much. But when i back off for a few days or weeks i get a million e-mails! Cmon gang! It doesnt matter if your right or wrong to me, its the method im most interested in! Have a good weekend all ,and as always, good trading!...koolio
1301 - 1302 from page one is the last zone I expect today....although I only took one long trade today ..LOL...not expecting a push up into 1308...hope all have a great weekend and thanks for the music memories too Kool...luv hearing about that stuff
One more for the road.....another cool
divergence
above a key zone..
$ticks
diverged too
Click image for original size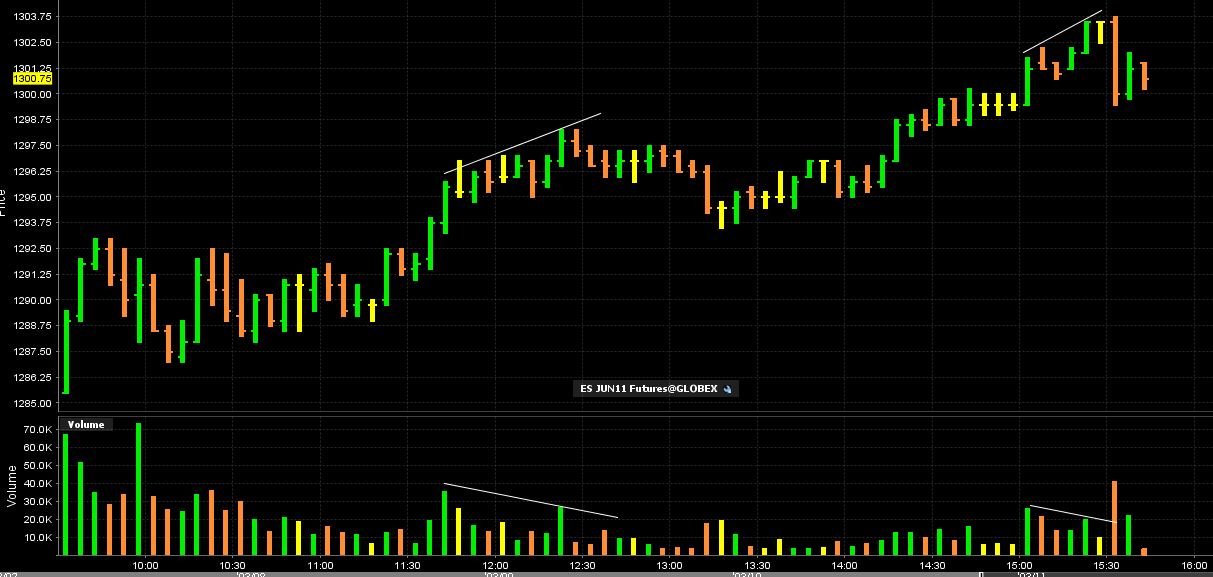 and see where that stopped.......? Right at the Overnight high.....just pointing that out for those who deny the power of the Overnight session..the On high was 93.50!!