ES S/R Monkey Map for 5-16-11
ES S/R Monkey Map for 5-16-11
Here's my 30min MAP of 20 trading days that I've got with the Red lines as potential significant
PASR
levels with Magenta as semi-significant. The White dashed lines are Weekly Pivots. I've also got a Yellow line in the 1318-19 zone that's a Fib Cluster, fwiw. The Gray background is "overnight trading" and the Light Blue bars on the right vertical axis represent Volume at Price. Hope this is helpful to some folks!
Click image for original size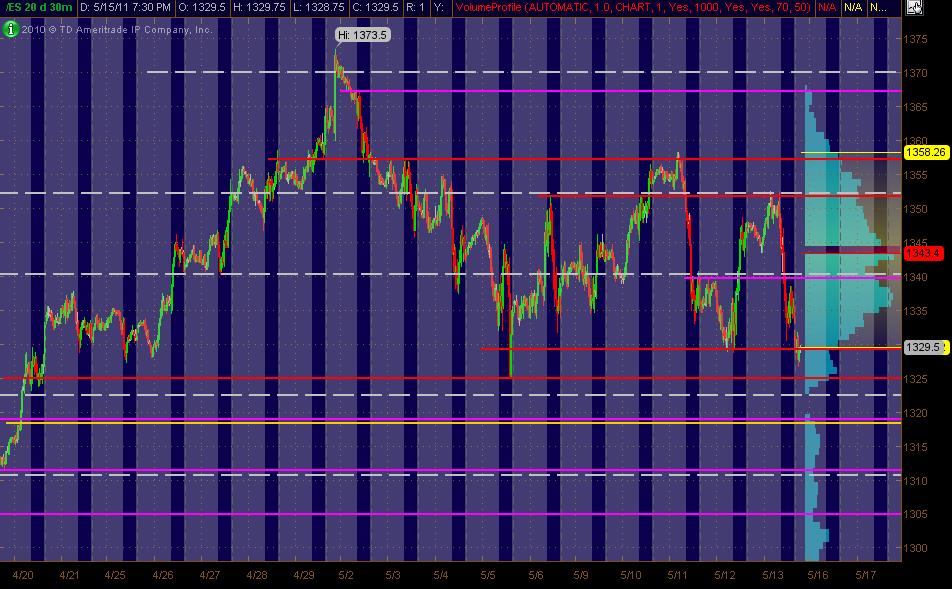 got +1 on 2 cars on that scalp.
looking for sells in my key 39 - 41 zone after hour break if it comes
Originally posted by TravelinTrader

Ok Neo, I get it, thanks for the explanation, it's kinda what I thought you meant. I agree with the gap fill theory, but now I will look at $bank to help confirm that move.

Nice trade :]
It's something I watch. If you run into anything else that helps determine if a
gap
fill is going to happen OR what may happen when the
gap
fills, be sure to pass it on.
Now that BANK has broken above its GF, it seems the
ES
's
gap
fill (1335.25) has acted as sup for the past 15min. So, I wouldn't be surprised if we go up a bit from here.
In Overnight, When price tested last week's L and uncovered BUYERs not SELLERS, suggests that a test of the 50% retracement level of last week (
RTH
50% = 1342 handle) would be natural
my previous comment does not mean that a test of 42 has to happen today, it is a natural target as long as existing lows remain unbroken
Ok, Neo will do, but you and others appear to be much more advanced than. Or at least have many more things you look at.
BuceM, I like that area based on
PP
and 50% retrcement from Friday's high.
starting small at 37.75 ...this will probably need to be added to
If it happens, Strength in euro vs
USD
would be a source of potential strength for the equity markets. (Euro has experienced a real face plant over the past 7 trade days and regardless of headlines about IMF dude, shorts of the euro might be itching to buy to exit short position).
I am done for the day
good luck to all
Originally posted by BruceM

hopefully u saw all the triples today TOO !!

You got to be kidding me! I was looking for'em. How'd I miss THAT! Right at the
RTH
open! You got me!