ES Day Trading 5-25-2011
Two vprofiles on this chart. Last weeks and the developing one for this week. Tight range so far this week and the bell curve shaped profile signaling a fight between bulls and bears. Interesting to note
VPOC
is below last weeks range.
Click image for original size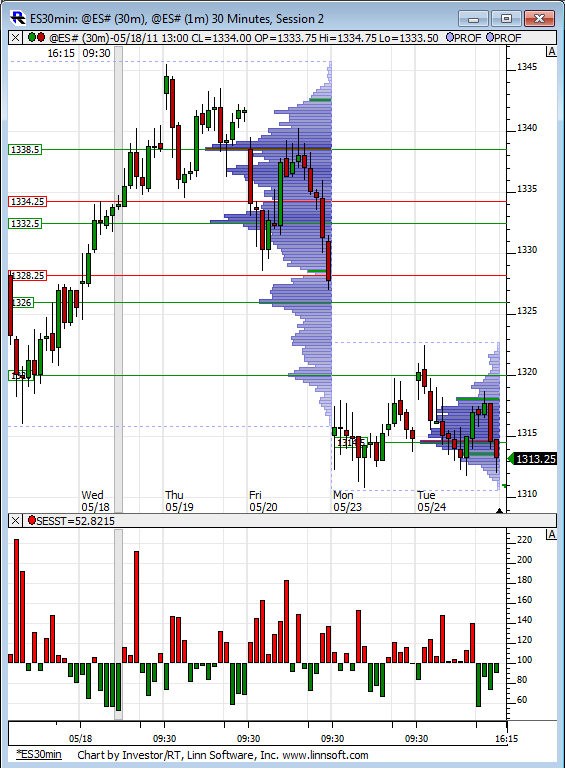 Long off this post report low at 07.25..... 1305 and
O/N
low are also key downside
upside is peak volume at 1310 and my target ...further keys upside are 1314 - 1316.. **** key zone
Agree totally about key zone,
50% of the 24hour price week is 1314.60
50% of the
RTH
only week is 1316.63.
50% of yesterday's
RTH
range is 1317.13
Would really like to see a 8.25 print during
RTH
, but I feel we have come close enough.
Away to the
gap
fill... 14.75
my one little runner would like to see this stay above the open print and the 1310 in order to target
O/N
highs....we know one of the
O/N
ranges should run today...hoping it's the highs
flat at 13 even.......just too close to find a decent stop loss and close to key zone
short 13.25 and a little late...air below but 11.50 is target
flat 13.75..will try again from abocve 15 if it comes
There's the GF.

Trying a short, but I think it could easily get to 16-17.
There's
divergence
in this market. This is a 5 min (daily numbers: 1
SMA
, 3 typical
SMA
, & 8
EMA
. The 8's leveling off and the 1 and 3 are trying to drive prices lower. Some heavy chop swings coming down the pike.
Chop I says. 12, 16, 21, 35, 43 I says.
Click image for original size