ES Day Trading 5-25-2011
Two vprofiles on this chart. Last weeks and the developing one for this week. Tight range so far this week and the bell curve shaped profile signaling a fight between bulls and bears. Interesting to note
VPOC
is below last weeks range.
Click image for original size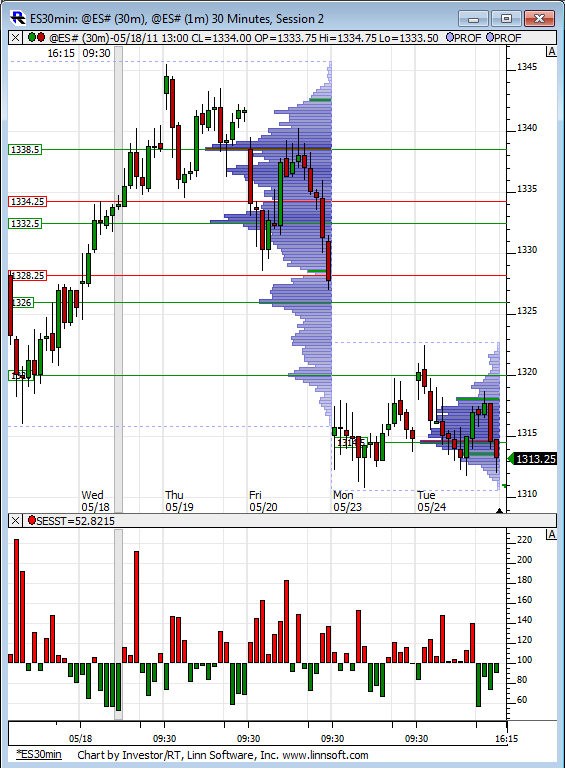 post above should say "no bears yet...." lol
I feel like we really peaked some buyers on the upper time frames. If we go much lower than this (lower than 1300), the bears may have stronger control.

Till then, up we go...
I'll SELL 1316-1316.25 if they push it up there... getting short term extended up here...
very important to spend as little time as possible above YD
POC
....for shorts to win...
although the filters are pointing to long side we can't deny that most of the time today has been spent BELOW the
POC
of YD...so value is building lower so far....
Long trades are alway better when we are near the Lower edges ..not at breakout high points..
ideal will see an
air pocket
on the hour breakout...we'll see
short 17.25's but will
add
above the 18.75's if needed...going small...not a great feel here...air is below
I dont like the overshoot of 1316.50, however small.. going to bail at 1315.50 if they let me...my 1320.50 number is beginning to make me nervous.
I will go long @1315.50 is my fib's 50% from swing. Looking for 7 handles.
lol why the market moves. now if john and blue were trading the same size.
target for me is
air pocket
at 15.25....that is also the peak volume retest from above.....same concept as yesterday when we went Below 1315 for the first time..
this ain't gonna be easy but like air inside ranges
big volume on that hour breakout is another reason I went light up here....may need to
add
...hope not
There's
divergence
in this market. This is a 5 min (daily numbers: 1
SMA
, 3 typical
SMA
, & 8
EMA
. The 8's leveling off and the 1 and 3 are trying to drive prices lower. Some heavy chop swings coming down the pike.
Chop I says. 12, 16, 21, 35, 43 I says.
Click image for original size