ES Day Trading 5-25-2011
Two vprofiles on this chart. Last weeks and the developing one for this week. Tight range so far this week and the bell curve shaped profile signaling a fight between bulls and bears. Interesting to note
VPOC
is below last weeks range.
Click image for original size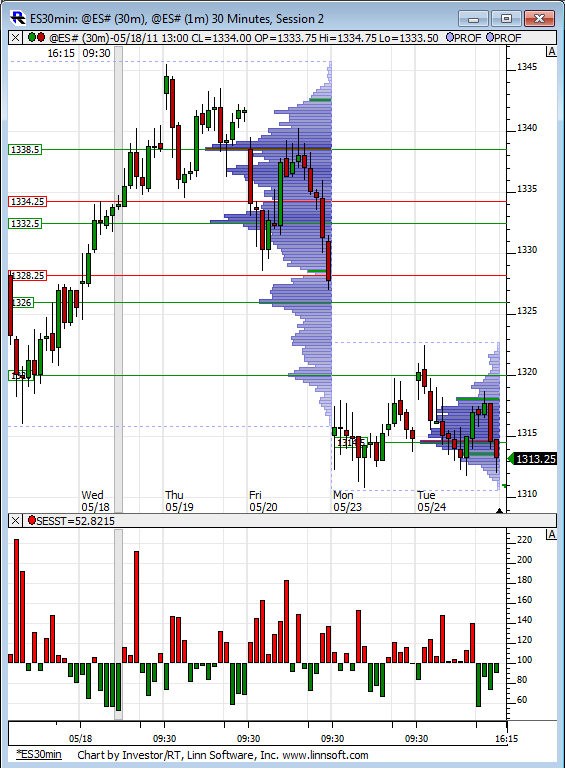 Nice chart, Lisa... the actual target here is 1314.50, but im still bailing early(if they let me!)
if this 30 minute bar closes without the retest we will have
single prints
that bigger traders will watch...I like to trade for those to fill in especially when inside the previous days range...
if
single prints
form outside of the range then those are harder to fill
this will only be first set of singles.....if it was second set then it would be a GIVEN...almost, that I would be trading for them..
will
add
above the 90 minute highs if needed......
some days it just feels like they know where our targets are...this may be one of them..
added at 16.50.....still light
potential for
single prints
now that this bar has closed...ideal
add
would be above the 1318.75 if it prints
if you combine today and YD only for
RTH
trading you have what looks like the potential for a nice bell shaped distribution
Got it my 7 handles and going to lunch.
ideal for all of us shorts to keep this under the 90 minute highs...and let the breakout traders lose on that one
There's
divergence
in this market. This is a 5 min (daily numbers: 1
SMA
, 3 typical
SMA
, & 8
EMA
. The 8's leveling off and the 1 and 3 are trying to drive prices lower. Some heavy chop swings coming down the pike.
Chop I says. 12, 16, 21, 35, 43 I says.
Click image for original size