ES Day Trading 5-25-2011
Two vprofiles on this chart. Last weeks and the developing one for this week. Tight range so far this week and the bell curve shaped profile signaling a fight between bulls and bears. Interesting to note
VPOC
is below last weeks range.
Click image for original size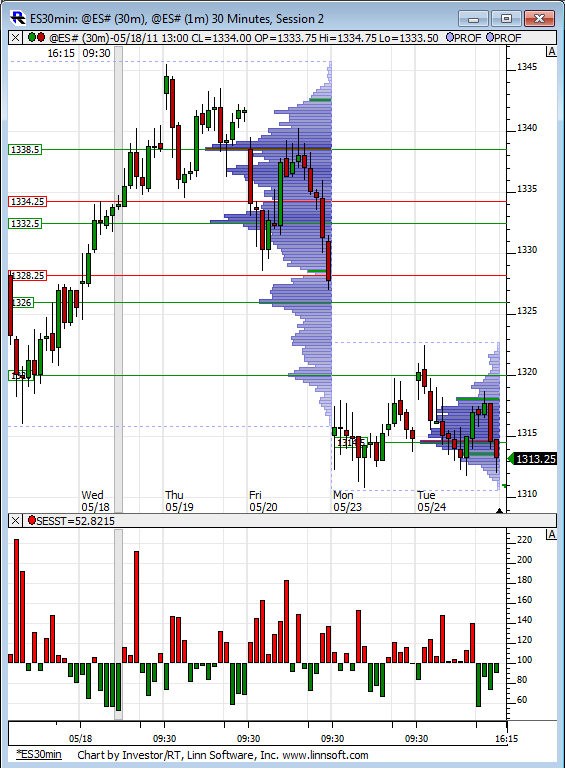 Koolblue,
Nice trade
Originally posted by koolblue

Covering here at 1311.00

out at 1311.00. Target at 1310.50 hit exactly.. Now she should bounce a little, however failure at this level would argue for 1308.50 (at least)
Hard to figure out the direction. On one hand, yesterday's
POC
is taken, so "door" up is open. On the other hand, there is lots of resistance above. Any thoughts?
Originally posted by johnpr2010

Koolblue,

Nice trade



Originally posted by koolblue

Covering here at 1311.00




yeah, it worked out ,but the entry sucked!..Kudos to Bruce and others who were looking for 1314-16. I thought that would be much later today. Fwiw, the 5 min averages i follow are positive, so buys are preferred, but a sustained move below 1310 (say for a half hour or so) would turn them negative. Seasonals strong today, but basically weak this week and stronger next week into the 30th.
I expect "residual" order(s) at 1314.25. Will see how "they" deal with those orders.
I want to get short above the hour highs...ideal point will be 15.75 ...that is the
low volume
area from yesterday sandwhiched between the two high volume areas I mentioned earlier
all
fades
are higher risk because we have held the opening range and no test of that.....also we will be above
O/N
highs and yesterdays
RTH
lows...
There's
divergence
in this market. This is a 5 min (daily numbers: 1
SMA
, 3 typical
SMA
, & 8
EMA
. The 8's leveling off and the 1 and 3 are trying to drive prices lower. Some heavy chop swings coming down the pike.
Chop I says. 12, 16, 21, 35, 43 I says.
Click image for original size