ES 7-01-2011
Important reference numbers starting today.
Monthly close 1314.75 (4:15pm), keep in mind this is also a quarterly close.
Monthly High/Low 1342.25/1252.25
Quarterly High/Low 1368/1252.25
50% of quarterly range is 1310.25, so we have closed above that.
VPOC
for the Quarter was 1323.00 and the profile has peaks in two places, at the lows between 1260-1280 then again near the June highs between 1220-1240.
Keep in mind these are all based on the September contract.
Maybe something worth looking at w/
Volume Profile
on
TS
showing bigger time frames fwiw. HV area in 1333-35 (using
ES
continuous contract) ... w/
LV
just above after staring at these for a bit.
WEEKLY CHART
Click image for original size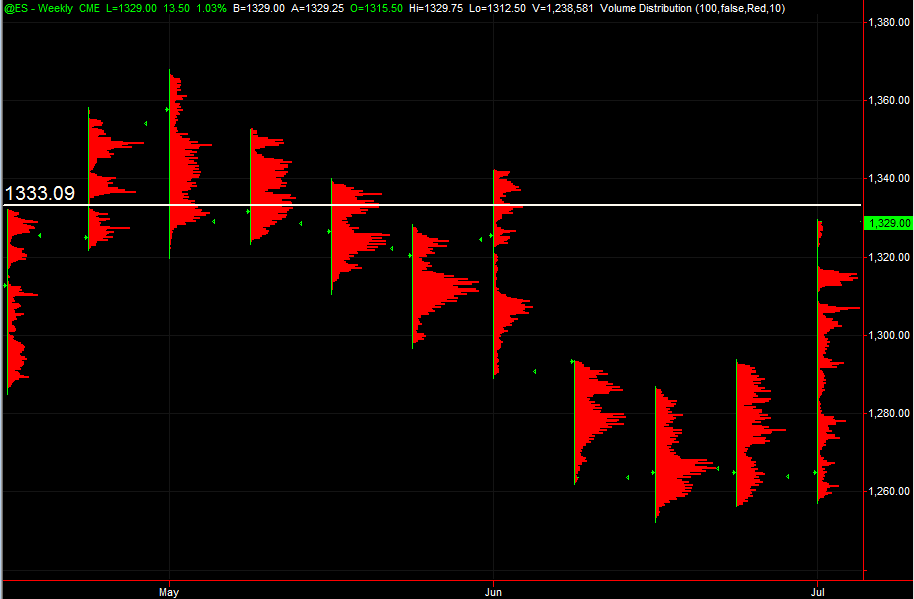 MONTHLY
Click image for original size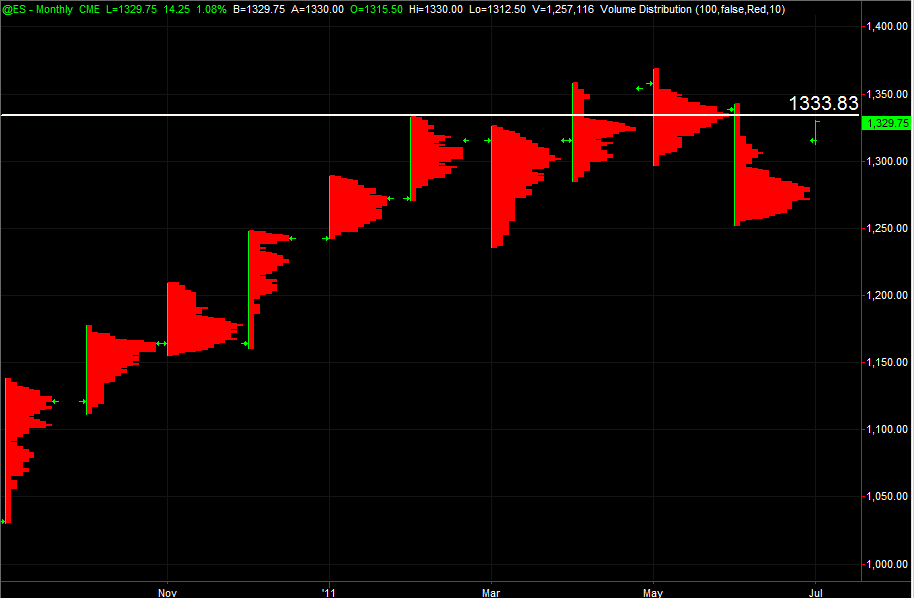 today grinding up on peculiar volume after 4 decent UP days in a row ... kinda strange to me ... obviously coming into a holiday weekend ... hope these pics might be helpful to some
3 day weekend? trading desks emptying out? hard to game here. looking for eod short, other than that have a great 4th,
GB America
BruceM I need your advice I'm short 4 contract from 1323.25 do you see any number I can get out with the least loss
1.5 times the
ib
is 32 and I saw volume enter....I'm expecting to see some flush out of longs exiting ,,,still no test of a low and now we will have two sets of
single prints
if this bar closes with
air pocket
on 30 minute time frame....hoping to
add
if they can give it one last big push higher
plus 16 is at 32 also but that is secondary and I don't really watch those
unfortunately I donot.....I need to ask why you are holding that short for so long....I'm sorry....hopefully
pitbull
didn't mess u up...
in general us faders neeed to trade out of a bad trade or take the loss and try again
Originally posted by khamore1

BruceM I need your advice I'm short 4 contract from 1323.25 do you see any number I can get out with the least loss

this second
single print
will fill in at 29.75...so will take something off down there if/when it comes...
not convinced that this is the high though...we usually see more of a prolonged push to really shake our confidence and bank accounts...with dramatic volume....
adding at 32.50....keeping everything smaller just in case....also waiting for high
$ticks
for sell points...above 900 today
very concerned about the possibility of the atomic flush...to the upside...!!
1.5 times the
IB
traders now satisfied...this needs to perform...we need to see all that smart money who bought start to exit up here
these kinds of trades are no doubt scary but one needs to be comfortable losing....I don't mind losing if they decide to not test a previous 30 minute low AND keep two sets of
single prints
in the market by days close.....
that is a low probability event but one that could happen...so I don't mind losing to that rare event
They maade us wait until Tuesday...lol