ES Thu 7-28-11
Interesting how yesterdays failed support at 1316.50 became resistance and tomorrow will be the
VAH
. This number keeps popping up. It's 1:46am as I type this and the market looks like it might open below the
Value Area
tomorrow. Good luck everyone.
Click image for original size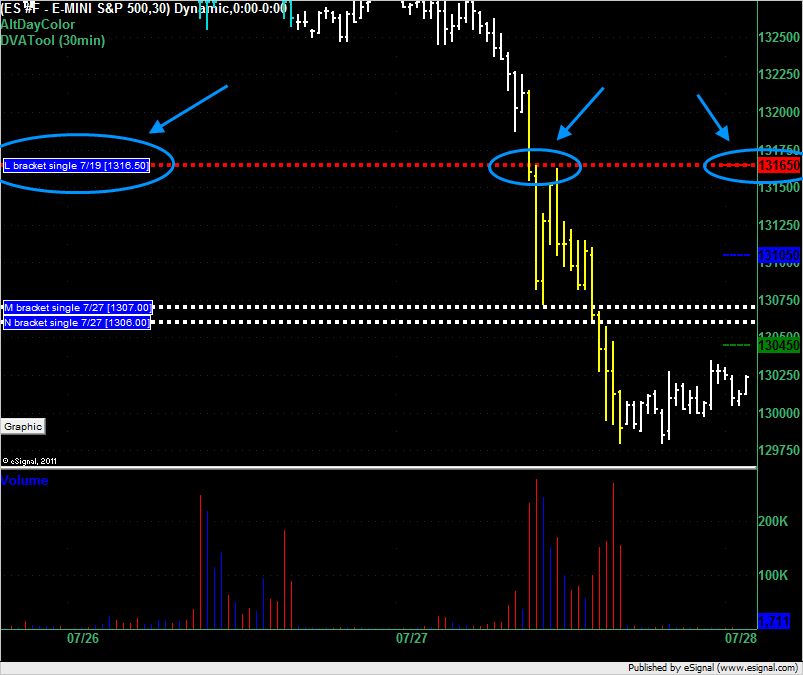 There is a 7 year note auction at the top of the hour. With all of the debt talk its results might bring some action to equities.
New:
Possible Fort Hood attack thwarted?
An AWOL U.S. soldier was arrested the evening of July 27 on an outstanding child pornography warrant in Killeen, Texas, and is suspected to have been plotting an attack on Fort Hood. The suspect, Pfc. Nasser Jason Abdo from Fort Campbell, Kentucky, was reportedly arrested by the Killeen Police Department after an alert citizen noticed he was acting suspiciously and called police. Local
TV
station KCEN said explosives were found in his car, and
FOX
News is reporting two other U.S. military personnel have been arrested and that weapons and explosives were also found in their possession. According to sources in the U.S. law enforcement community, a reported plot by three U.S. military personnel to attack Fort Hood was in the advanced stages of planning.
This guy did not want to go to Afghanistan on based of religious beliefs (Moslem), but was arrested for posession of pornography....lol
Interesting day for
Market Profile
single prints
.
We started the day with the market rising and the
single prints
at 1306 and 1307 holding the market in check for a short while. The breakout to the upside then left a
single print
at 1307.75 which held the market with a worst case
draw down
of 1.25 points for 3 brackets (1.5 hours) before the market collapsed below it.
Right at the end of the day the market created a
single print
at 1298.25 and is now trading just under that.
Click image for original size