ES Thu 8-25-11
Summary from Wednesday's trading. After midday the market returned to the low of the day at 1153.75 and it's almost as if a whole bunch of traders had read yesterday's trade topic and were front running the buy zone because we never quite got low enough to trigger that
single print
buy at 1150.75. As such that
single print
hasn't been filled in so it's still a long trigger point.
Click image for original size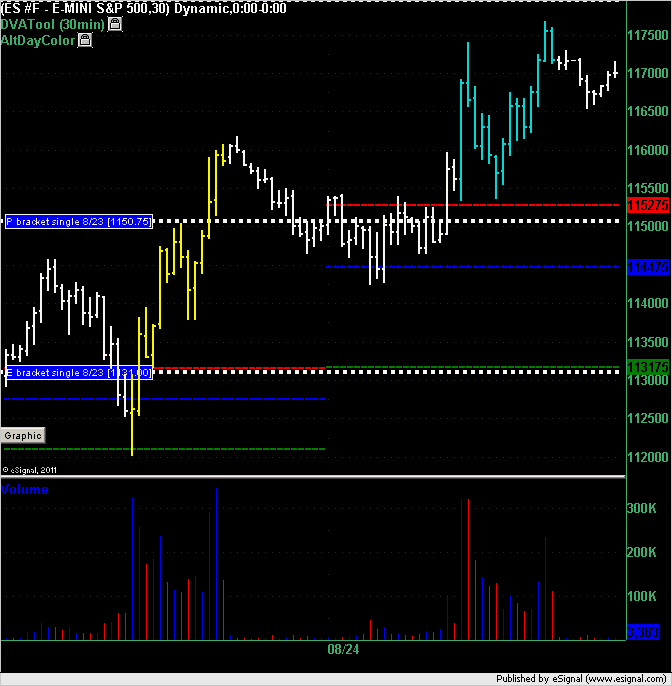 a great example as to why I don't trade breakouts.....that 30 minute bar WOULD have made the second
single print
on the day but they ran it back up to stop that from happening.........
I missed the short side and the long
fade
!!
apparently a single large short order on
DAX
futures caused this morning slide in futures. No reason was given, but a panic set off.
Heard on
TV
: "Warren Buffet's cash injection is like a heroin injection - high does not last long".
Hi day trading,
I do not trade /es as /cl keeps me pretty busy. However, i have started following /
ES
based on
mark fisher
system along with yours and other traders at the forum who use
market profile
.
Per MF system, /es made an A down today after it stayed below 1168.25 for 10 consecutive minutes. This basically sets the bias for the day. So, basically per MF system easier opportunities were on the short side.
A trader would have initiated a short position at 1168.25 with a stop loss at 1189.50.
Of course, we can not afford this wide of a stop loss. Thus, I rely on
market Profile
/
Volume profile
to find support / resistance.
One unique thing about MF system is that if a down trend or an uptrend is really strong ( or
BIG
MONEY is really serious)- price does not go above A down level. So, typically, i place a 1-2 points stop loss to test if the trend is real.
Where can I get more information/link to read about
single print
strategies.
Thanks,
Correction to my previous post.

Today OR ( opening range) from 9.30 to 9.50 was 1188.5 to 1177.25. Per MF system, one adds 3 points to each value with a time filter of 10 minutes ( 1/2 the time of OR) to get bias for the day.

1188.5+3= 1191.5. if price has stayed above 1191.50 for 10 consecutive minutes, it will confirm a bullish bias.

1177.25-3=1174.25. Price below this level for 10 consecutive minutes, gives a bearish bias for the day.

Obviously there is more to trading then just this simple ACD. Context being the most important. On days when context matches with a strong A up or A down- it is magic. Unfortunately, it only happens about 30% of the time.
Lisa, one of the plausible reason for
DAX
slide was that traders making bearish bets on European banks only had
DAX
has an instrument to lean against.
DAX
is heavily weighted with banks and since traders could not short ( due to shorting ban) banks,
DAX
is the perfect vehicle to short euro. banks.
Yes, Germany has not imposed shorting limits but other European countries had done so over last couple of days- primarily shorting of bank stocks.
Traders are a SMART bunch. They said , OK, we can not short banks but we can short
DAX
and BOOM.