ES Thursday 9-15-11
I see three distinct bell curves that I want to try and work from in the overnight ( if time permits) or the Thursday days session. I'll start with the
low volume
that looks most important at 1177.25- 1178. That is really the lowest volume hole that is surrounded by high volume on both sides of it.
so the high volume above that comes in at 83.25 and the
low volume
that comes in above there is at 87.50.
working my way down I see high volume at 69 - 70 and then
low volume
down near 65.25. That number I thought the market would retrace to as long as we didn't come outside the
IB
high so that is still in play.
then we have a minor
high volume node
at 62.50 but I'd prefer to use the
low volume
down near the 58.50 area.
above 87.50 I'd be interested in the 92.50
low volume
area.
as usual the specific extremes of ranges are alwasy important but those are obvious so I'm not bothering to type them in.
lets see where the overnight numbers fall to confirm our areas.
No
single print
trades on Wednesday but a
single print
was created in the L bracket at 1177 even. This is a long signal if the price today (Thursday) opens above it and trades down to it. If we open below it then this
single print
has been filled and there's no trade.
Click image for original size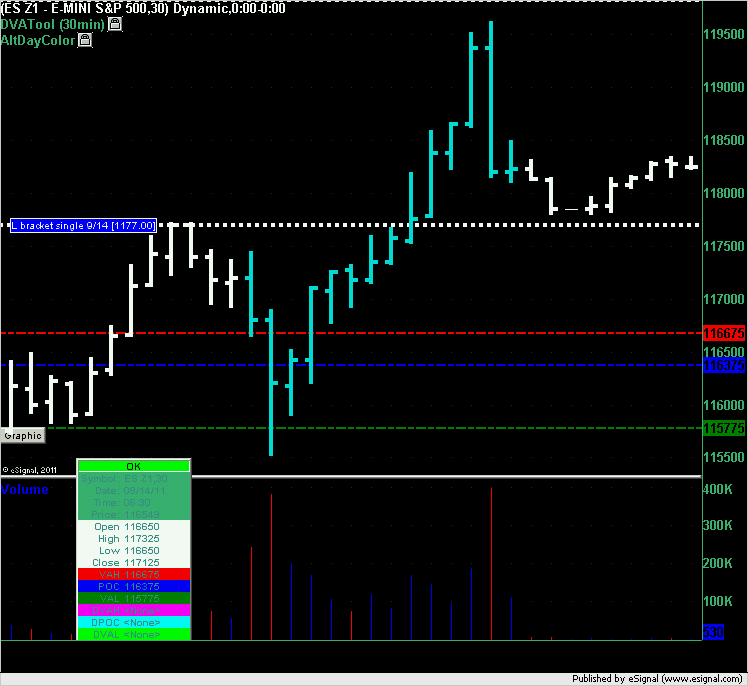 Bruce why 92.50 was that low vol area
Great work by everyone here today. DT, Bruce, Lisa and others, thx guys for sharing the way you see.
The numbers posted last night worked well for overnight and day session.
The
ES
did moved above 1181.00 target and resistance and as high as 1196.25, missing the 1198.00 also posted last night.
ES
is now testing the 1181.00 area again for support.
The numbers below will work for the night and day sessions, unless there're extreme moves (more than 20 pts).
ES
For Sep. 15 Thursday:
Buy above 1186.00
with 1198 / 1202 / 1209
as outside objectives.
Sell below 1181.50.
with 1176 / 1171 / 1165
as downside objectives.
Risking 1 to 3 pts max. as protecting stop.
will see, in due time the market will show us the way
The above works best if the market hits support or resistance at one of those numbers.
Follow your system first. Look at the above numbers for congruency with your work.
I'll no be at the office tomorrow either, so, no real time follow up. Maybe Friday.
Hi DT,
In case
ES
open above 1177 and then comes down to 1177 to go long , where would you place stop or how one should determine stop loss?
Only reference points I have are daily pivot and 3 day rolling pivot high at 1175 and 1174.25 to use as stop loss. Wanted to check with you and see as to how you pick stop loss ?
Thx.
@destiny - I would use a 4 point stop at 1173 even.
that is correct
Originally posted by della

Bruce why 92.50 was that low vol area