ES Thursday 9-15-11
I see three distinct bell curves that I want to try and work from in the overnight ( if time permits) or the Thursday days session. I'll start with the
low volume
that looks most important at 1177.25- 1178. That is really the lowest volume hole that is surrounded by high volume on both sides of it.
so the high volume above that comes in at 83.25 and the
low volume
that comes in above there is at 87.50.
working my way down I see high volume at 69 - 70 and then
low volume
down near 65.25. That number I thought the market would retrace to as long as we didn't come outside the
IB
high so that is still in play.
then we have a minor
high volume node
at 62.50 but I'd prefer to use the
low volume
down near the 58.50 area.
above 87.50 I'd be interested in the 92.50
low volume
area.
as usual the specific extremes of ranges are alwasy important but those are obvious so I'm not bothering to type them in.
lets see where the overnight numbers fall to confirm our areas.
hope we get another push up
if 97-97.5 can hold the move down, then we might make another push higher to the 03-05 area
otherwise we might revist bruce's 92-93 area
Originally posted by palmer

hope we get another push up

we will see soon enough- I dont trade after 3

the day is still neutral as per volume so I still like the center down near that 92.50 - 93.75...
triples
down there too...we also traded approximately 4 points above and below the
IB
( roughly)..so i'm still picking at the short side up here....symetric neutral days like the center especially when we factor in the big move yesterday..
nice Bruce- I was hoping for a higher push
to get on board
going into the bond close...here is how that volume looks to me for those who don't follow the histogram...all the volume in the center
Click image for original size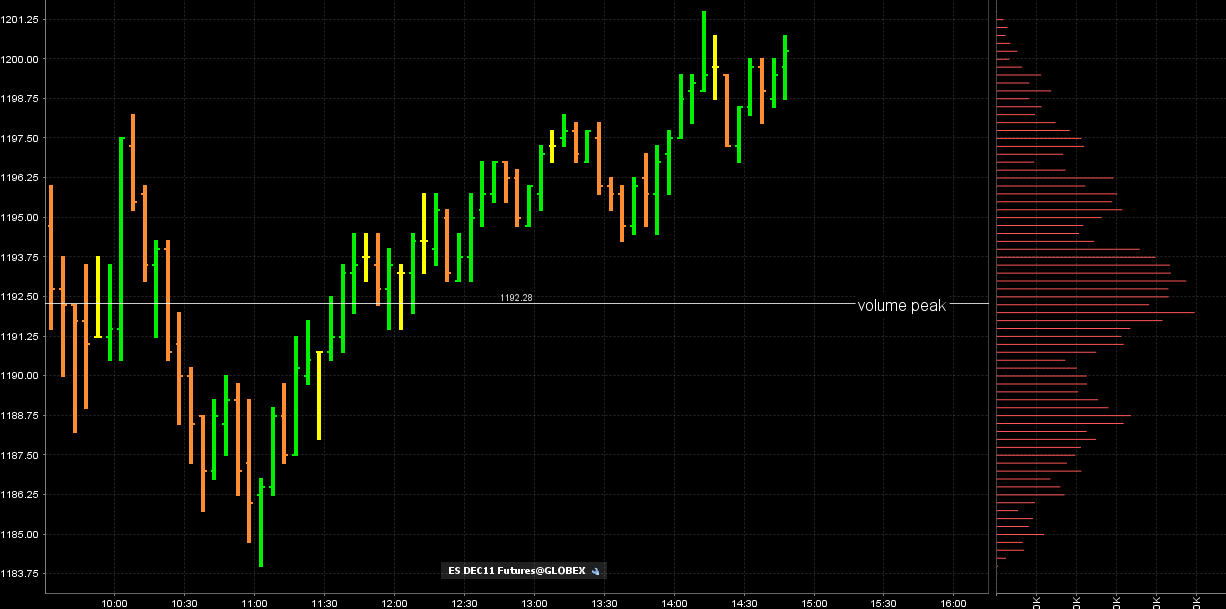 one problem with my theory is that we had that dramatic selloff yesterday after noon.///so is it wise to expect it today....? I'm not sure.......but on the positive side we are up against a key area and all but one set of
triples
has been run today..
Hi DT,
How
single print
set up is effected if the level like 1177 gets hit during
globex
session like it did in this example?
If the price comes to 1177 after opening above it during
RTH
, is the set up still valid?
Thx.
i can't get anything to really stick palmer....this 02 - 03.50 was my prefered area but don't have any signal to get short yet...perhaps it just won't come!!