ES Thursday 9-15-11
I see three distinct bell curves that I want to try and work from in the overnight ( if time permits) or the Thursday days session. I'll start with the
low volume
that looks most important at 1177.25- 1178. That is really the lowest volume hole that is surrounded by high volume on both sides of it.
so the high volume above that comes in at 83.25 and the
low volume
that comes in above there is at 87.50.
working my way down I see high volume at 69 - 70 and then
low volume
down near 65.25. That number I thought the market would retrace to as long as we didn't come outside the
IB
high so that is still in play.
then we have a minor
high volume node
at 62.50 but I'd prefer to use the
low volume
down near the 58.50 area.
above 87.50 I'd be interested in the 92.50
low volume
area.
as usual the specific extremes of ranges are alwasy important but those are obvious so I'm not bothering to type them in.
lets see where the overnight numbers fall to confirm our areas.
Bruce just for verification when volume is building above yesterday
VAH
, that is considered bullish??
here is a breif chart...ignore the horizontal lines...look at the labels "hv" and "
Lv
"...these are the high volume spots and that
low volume
at 90.50....
If I am expecting the market to be symetric then the 90.50 needs to fill in and round out the volume to attempt to make the bell curve
the astute trader will know where the opening range is compated to my entry area ( the first one minute range)
I don't know if this trade will work as we have all those matching highs at 93.75 so they may need to run that out....but the concept is still valid to me...we'll see
note the "sandwhich" -
low volume
surrounded by high volume above and below......which reminds me...it's time for lunch!!!
Click image for original size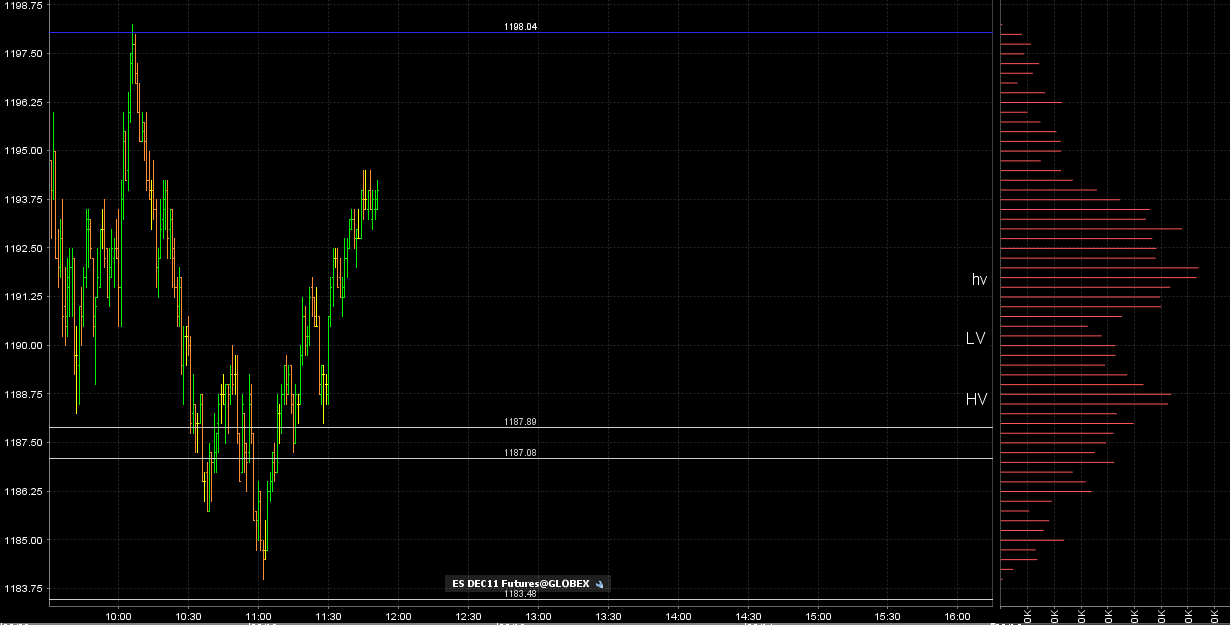 in general that is a true statement...yes...but there is such a thing as spending
TOO
much time at a price...that makes the profile and volume subjective at times
Originally posted by palmer

Bruce just for verification when volume is building above yesterday VAH, that is considered bullish??

took the loss at 94.75 and trying agin from 95.50...92.50 is first target then 90.50...still small though...
hope we get to 1205- working shorts starting there
this was a cool exit...they left
triples
on the 96.75 price...so when price dipped down I took the opportunity to exit at slightly better then break even....
I'll try to short one more time but I want to see the trade above the hour highs and see if it attracts volume.....especially if we can poke above 1200
that would be great....my ideal price is the 02 - 03.50 but will start looking above the hour highs and overnight highs....I have that 92.50 as a first target and they need to test the trend bars low still....
Originally posted by palmer

hope we get to 1205- working shorts starting there

I can't sell with a potential double top on th e30 minute bars......if it drops from here before that top is run then i will miss the trade...frustrating as we have some good targets below but just can't find a good entry that feels right