ES Wed 9-21-11
Watching for hit on full projection from 1200.5-1196.5 move = 1190.0
I have a
low volume node
at 1192.50
Click image for original size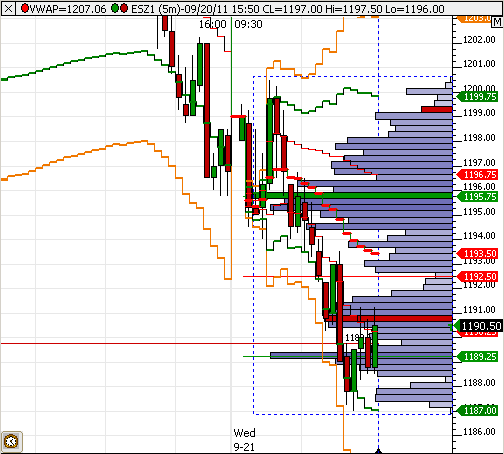 agressive long at 87.75..ultimate goal is 92.50...that is
low volume
as per today's trade...will look to cover and tighten most at 90 though...will not
add
on drops lower
some traders trade
TPO
POC
, some volume
POC
. Take a look at my
MP
chart. Green -
TPO
, Black - volume there was a 1.5 point difference
POC
itself is usually not tradable but
VPOC
is often useful ONLY when price breaks into a new level..
Appreciate the sentiment but it's not about that. It was an event trade(earnings,fed,etc...) He/She who hesitates is lost.
No news. No volume. Price is always the
leading indicator
. :)
1998 was resistance. Didn't make it?
Stopped at 1996.50 I think.
The 1182 target was missed by a
tick
. Took about 4 minutes top to bottom. That was the event.
Correction stopped below 1189. Other levels represented in corrections/ pauses and 1260 exceeded. Extension.
This was posted pre fed announcement. The objective is to be right, in the trade, even if 98 was hit.
Originally posted by destiny



Originally posted by DavidS

Trade plan
1- shoots up to 1193.50 or higher to 1197, short as 1198 R level
2-drops below lod, go with it using 1189, 1187 as s/r line
1181-2 the 38%, target below that would be 1175,1171, or lower(1160)
above 1198 will reevaluate
between em all is 1193.50 key level imo and working good above and below so far today
1189 should have been a buy signal? there's a message there somewhere 1193.50 the key to me
maybe will muddle around in the area
Magic Beans!


You were right on the MONEY. CONGRATULATIONS.
using price as leading indicator
thinking overall down but subject to change my mind