ES Tuesday 9-27-11
We are hitting up against our key 76.75 area as I type in the Overnight so I am looking for shorts up here. Preferably we will get the blow thorugh of that number and come back down for the retest. I will wait to see what the footprint shows.This was a
low volume
breakout point from 9-21. All other areas defined at the end of yesterdays thread had 4 - 5 point reactions in the overnight so those worked well if you were awake to trade them.
Volume is building in the overnight at the 71.50 - 72.50 zone so that still needs to be on our radar today as does the 66.50 - 67.75 numbers.
Above the 76.75 I only will be working from the
low volume
near 87 - 88. I will avoid trading near the peak volume price from 9-21.
My hunt for shorts has begun up here now at 79...I think they will come back for 76.75...! Good luck today
Lisa do you have low vol at 76.25
Do any of you
MP
traders use overnight
single prints
or do you just look at
RTH
singles? I show an overnight single at 1174.75. (still new to
MP
and trying to learn the game) Thanks guys.
Della,
volume profile
update for you
Click image for original size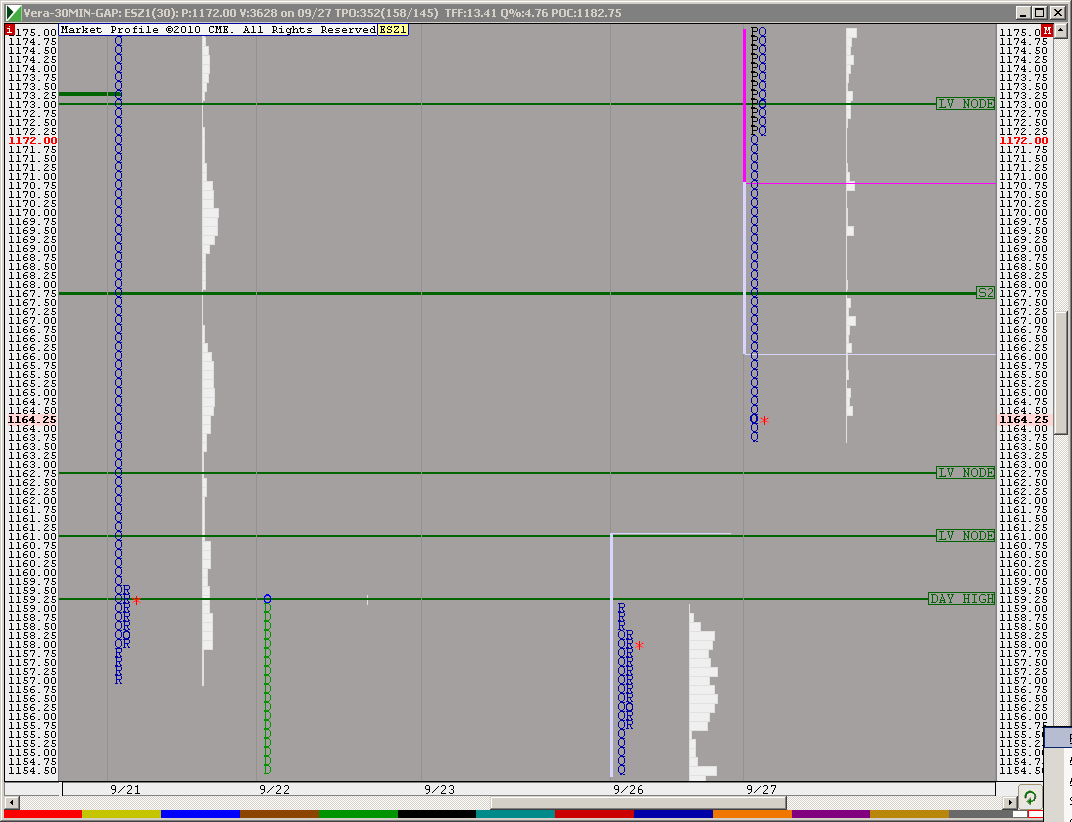 In
O/N
I'd watch the 1151 if it breaks out of the 72-62 range down.
44 and 32 under that.
1182 above
Originally posted by DavidS

1182 the 261.8 extension from this low and the 38% retrace of higher level range
pop and HOLD targets 1198-1201
not can target new low(-1077)
72,63,44 below levels to note if so

Originally posted by Lisa P

POC of 9/21 is "taken"



Click image for original size



charts of 09-21 and 09-27. History got repeated.
http://www.screencast.com/t/aizvxKhhbaR
http://www.screencast.com/t/2AilyB28