ES Thursday 10-6-11
Here is a recap chart from Wednesday. I'm going to get the date right tonight. Very instructive day and was hoping we'd have some good examples this week. You may want to reference Mondays and Fridays chart to understand this a bit more as those "bell curves" interacted nicely with todays trade.
Click image for original size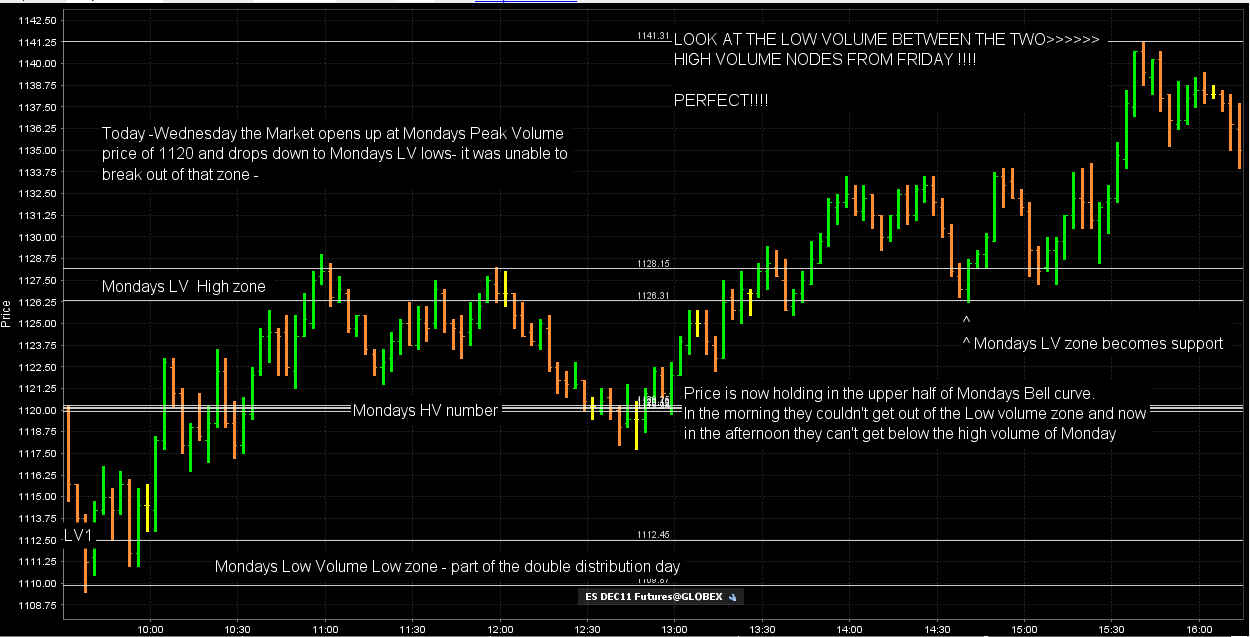 Permit me to babble a bit if you don't mind. A buddy of mine is always teasing me about how crappy my charts are so his comments have inspired this ramble.

In 1848 the gold rush began in the United States. People came from all over to make it rich by finding gold. More people made money from selling the tools and equipment to find the gold then those who actually found gold. I view trading in the same way!

There are so many bells and whistles and fancy chart software out there. Do we really need all that crap ? I don't think so. It should be obvious that more people are making money by selling courses and numbers and data and charts. Why do us traders feel a need to complicate things? It gets kind of ridiciculous...

I can't process all this stuff and folks use so many complicated trading methods...is it any wonder so many fail ??
getting close to my idea short zone with an
air pocket
below...hunting for shorts up here!!
I'm with you BM. I also think that fancy charts and software dose not make a trader a good trader.
Hey
ES
hit the 1143.00 I was targeting yesterday. Now is trying to gun for 1148.00
ES
trading 1144.50 @ 10:33
finally the push above 45 and there is still one
tick
of air at 41 even....this is for me...short 47.25...will take multiple stabs up here ..using 44 as initial target
excuse my spelling I mean "does" not dose.
Originally posted by sandoxe

I'm with you BM. I also think that fancy charts and software dose not make a trader a good trader.
Hey ES hit the 1143.00 I was targeting yesterday. Now is trying to gun for 1148.00

ES trading 1144.50 @ 10:33

Originally posted by BruceM

finally the push above 45 and there is still one tick of air at 41 even....this is for me...short 47.25...will take multiple stabs up here ..using 44 as initial target

Bruce, whe you out of your trade, could you please explain 47.25 short. I have nothing there. Thanks