ES Thursday 10-6-11
Here is a recap chart from Wednesday. I'm going to get the date right tonight. Very instructive day and was hoping we'd have some good examples this week. You may want to reference Mondays and Fridays chart to understand this a bit more as those "bell curves" interacted nicely with todays trade.
Click image for original size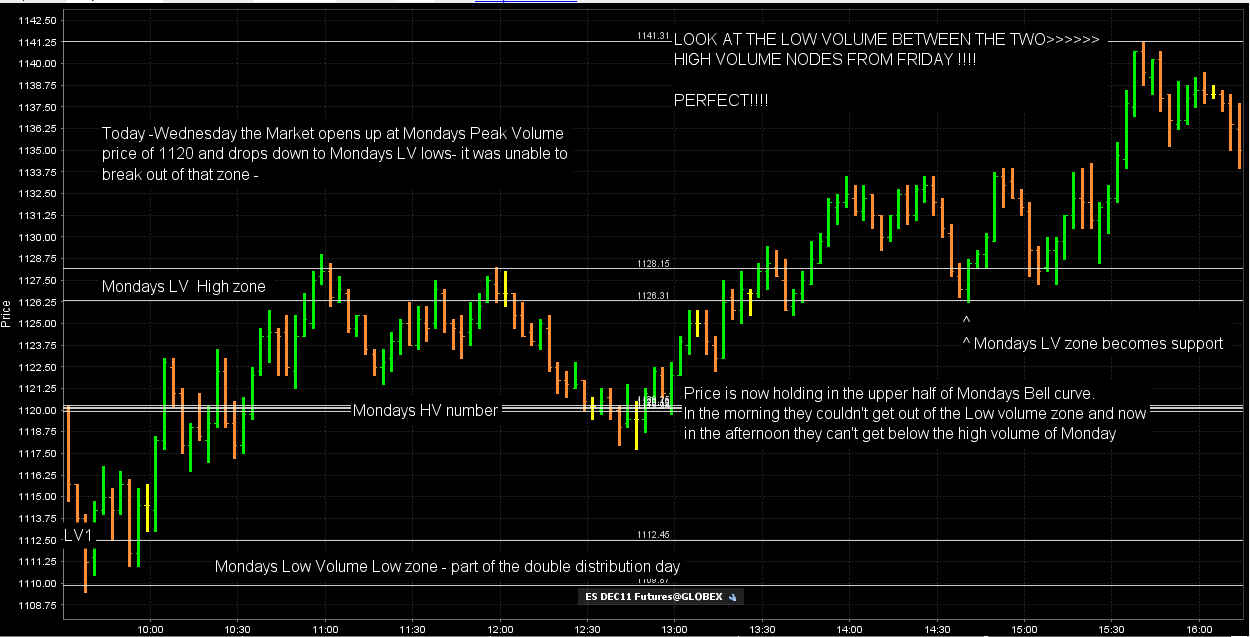 ideally the short traders will not only want to keep it below the
low volume
from last friday but also that
high volume node
from that day....
This is more of a conceptual idea and not trade specific...if we get above the 90 minute highs then that could start to change things... especially if the 43.75 - 45 turns into support...
either way it is best to wait for levels generated from previous completed days...I think it is hardeer to trade from the unfolding days levels
above the current highs we have peak volume from last thursday at 54.25 ( I don't trade there) and then 60 - 63...all from last thursdays trade...see my thread if you have any visual questions or need clarity...or ask them here..
a common pattern: They hold the peak volume from a day and then go to the next key area...in theory that would be 1154 area.....this is theory...so theory and actual trades are so different...

just tossing that out there for something to watch..this happened yesterday...we consolidated in th eupper half of a day and went higher...
ES
now testing 1148.00 again. and above it. If finding support here the 1164.00 is my next objective.
Below 1148.00 I have the 1143.00 as
S/R
.-
ES
trading now 1149.25 @ 11:37
If we make it that high, I show a
single print
at 1163.50 from 9/29 for those looking for confluence. I also show a
naked POC
at 1157.00 also from the 29th. My targets are 1156.25 and 1162.75 for the upside if we get that high.
Originally posted by sandoxe



ES now testing 1148.00 again. and above it. If finding support here the 1164.00 is my next objective.

Below 1148.00 I have the 1143.00 as S/R.-

ES trading now 1149.25 @ 11:37


pardon the ignorance but could someone point me in the rite direction to Bruce's thread? Thank you