ES Thursday 11-3-11
Hey Bruce, I just hope you are a good sport and keep posting the way you always have!
I know I said that I will not post any more but NickP got me going with he's reverse psychology.
Basically today, I pointed out and trade from the 1237.00 area bc it is 38% Fibonacci retrace from 1283.50 high made on 10/28 at 16:01 and 1208.50 low made 11/01 at 08:52.
1237 area is also a Fibonacci 23.8% and it's acting as resistance. If you look at your intraday charts, you will see that the
ES
tested that area many times including late this afternoon in the
O/N
and was not able to find support.
Now
ES
is moving back down to test the next support area again, at 1214.50. Failure here will target 1204.00 and possibly 1178, same objectives as previously. Stops started above today's high now at B.E. 1236.00. Will see where it takes me.
Below is the same daily chart I had posted for some time now, last time was yesterday at 02:00.
Right now, next hours, next days, next weeks, next months and next years to come,
I
see for you
the same I see for my self:
Having the very best of luck, fun, awesome, incredibly profitable trading experience!!
Click image for original size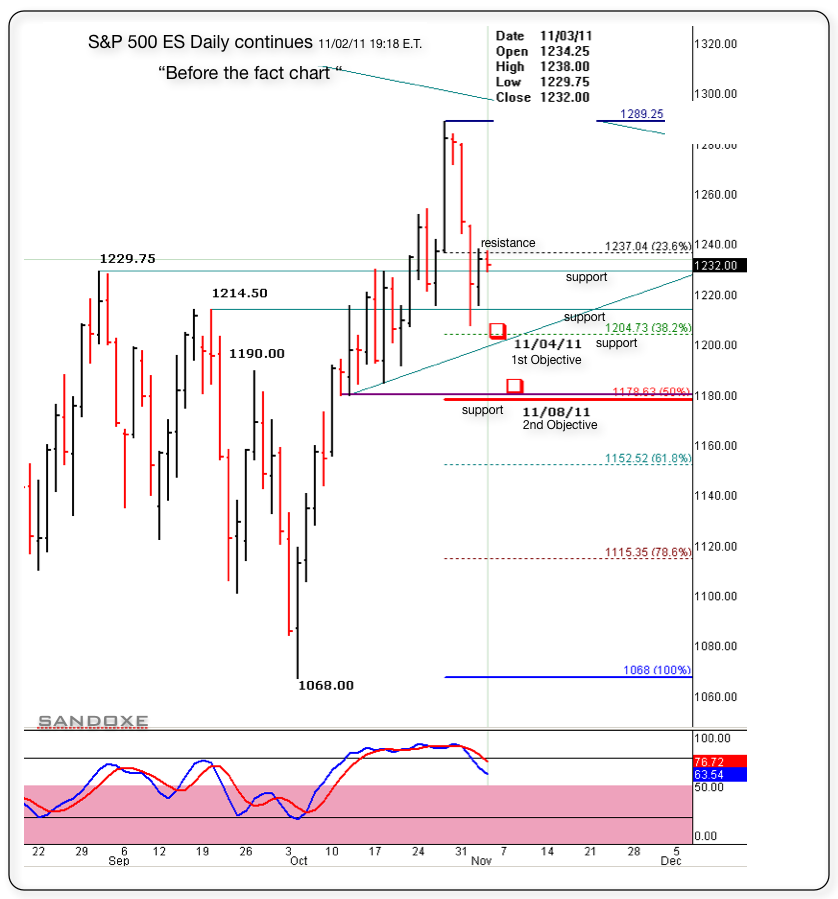 I am going to stop trading while th esituation in Greece develops. Greek
PM
is now on
TV
addressing the nation. Good time for lunch - no guessing there
Lisa, we all do our best to guess our way to the bank...ha the market is ultimately a big guessing game, but we try to put a method behind our guessing game... If you look at the
VOLD
, it signals volatility.. The
VOLD
actually gives a lot of info, and its powerful if you put it together with other info...
Tradezilla, you are welcome to trade now.
I am going to stand down, as this is a news-driven day and the news are in development now. M
y news source is not as fast as Bloomberg terminal.
It doesn't matter how much the market moves against me, my stop is always 2 pts unless it jumps it which has never happened to me before.. my worst days are not how big the moves were against me, its always getting stopped out multiple times in a row..... Won't take this one.. too many times up...
Shallow retracements down, multiple times up.. Fib traders should favor the upside..
DX
tells us this may not go far with some good support here..... the short may still be in play 52 &
globex
high?
I'm short 9.75 small.. I expect it to come back into the body.. If it works out, I'll hold and it should be worthwhile, if not, I'll get stopped out... The odds are 50/50 but the R/R is there...
why would you short when all the indices are at their high and dollar has broken too risky?
Update. Thinly-traded area is "taken". Singles to 1254.75, but INDU is at 12,00 - so may not get there.
Click image for original size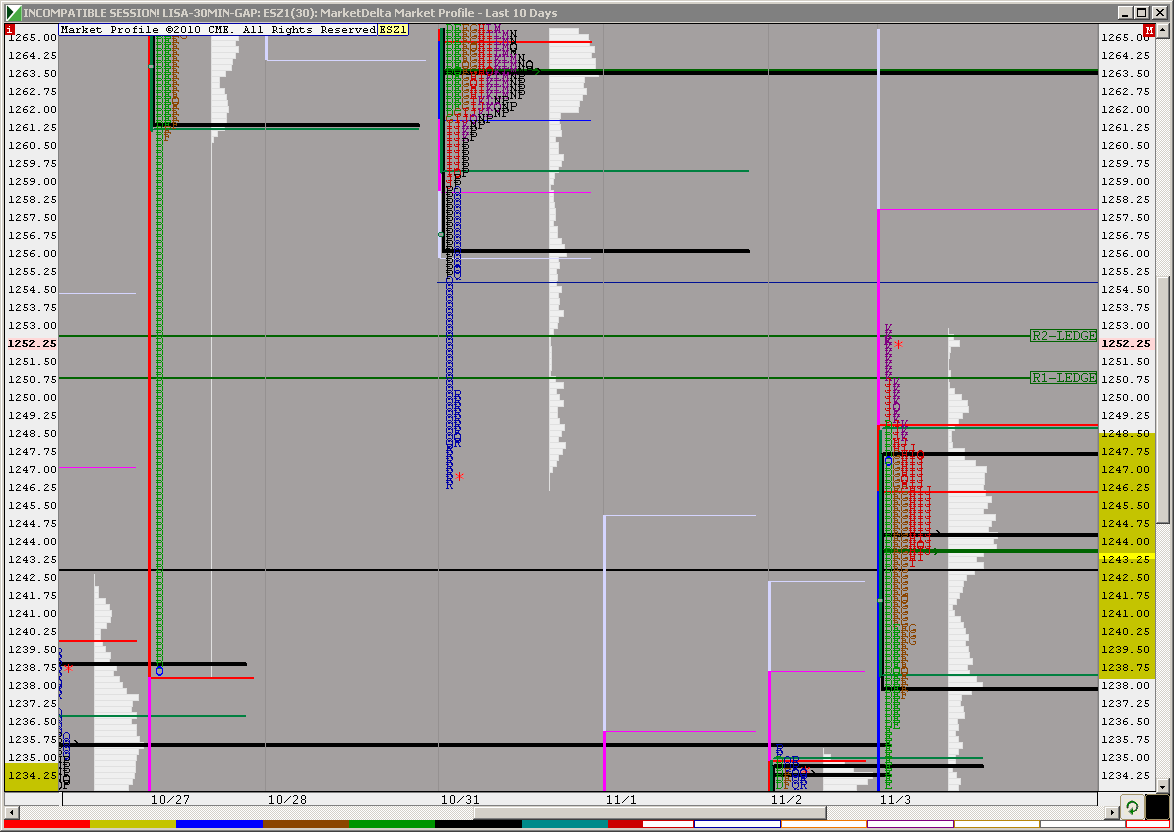 Click image for original size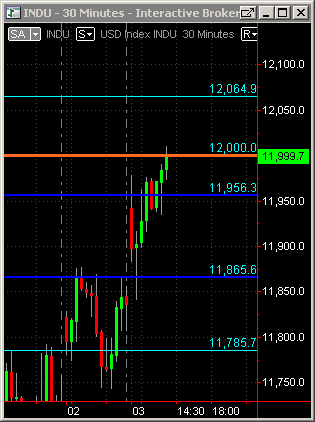 Going to take a break for lunch. Later
doing battle at that 1262.25 this EARLY a.m. ..