ES Tuesday 11-22-11
Here's what I've got for my
ES
MAP of
PASR
ZONES using a 30min chart of 20 days of data coming into Tuesday's trading. The Red lines are potential significant levels with Magenta lines as semi-significant. The White dashed lines are the Weekly Pivots and the Green line is a
Gap
to be closed. The Light Blue
Volume Profile
of the past "rolling" 20 days is displayed on the right vertical axis. The Gray background shows non-
RTH
price activity. Hope some find this useful!
Click image for original size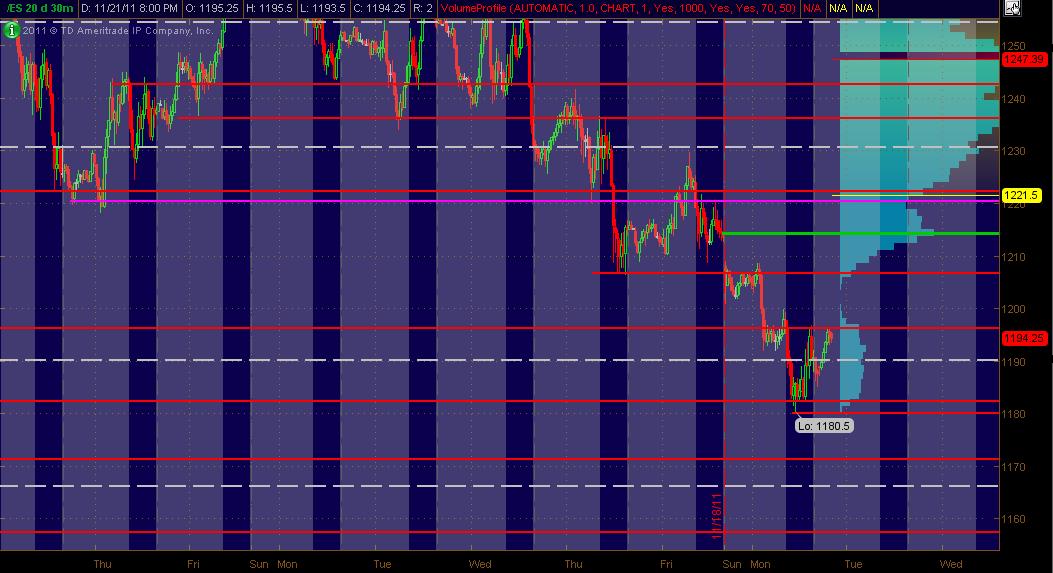 1214
Gap
Close level / 20day & 2day
HVN
/ Fib Cluster
1206
PASR
/ Daily R2 (
RTH
calc's) / Fib Cluster
1182 - 1180
PASR
/ Daily S1 (
RTH
calc's) / Fib Cluster
1172 - 1171
PASR
/ Daily S2 (
RTH
calc's) / DeMark Daily S1
How about that volume
gap
? Think they wanna close that?
I think the 1 hour and 4hour picture shows a good LT down trend. Could get nasty fast.
1180 is the weekly 200 for
ES
and almost exactly 1
vix
deviation....
1214 Friday's close
-32 Friday's
VIX
=1182.
Last week it was 2...looking for a retrace....
looking at the 60 minute chart, 1200 looks like a key bull/bear level to me
above 1200, the
HVN
at 1214 on
MM
's chart looks like the most obvious obvious focal point for bulls
I'm using the
low volume
area of 86.50 - 88 and then the upper area of
low volume
and high volume from day and overnight session at 93.75 - 95...
I'll be watching yesterdays lows but more important is the 75 - 78 zone
revising my first support zone to 84 - 86...that includes
O/N
low and peak volume price from yesterday...
buy low and sell high untill we SUSTAIN trade outside of the overnight high or yesterdays day session lows..
Two ideas I use to
begin
to define SUSTAINABLE trade - 30 minute closes above/below key swing points and a timed limit of 15 minutes.
The
air pocket
just filled after our key upper zone stopped the rally....old stuff for most now!!
longs want to see a 30 minute close above those
single prints
that were just filled in and to see the 84 - 86 become a support zone now.......a good sign that they couldn't close it below yesterdays
RTH
lows for bulls.
Two day volume looks like it wants to create a bigger bell so I'm not anticipating any great trending action yet..
sorry Scott but i won't be able to get to it now....would later be ok ? perhaps Lisa is around for us.....
Originally posted by scottrigg1

bruce can you plz post your MP chart?

I am new in the this room, only from some months ago. Bruce, I apreciate a lot your concepts, ideas and more the everything your explanations about
MP
and volumen, something that I am realizing works very well and for me it is different of all the concepts that I learned until now. Thanks everybody for share your knowledge.