ES Tuesday 11-22-11
Here's what I've got for my
ES
MAP of
PASR
ZONES using a 30min chart of 20 days of data coming into Tuesday's trading. The Red lines are potential significant levels with Magenta lines as semi-significant. The White dashed lines are the Weekly Pivots and the Green line is a
Gap
to be closed. The Light Blue
Volume Profile
of the past "rolling" 20 days is displayed on the right vertical axis. The Gray background shows non-
RTH
price activity. Hope some find this useful!
Click image for original size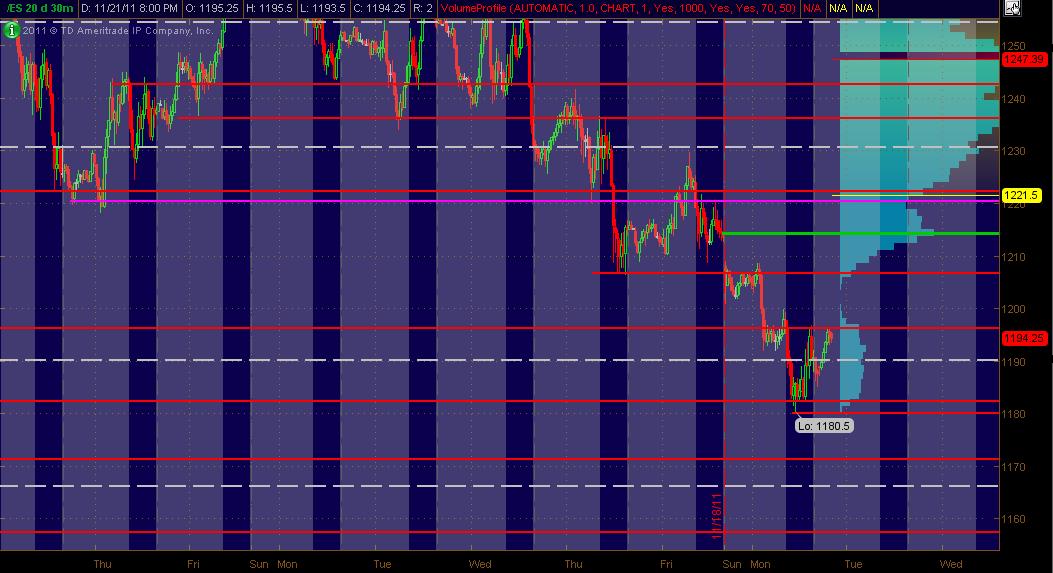 1214
Gap
Close level / 20day & 2day
HVN
/ Fib Cluster
1206
PASR
/ Daily R2 (
RTH
calc's) / Fib Cluster
1182 - 1180
PASR
/ Daily S1 (
RTH
calc's) / Fib Cluster
1172 - 1171
PASR
/ Daily S2 (
RTH
calc's) / DeMark Daily S1
Makes perfect sense, thank you for the additional insights.
Originally posted by BruceM

For me it is the Close that is most important but just the fact that we are trading above/below a point that once was single prints is telling us a lot about the ENERGY of the participants who drove the market....we can also use our Cummulative delta to look at the various levels once the singles get filled.

The concept applies also to previous days lows and highs in RTH. You will get those great buying and selling tails when they can't get closes to confirm breakouts.Todays lows are a good example. Like everything, it isn't perfect but I know you don't expect it to be PT and you will do your own work if you think it has value.

Originally posted by pt_emini

Very interesting concept Bruce, thank you for your insight. Would you say the successful retest confirms the polarity switch ?




I had us opening in between the two key areas so we needed to buy that first dip and sell that first rally with confirmed footprint signals...
Bruce,
Don't get discouraged at the naysayers. I really appreciate what you do here. When I came to this chat room over 3years ago I was a profitable trader, but your willingness to help others and your concepts about openings (
pitbull
) and
market profile
low/high vol areas. Really helped organize my trading into the direction I wanted to go. Really hope you have a wonderful thanksgiving.
I really like it here and check the rooms daily...but I trade for a living and the distraction is there trying to type and post. But I don't think I would be at the level I am without mypivots. I am thankful for all yall
thank you Joe...that's nice to hear !!
Dont you love it when a plan comes together
I am new in the this room, only from some months ago. Bruce, I apreciate a lot your concepts, ideas and more the everything your explanations about
MP
and volumen, something that I am realizing works very well and for me it is different of all the concepts that I learned until now. Thanks everybody for share your knowledge.