ES Friday 12-16-11
Here's what I've got for my
ES
MAP of
PASR
ZONES using a 30min chart of 20 days of data coming into Friday's trading. The Red lines are potential significant levels with Magenta lines as semi-significant. The White dashed lines are the Weekly Pivots. The Green line(s) is an unclosed
gap
level. The Light Blue
Volume Profile
of the past "rolling" 20 days is displayed on the right vertical axis. The Gray background shows non-
RTH
price activity. Hope, as always, that this is helpful to some as a "MAP."
Don't forget it's Crazy Friday
Witching
Day ... lots of atypical crosscurrents.
Click image for original size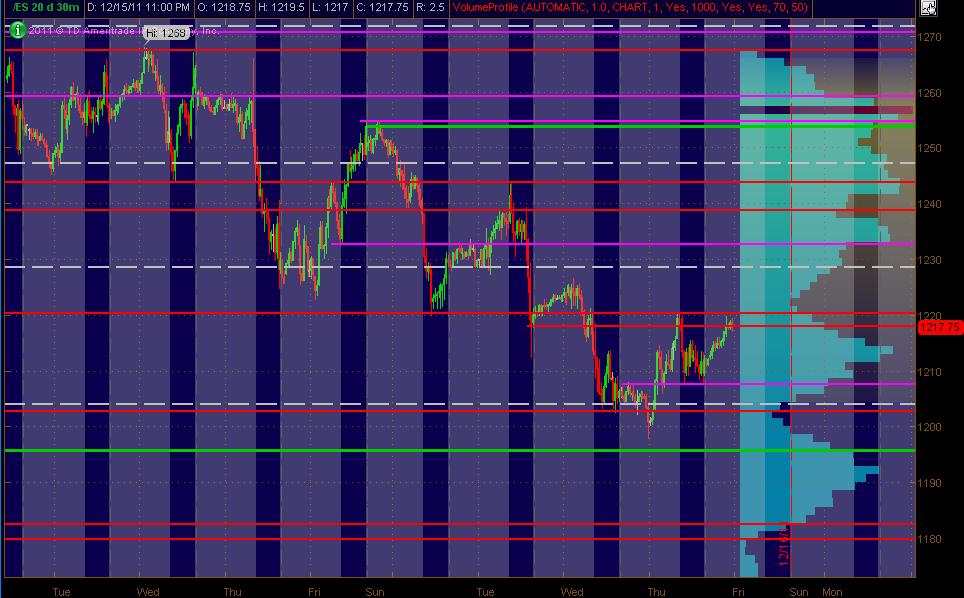 As for levels above and below current trading as of the post:
1233
Fib cluster / Minor
PASR
/ Daily R2
1229
Wkly Pvt / Minor
PASR
1218-20
PASR
/ Trendline down on 30m chart
1207
Minor
PASR
/ Fib Rtc / 1 to 2 Day VolProf
LVN
1202-04
Wkly Pvt /
PASR
/ 20day VolProf
Low Volume
Area
MM
I like your 20 day rolling profile. Notice price held the
LVN
Wed afternoon and the probe early yesterday morning, and now this choppy rally has taken price right up to the
LVN
at 1222.50 this morning.
There are
single prints
from Tuesday's wide range day that run from 1221.00 up to 1224.00, clearly that zone is in play early this morning.
Above that zone is another
LVN
from Tuesday at 1229.00 which lines up exactly on your weekly
pivot point
.
Also of note is a nice
HVN
at 1235.75 also from Tuesday
I'm framing it out like this...
22 - 23 is key inflection point and they WILL go for either 1234 or 1211 as a magnet today....stumbling blocks to reach those main targets will be the 29.75 or the 1215 numbers......
so I'm still using
low volume
to
fade
but will be quicker to reverse in order to trade for the 1211 or 1234...
PT
and Monkey posted the reasons for the numbers...mine are the same..
air filled ..runners trying for 16.75 and 1211
we can only assume that since the 15 held and the 22- 23 broke through they are trying for the 34. This could change but that''s all we have to go on now...29.75 is key resistance...getting back under the Overnight high causes initial questioning for this upmove

Ym is lagging and hasn't broken out of key highs....will wait for the hour to complete to come up with a better plan unless 29 area comes into view first
Es is following the euro almost in lockstep. If the euro heads to 1.25 as some speculate we may be looking for 1170 not too far away..
with the Ym barely able to get outside YD highs and the
ES
back under the key upper zone there is only one way to trade now IMHO.....
thanks bruce , enjoy the weekend