ES Friday 12-16-11
Here's what I've got for my
ES
MAP of
PASR
ZONES using a 30min chart of 20 days of data coming into Friday's trading. The Red lines are potential significant levels with Magenta lines as semi-significant. The White dashed lines are the Weekly Pivots. The Green line(s) is an unclosed
gap
level. The Light Blue
Volume Profile
of the past "rolling" 20 days is displayed on the right vertical axis. The Gray background shows non-
RTH
price activity. Hope, as always, that this is helpful to some as a "MAP."
Don't forget it's Crazy Friday
Witching
Day ... lots of atypical crosscurrents.
Click image for original size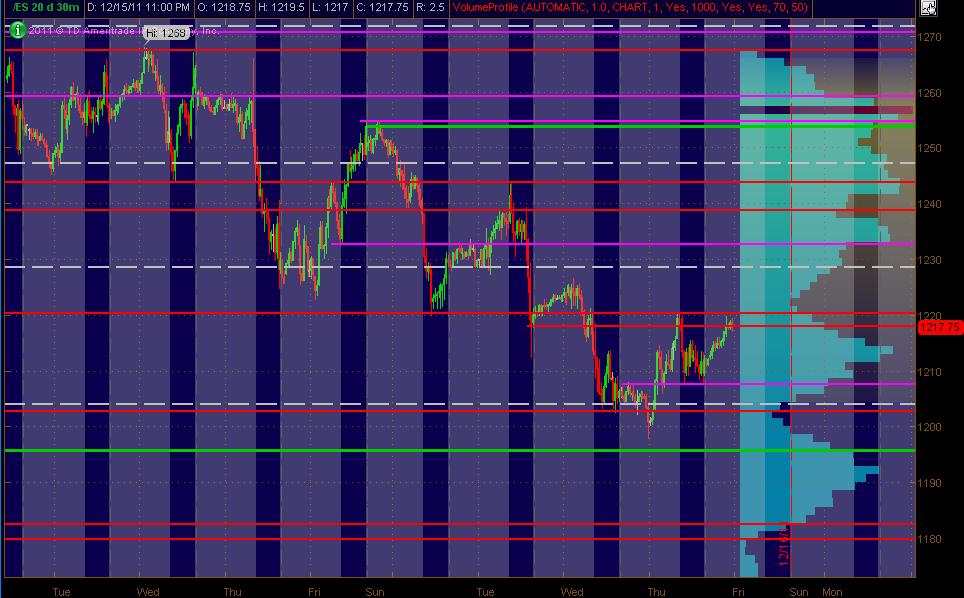 As for levels above and below current trading as of the post:
1233
Fib cluster / Minor
PASR
/ Daily R2
1229
Wkly Pvt / Minor
PASR
1218-20
PASR
/ Trendline down on 30m chart
1207
Minor
PASR
/ Fib Rtc / 1 to 2 Day VolProf
LVN
1202-04
Wkly Pvt /
PASR
/ 20day VolProf
Low Volume
Area
bruce why did you finally decide to go for it at 10.5 bruce? i thought you were waiting for 6.5 or lower or staying aside, what made you change your mind if u don't mind ? thanks !
Originally posted by BruceM

agressive longs on 10.50

Nick..I was watching to see how that last 30 minute bar was going to close...so I was anticipating that 3rd
single print
....so I "KNEW" ( as best as I could) from a probability standpoint that they would go back up to fill in at least one of those
single prints
......I also had the 09 as a support area and we were above that and I saw
$Tick
diverging...so it was an anticipation trade...this is also a bad time for trends and we know the market alternates between trends and consolidation..so we were overdue.....my footprints were showing subtle signs too...so I pulled the trigger long...
not the most precise and I knew it was agressive in general....sorry if that expalination didn't help much
thanks bruce , enjoy the weekend