ES Thursday 1-5-12
A quick look at the nice balance we have heading into Thursdays trade. This is a view of all session data for this current week. Note the nice balance and peak volume at the 1271 area and then the market has extremes about 9 points away on the upside at 1280 and also 9 points to the downside at 1262. Lets see what the 8:30 reports bring our way.
Click image for original size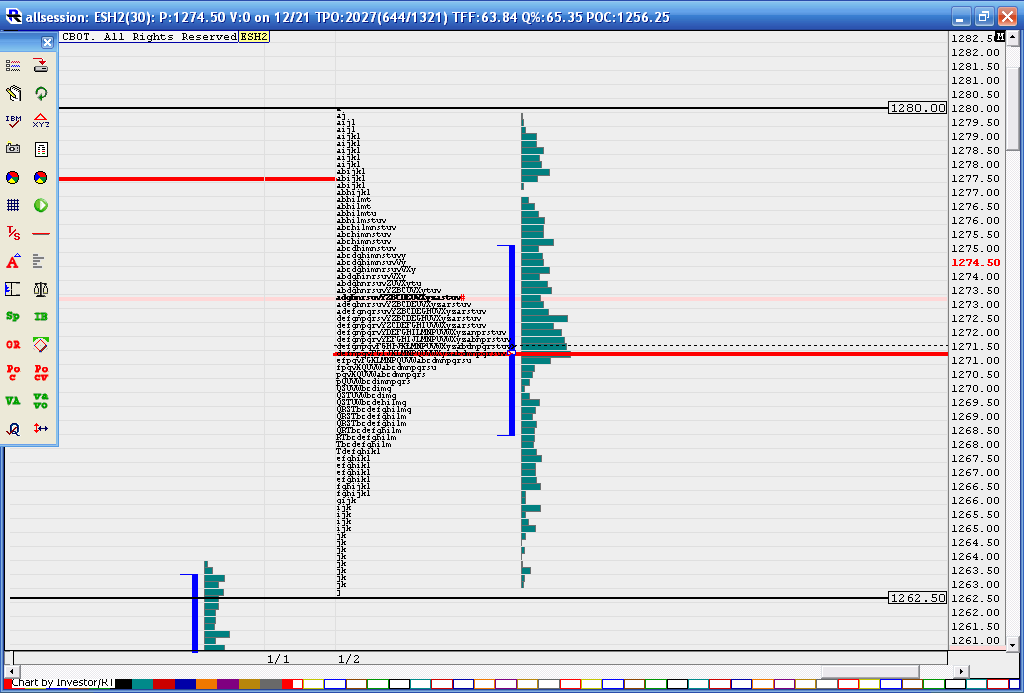 Good Morning all reports out
key zone on the upside as we enter post 9 a.m trade is the 70 - 73.75 zone...lots of numbers up there including the volume node from overnight, the one posted above, the weekly open and the daily pivot...real close to key
rat
75 also.
prefereed trades will be buys into the 64-65 area and sells into the zone mentioned...I will be using the
pitbull
numbers to confirm the areas off the open print.
Biggest thing we need to think about is to see if we will still be using that 70 - 73 area as a magnet or will volume come in to break us out and away from that. Down would be into the 53 - 56 area and up would be above that 80 up above 85...good luck today
just like us day traders want to watch for price holding above or below daily price ranges the weekly traders will use the weekly bars.....so we need to be aware of last weeks highs as a reference point too. So that 64 - 65 is important!
better volume in the overnight so we can only assume " They're BACK "...volume will be better today
Good morning all, Bruce you mentioned using
PITBULL
for opening print #'s, were can I find that info? thanks & good luck today
open of 65.50 so 63 and 61.50- 60 in the range for those looking for mechanical entries on buys...and then 68 and 69.50 - 71 for those looking for sells...follow the
pitbull
guidlines!
minus 4 sellers at 61.50 are in so starting to look for longs down here...higher risk as volume is back in and we are under last weeks low
thanks bruce have great night