ES Thursday 1-5-12
A quick look at the nice balance we have heading into Thursdays trade. This is a view of all session data for this current week. Note the nice balance and peak volume at the 1271 area and then the market has extremes about 9 points away on the upside at 1280 and also 9 points to the downside at 1262. Lets see what the 8:30 reports bring our way.
Click image for original size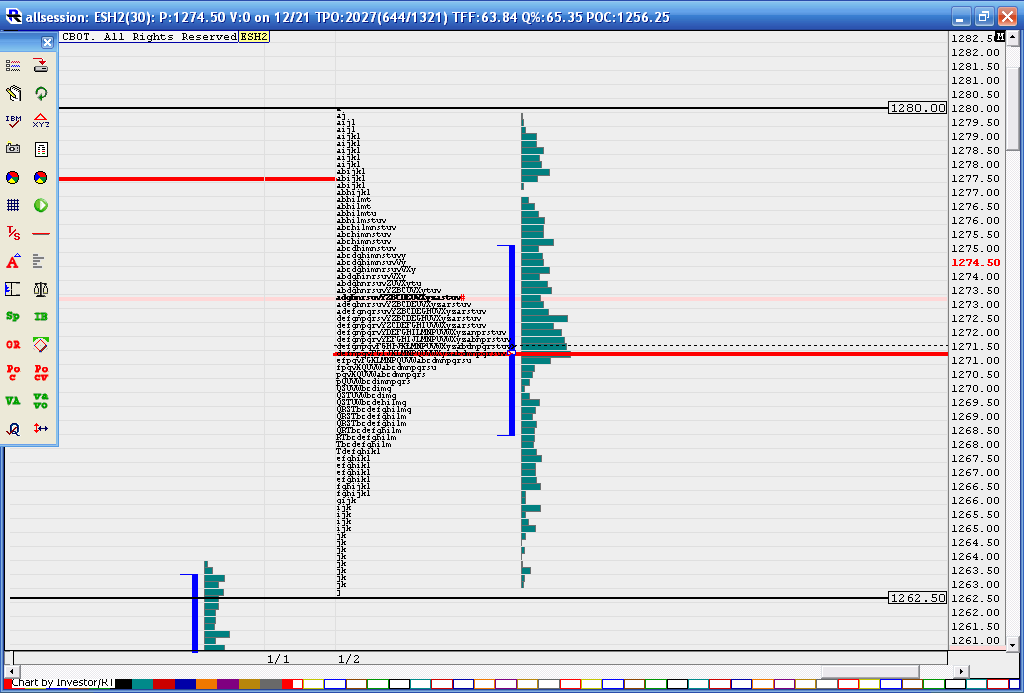 I have the 74.25's and the 76.25's workings...72.50 is revision on target now after we cover the 74.25's...still no flush and 80 in sight.....
they are trying for fourth set of singles...low probability to not have some fill in.....looks liked I picked a bad day to demonstrate this LOL, but the probabilities will only be wrong at the close of the day......that is why I said it was a "concept" and not a specific trade entry...how u use it will be up to you...but you all know that!
have not seen any exspreem yet
3 sets of confirmed singles...that is on the far end of the probabilities IF it held to days end.....so I have that 74.50 high in my mind on any shorts either new or that I am holding......certainly doesn't mean it can't keep trending so my comments are only from a statistical view


always fascinating to watch a trend as the faders exit... then it helps the buyers...no test of a previous 30 minute bars low in this trend so far......
flat on all at 73.75...not gonna be greedy
overnight high is down here too....not trading anymore today...a cool day....an additional way to use the single concept is to ask oneself if it is wise to stay long After a SECOND set of confirmed singles on the day forms...? How about a third?
you can equate
single prints
and previous 30 minute bar retests to time alone....today we rallied for almost 2.5 hours with just minor profit taking .....that is excessive...
now if only they would fill in that other set of singles and the hour breakout so I can say " see, I told ya so !"
HA
!!
Having ideas/targets and taking trades to get to such targets can be very different some days..
this was great bruce; thanks for the time taken to post
thanks bruce have great night