ES Thursday 1-5-12
A quick look at the nice balance we have heading into Thursdays trade. This is a view of all session data for this current week. Note the nice balance and peak volume at the 1271 area and then the market has extremes about 9 points away on the upside at 1280 and also 9 points to the downside at 1262. Lets see what the 8:30 reports bring our way.
Click image for original size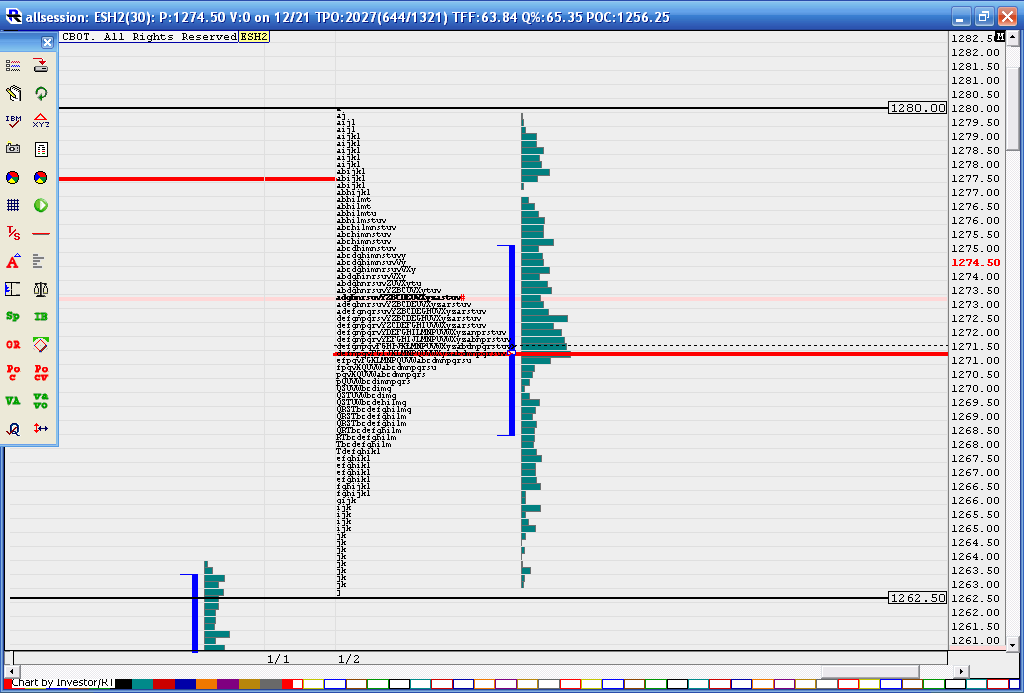 LOOKS GREAT, THANKS BRUCE
I'm slightly more agressive as we go higher into 74.25 on shorts...that is above yesterdays highs ....we should see 71.75 at least again as they are trying to form second set of singles up here......still want to see that volume flush on upside...but none yet to signify a potential top..they don't always come that way...

seems that they started this rally a bit too early....no doubt that this is a critical area...!

In the back of my mind is the failed auctiuon concept..so we failed at those 62 lows so in theory they would want to try to go get 80 eventually.....we'll see whicjh side wins
two main concerns...no great volume flush and now the 30 minute has a potential double matching top...
if we trade to new highs then that begins to create the third
single print
on the day.........so I will be selling additionally above there on a good
delta
flip...
revising first target to 72.25
Thanks for your commentary Bruce. It has been (relatively) slow on my signals today so I have had a chance to better explore what you are seeing. Thanks again for posting!
thanks bruce have great night