ES Thursday 1-5-12
A quick look at the nice balance we have heading into Thursdays trade. This is a view of all session data for this current week. Note the nice balance and peak volume at the 1271 area and then the market has extremes about 9 points away on the upside at 1280 and also 9 points to the downside at 1262. Lets see what the 8:30 reports bring our way.
Click image for original size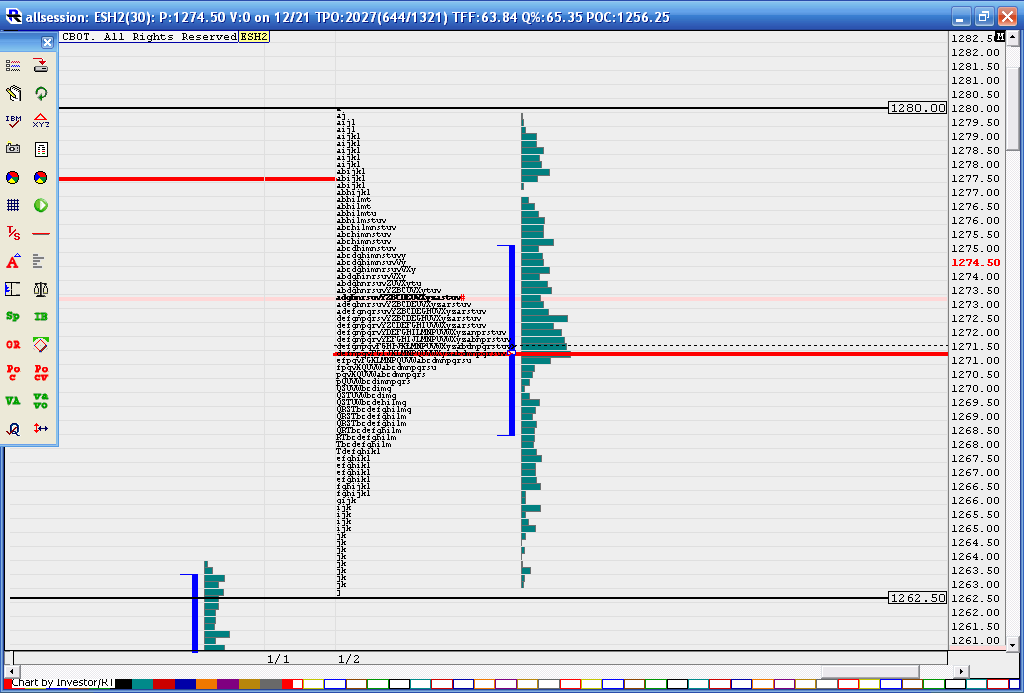 thanks for your explanation, Bruce.
an hourly close under the overnight low and that 62 area changes the upside bias......we are stuck inside the hour range anyway so not much to do as a fader. Big coiling action makes the odds of a breakout fairly high so any
fades
would need to be approached with care
no problem lisa...with the
single prints
that just formed on the
IB
breakout it would be a low probability to not have another 30 minute bar test that breakout....this holds true as long as we stay inside the previous days range..we also know that we are heading up into our key resistance zone....
so this doesn't give you an entry specifically but a concept to use as a frame work..a break above that breakout bar BEGINS a second set of
single prints
POTENTIally ...and we know those often get filled in so up into the 1270 is a good place to begin a short
fade
hunt.
very high odds we at LEAST fill in 69.25...especially if the 12 noon bar closes above there..that would be second set of singles inside the range into a key area...

small shorts beginiing at 70.50 but prefer to see a volume flush higher to signify exhaustion
Bruce, thank you very much for that explanation. It cleared all my doubts.

AYN
what's cool now is that any trade above the current
RTH
highs tries to create the second set of singles again!
Since we have two 30 min closes inside yesterdays
VA
, do we not have an 80% chance of seeing the 73 level??
started new small shorts at 71.25.....key prices I will watch if they flush up is specifically 73.50 - 75....
that isn't a true statistic...search traders laboratory .com for a thread by the vendor larry levine...somebody recently ran a test
Originally posted by bkay59

Since we have two 30 min closes inside yesterdays VA, do we not have an 80% chance of seeing the 73 level??

thanks bruce have great night