ES 3-28-13
Here is how I see it...we need to wait to see where we open...basic plan is to sell above the 58 highs and use 56 as initial target then if lucky the bigger target of 53 - 54...
If we open and drop then I will try to buy the 53 - 54 first for the 56 retest and will also try to but the 49.75 - 51 area for the 53 - 54 retest..
additional sell point will be up at R1 of 1563 too..
lets see where we open and where the
pitbull
shows his ugly head
reports at 9:45 today !!
forgot to include this on the video...this is time for Mon - Wednesday...the key areas jump out better on here
Click image for original size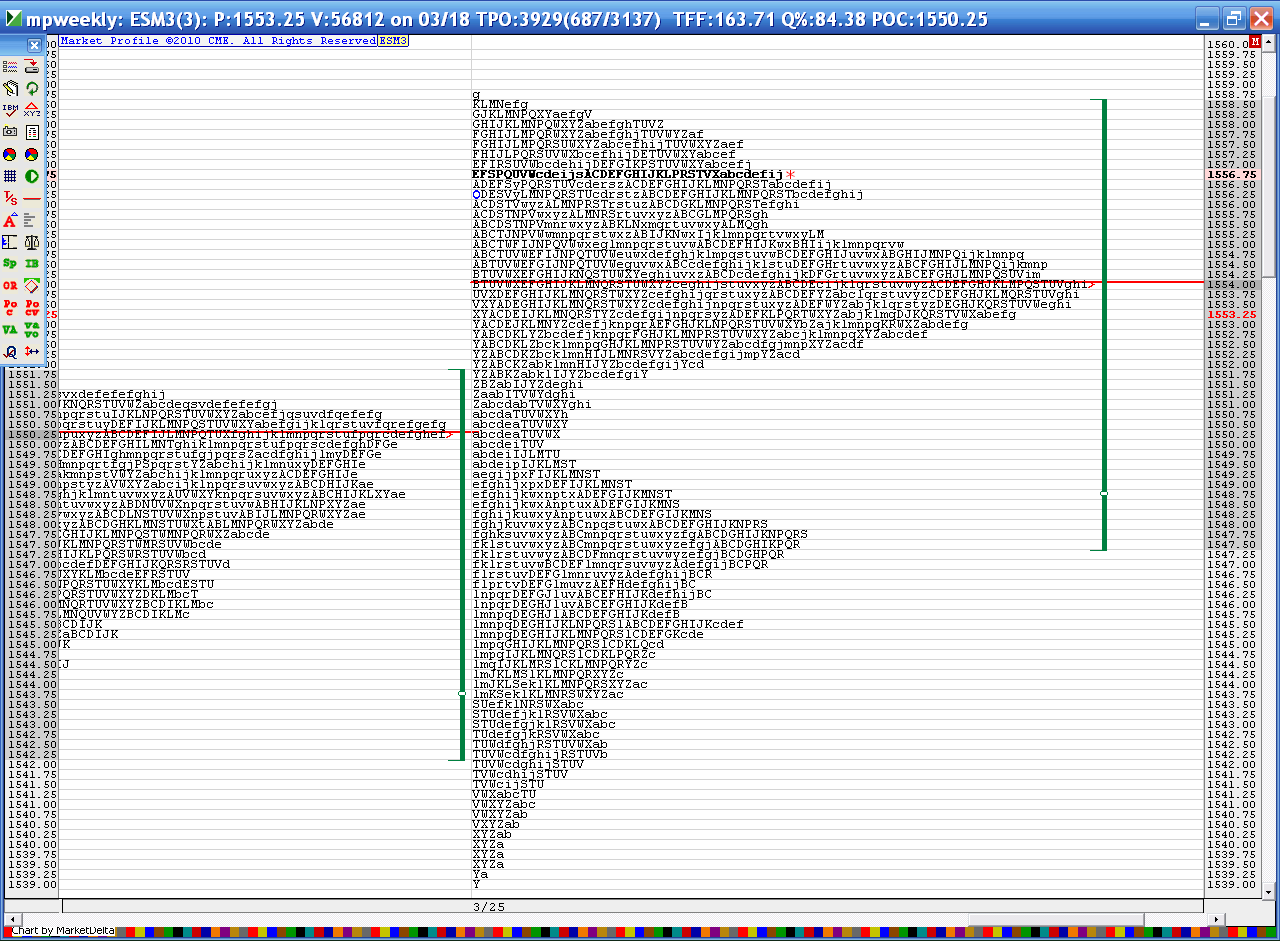 i must say bruce you do know how to read the short term movement very very good..
Thanks Duck but I missed the ultimate target by two tics.....I must be getting rusty
If we get back under 56 again I will look for another short signal..this consolidation at 57.75 should lead to some kind of breakaway..I just don't know which way !
still working of the premise that if they can't hold outside the overnight range then they will go for the
O/N
midpoint....that midpoint is right at 0ur key 54 today...so watching yesterdays
VA high
and that
O/N
high real close...
In case no one is really looking at this aspect:
the
CA
$H just printed at the standing record high close (it was 1565.15)
Now what?
(I can assure you, I don't know)
this is the last trading day of the quarter.
the buyers who bought the breakout from the
IB
high need to keep price above 57.75 - 58.25 in order to go get that On swing high up at 60.50 and then the 63 R1 level....
I've only done the one initial
fade
today and i don't see any great opportunity unless we can get back under the place the breakout traders will be wrong mentioned above
patience is the key today and we don't want to get caught in any TRUE breakout in front of a 3 day weekend
value is building higher then yesterday so in general all
fades
are much harder up here
Thanks, Bruce,
I feel vindicated in my expression of
PA
ignorance.
a search to unlock volume above current prices might be interesting
that's it for me that was the offical test for me.....as with many probabilities they are cool to know about but often very difficult to hold trades for..


I'm on daughter duty now and glad to be....I hope all enjoy the break from the markets and enjoy the holiday or whatever it is that you do this weekend !!