ES 3-28-13
Here is how I see it...we need to wait to see where we open...basic plan is to sell above the 58 highs and use 56 as initial target then if lucky the bigger target of 53 - 54...
If we open and drop then I will try to buy the 53 - 54 first for the 56 retest and will also try to but the 49.75 - 51 area for the 53 - 54 retest..
additional sell point will be up at R1 of 1563 too..
lets see where we open and where the
pitbull
shows his ugly head
reports at 9:45 today !!
forgot to include this on the video...this is time for Mon - Wednesday...the key areas jump out better on here
Click image for original size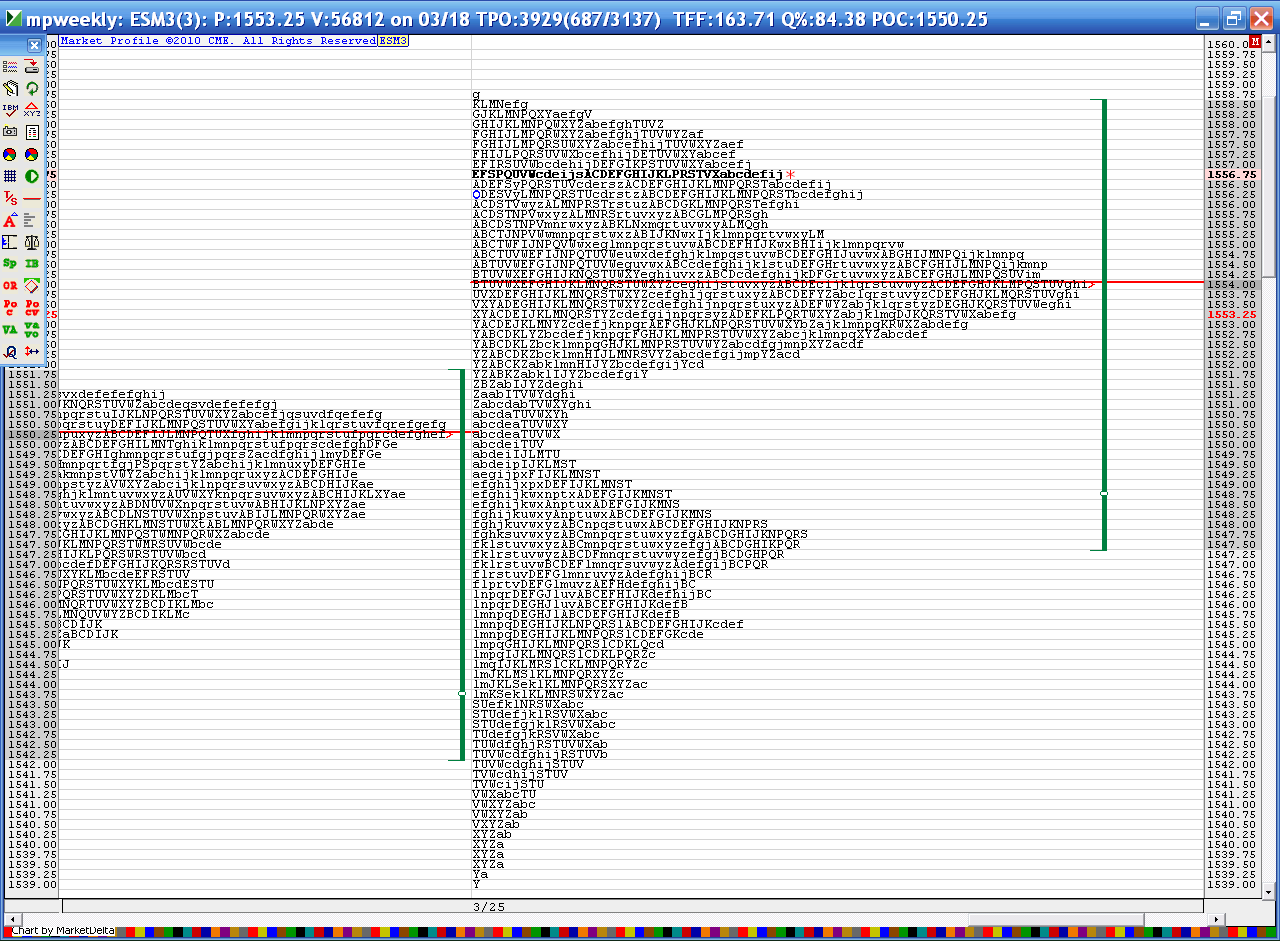 Duck,
was your sell limit order placed at 62.50 because you expected 62.75 or 63 to print?
the only reason I ask is because you make your own "market if touched" order by placing a sell with a limit one
tick
below the price level where you were willing to have an MIT.
I'm sure you've already thought about that. I just thought I'd mention it for general consumption.
thanks for you videos Bruce. They really put the prices into perspective.
cool Paul..glad they make some sense
Hi guys. SPX is at all time high - this will be in newspapers today

I sold the new high but I am only trading small....it is much harder to take this
fade
because we already tested the
IB
breakout even though we didn't test that
IB
high to the tic....it would have been safer the go into our key number first and then drop down for the test of the
IB
high
this situation is the opposite..volume is flowing into 61.50 now.. a
vpoc
Flip to the highs of the day..the ideal zone is really 63 - 64.50 for this short so we may be early
Didn't think I was gonna trade again today and hopefully this isn't gonna be too costly if wrong..if I am wrong it will be because they already tested that breakout point..... I understand the risk up here hence the reason to trade smaller
paul i expected the 63 to be printed this time..check my notes quick thou and your idea sounds good.never look at it that way either..i guess i got some tweaking to do on order placement..if you are wondering i cancel the 62.50.looks like i shouldnt of..lol,,.i think i am done for the day..have good easter everyone..
i'm trying to come all out at 60...just in front of that
single print
...damn this is slow
bruce now i am wondering how much the slippage would be on market orders? am i right to guess 3
ticks
?
if you think you catch a high or a low then it is always good to get out 2.5 - 4 points off those swings points....a more advance
pitbull
idea perhaps...bring that idea with
price action
points and you can see my 1560 target too..
the question is will they give me that..??
you can get slipped that much but usually much lower on average.
this
vpoc
is killing me because I know if all us sellers give up they will rush it up into the 63 - 64.50 with ease...needs to carck down here or i can't stay in any more
that's it for me that was the offical test for me.....as with many probabilities they are cool to know about but often very difficult to hold trades for..


I'm on daughter duty now and glad to be....I hope all enjoy the break from the markets and enjoy the holiday or whatever it is that you do this weekend !!