ES Monday 11-4-13
Kicking off Monday's trading chat with a tip to a much easier way to
add
charts/images to a forum post. I've added some instructions as a reply to the
Screen Capture Software
topic and here's a video showing it in action. Using this you should be able to grab an image and get it on the forum in seconds.
your commentary is great bruce...i just hasn't been active at all lately, hecne the lack of posts (other thatn my morning chart)
if we come back to 60.25 I will be stopped out....that's a big stop considering I got in at 57.50.....but this is a breakout trade and I have that key 58 - 59 and I know they can sometimes push that around a bit to take stops................channel players have an upper channel up here...I'm watching to see if we see some sellling off it now....if not then I will probably just exit at market to try to save slightly less than a point on my loss......this is a small campaign so keeping it wider is ok for me....
just went flat at 58.50...the bigger volume came in on an up close off that channel
here's channel line I was watching right at the 59 number.......no volume so no trading.....one good sell campaign was all they offered me today but at least we got that part right...so far that 58 - 59 is proving to be a real pain !
Click image for original size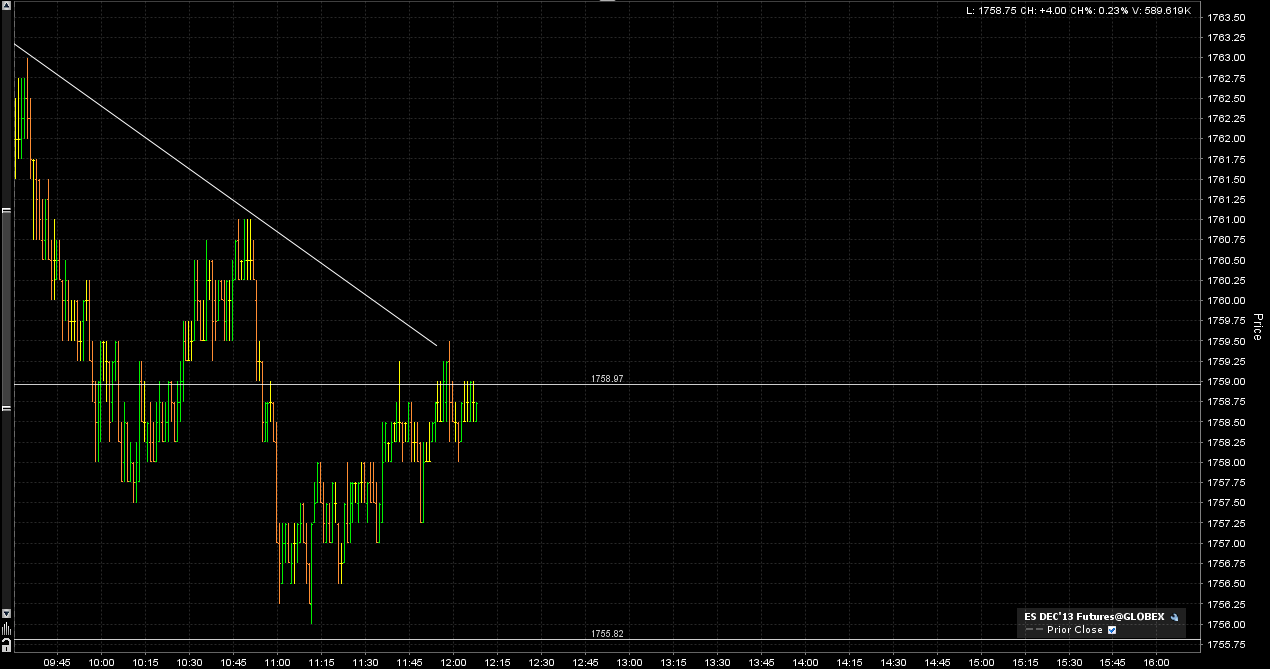 so far we have had only one 30 minute bar trade outside fridays highs....certainly seems to imply rejection of that high and acceptance back inside the range....this would also imply a trade back to the pivot and the close....so do we just blindly sell in the center of this volume building in the 58 - 59 range ? seems like we have no edge up in here...furstrating...I'd be curious to know what others think !
i was trying to get the long inside that 54.5-56 range i had marked in my chart but was left at the door...did not like the short too much after the open since internals were vey strong so chose to skip it...65.5 and above was the spot for me
regardless of having apparently rejected the break outside fri range i think they are gonna give another try...bulls have the upper hand, and bears could not even get to the
gap
fill
vpoc
area...pretty pathetic if u ask me
just sold 1760 and small...new highs will stop me out initially....targeting above that ledge at 58.25
thanks Nick...seems like it's just you and me pal....appreciate the thoughts...
i think there are a few other folks out there but post sparingly...the sloppy
price action
is certainly not helping much !
yep, u have those
triples
at 58 that can certainly help u out...
Originally posted by BruceM

just sold 1760 and small...new highs will stop me out initially....targeting above that ledge at 58.25

Originally posted by rburns

guess that didnt work
Hey rburns - did you drag that into the quick reply text box at the bottom of the forum?