ES Tuesday 11-5-13
levels I am watching.....that 58 - 59 is still the dividing line between the buyers who want last weeks highs and the sellers who want to get the lows

well they cleaned up the 60 "tooth" in the profile...now it would be really nice if they actually went back down to go get 57.25...that is the specific ugly price based on the profile only.....not a great time of day for me so I always remain skeptical of my own market reads...ha !!!
this looks like the 61.25 entry kool was looking for earlier
i couldn't take longs up at these levels...only shorts...the profile is just too ugly below...so i will miss any rally if it comes above 61...that 60 number is ugly again so I think they will come back down again for it....needs filling in....but in fairness I also thought the same about 57.25 and that hasn't happened either
this certainly doesn't give you the feeling that anyone is accumulating new longs....for me I am wondering how long last weeks midpoint will remain the magnet.before they fnally break away and get one of last weeks extremes
here's an updated version of the chart i posted this morning....they have respected the zones pretty nicely today, either on first touch or on the retest
Click image for original size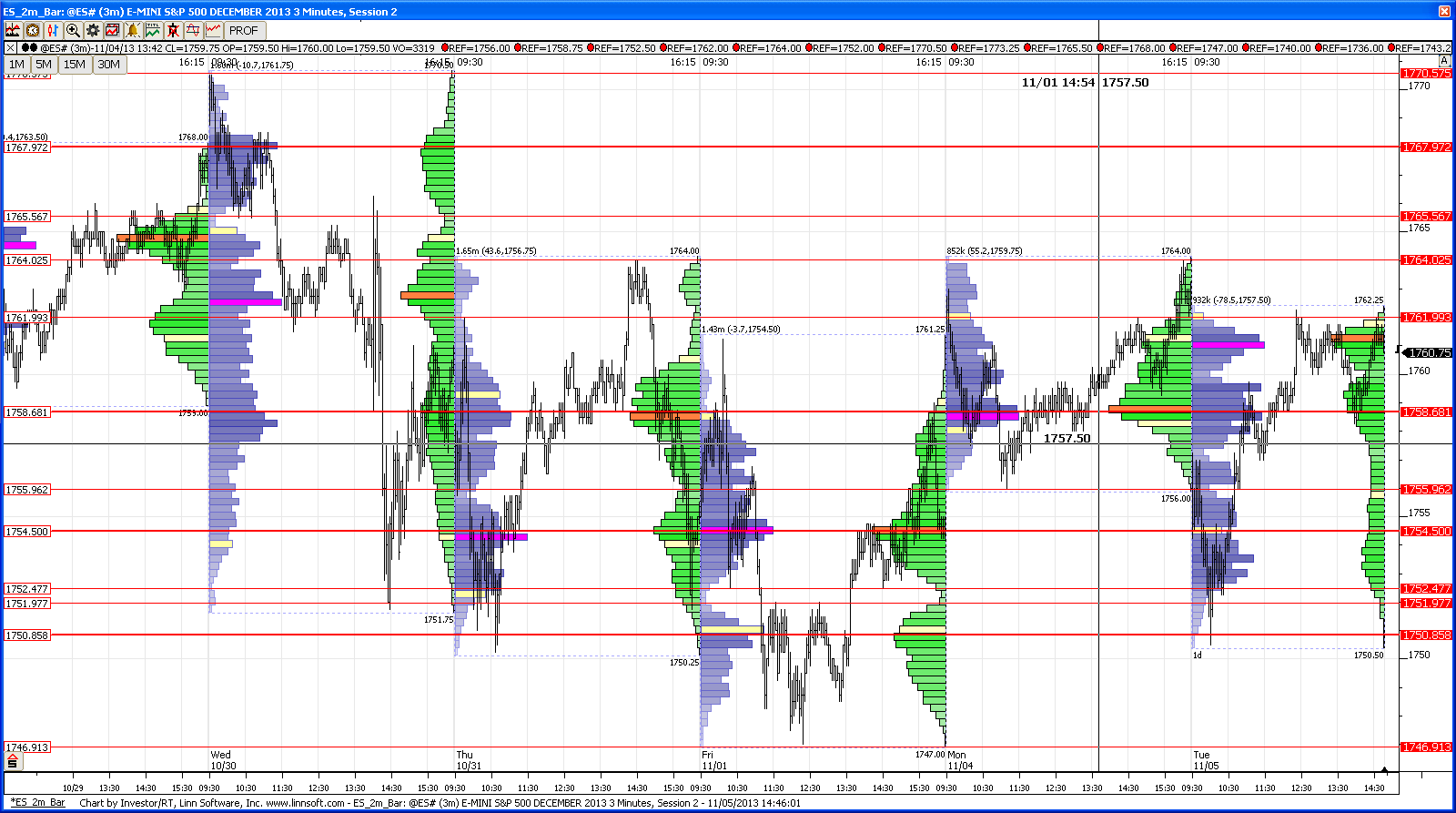 thanks for the update Nick

can see now why 58.50 held earlier

seeing a nice ledge formed at 60.50 now
if u start your daily profile in 'b' period then you will see that funny looking thing sticking out at 57.25......in ' f' period...it's just weird looking...I wouldn't be surprised if the Overnight tests that spot if they can't push it towards days end.. but the conflict I have is that the shape of the profile still needs to round out and I think the last 15 minutes of today ..somewhere between 4 and 4:15 p.m will see the market pass through 1760 price exactly........

just some more useless trading babble
Originally posted by rburns

Ho Ho Ho Thanks DT

You're very welcome - how easy was that?