ES Tuesday 2-4-14
can't fit all of the day session charts as the range was too big and the view would be too small....hopefully this will work going into overnight and tomorrow.....lots of lines repeat or come close to help create the confluence areas
bigger picture composite chart first
Click image for original size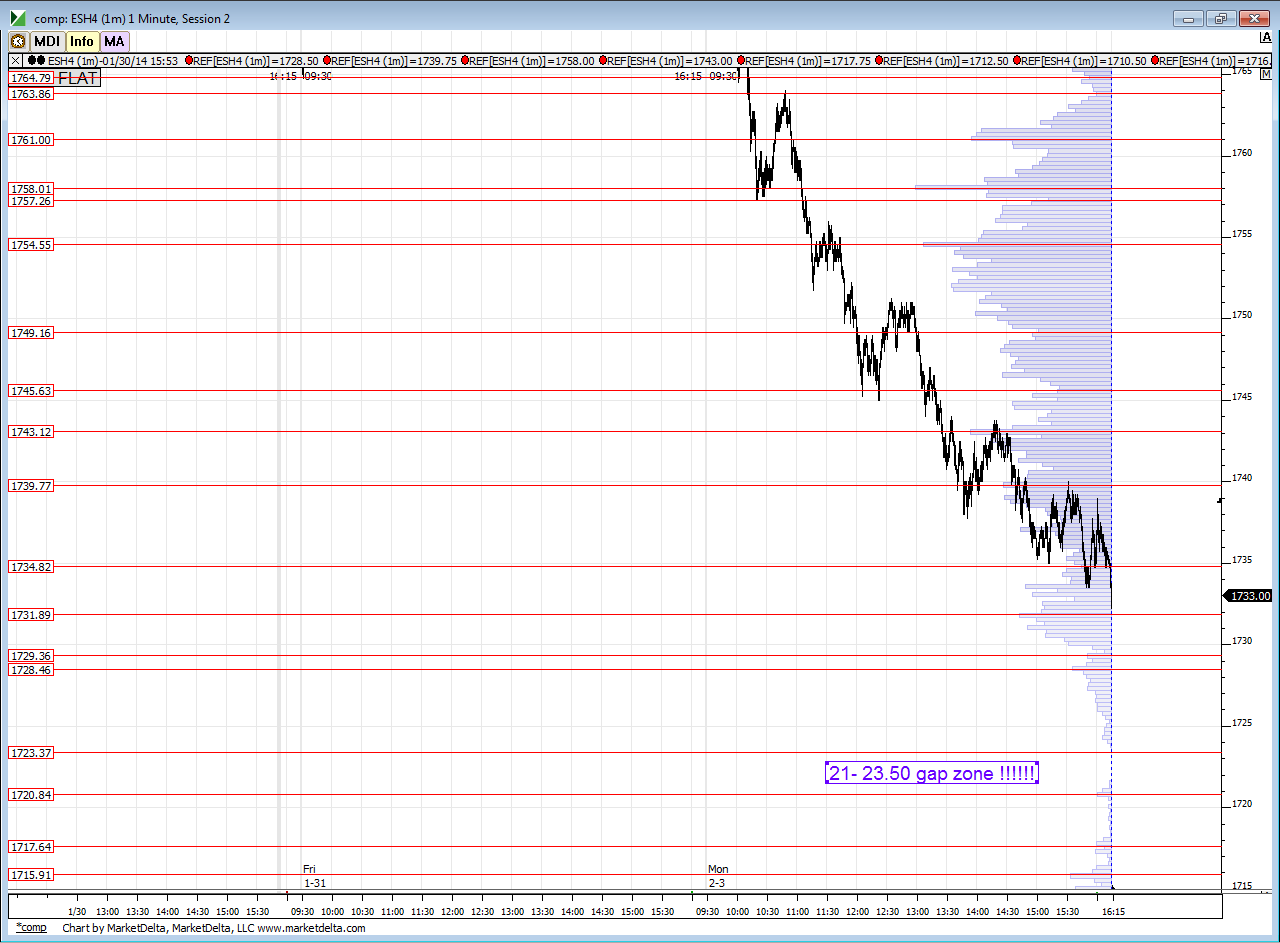 day session
Mp
chart - thin black lines are
single prints
Click image for original size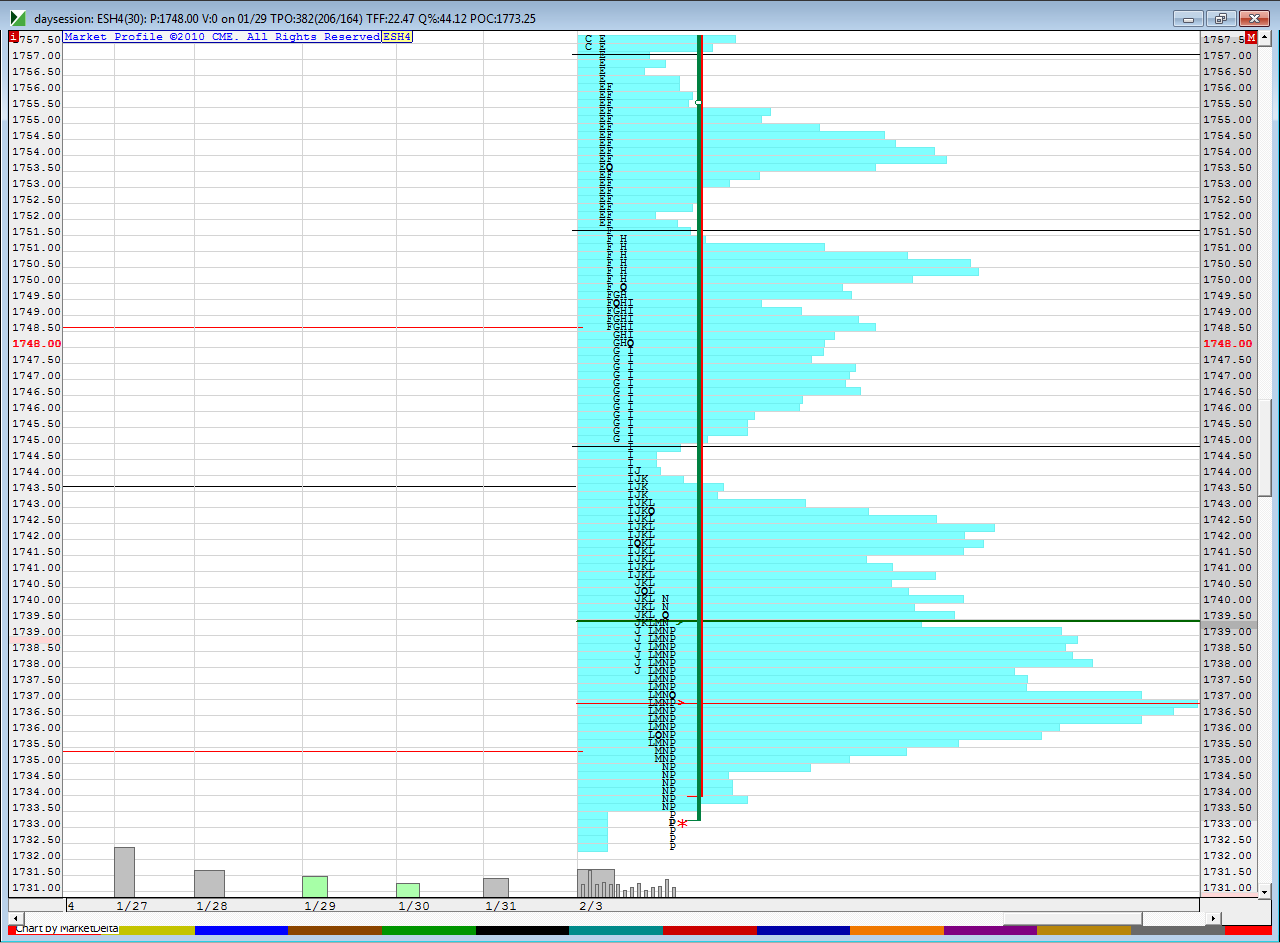 then my all inclusive chart to help find the key bell curves
Click image for original size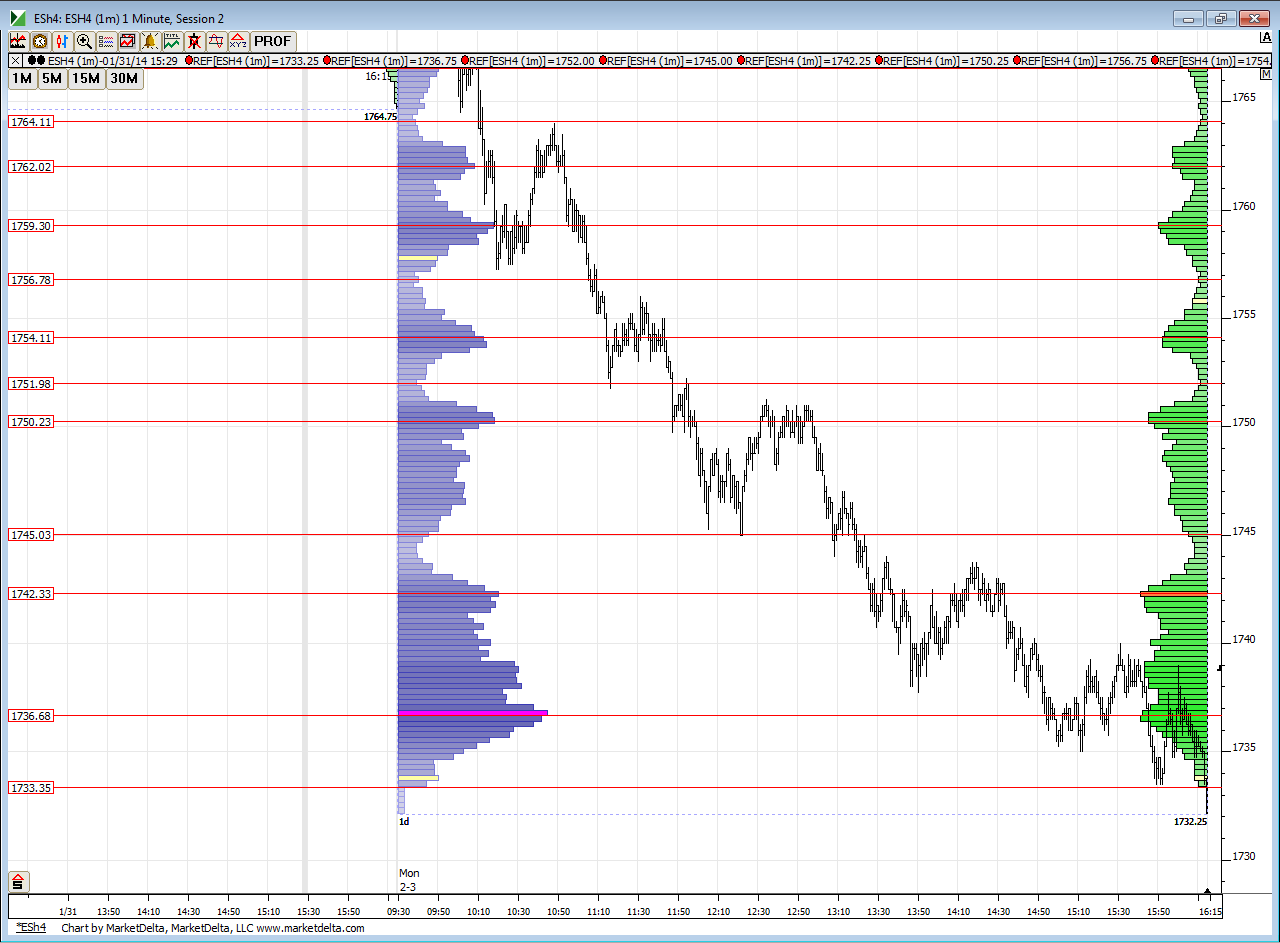 Examples of how I would create zones : composite chart has an LTN at 49 and I have
single prints
at 51.50 so 49 - 51.50 becomes a zone...but the bell curve chart shows a
LVN
and LTN at 51.98 so I would make the zone 49 - 52
another example..composite chart has an HTN and an LTN price at 43.12 and 45.63 ...and we have
single prints
at 44.75 on the
MP
chart...so that becomes a zone...but the bell curve chart has a
POC
based on one minute at 42.33 ( see orange line on the right) so I would have to expand that zone a bit and probably make it 42.50 - 45.50...bigger volatility makes the zones wider so that makes sense
zones I will be using on the downside if that happens later today are 28.50 - 30.50, 23.50 - 25 and 19- 21......those last two zones are part of the
GAP
ZONE...but so far it lloks as though we will be using our
POC
from yesterday at 39.50 and the
LVN
/
single print
above 42.50 and current
O/N
high
a longer term trader might be concerned about the possibility of the consolidation day forming today after such a big range yesterday...us day traders will just use the levels but also realize that the market may have more of a tendency to chop....( buy breaks and sell rallies)..the first 60 - 90 minutes will usually do it's range testing anyway and check out the key levels.... business as usual !
In general I think the safer trades will come in the following manner....a
fade
taken above the 45.50 would want to watch and target that 42.50 - 43.50 carefully as the buyers may re-enter there...if we are lucky and get under there then we have a chance to get back to the 39.50.
POC
..If you aren't trading now in the
On session
up at this 45.50 number then it would probably be best to wait and see what kind of reaction we get on any test to 42.50 in
RTH
....I'm trying small shorts now but will hopefully have better trading in
RTH
we know that failed trades up here will want to push to the next zone above in the 49- 51.50 area
a quick pic of how the
O/N
did against the lines created from the composite of time
Click image for original size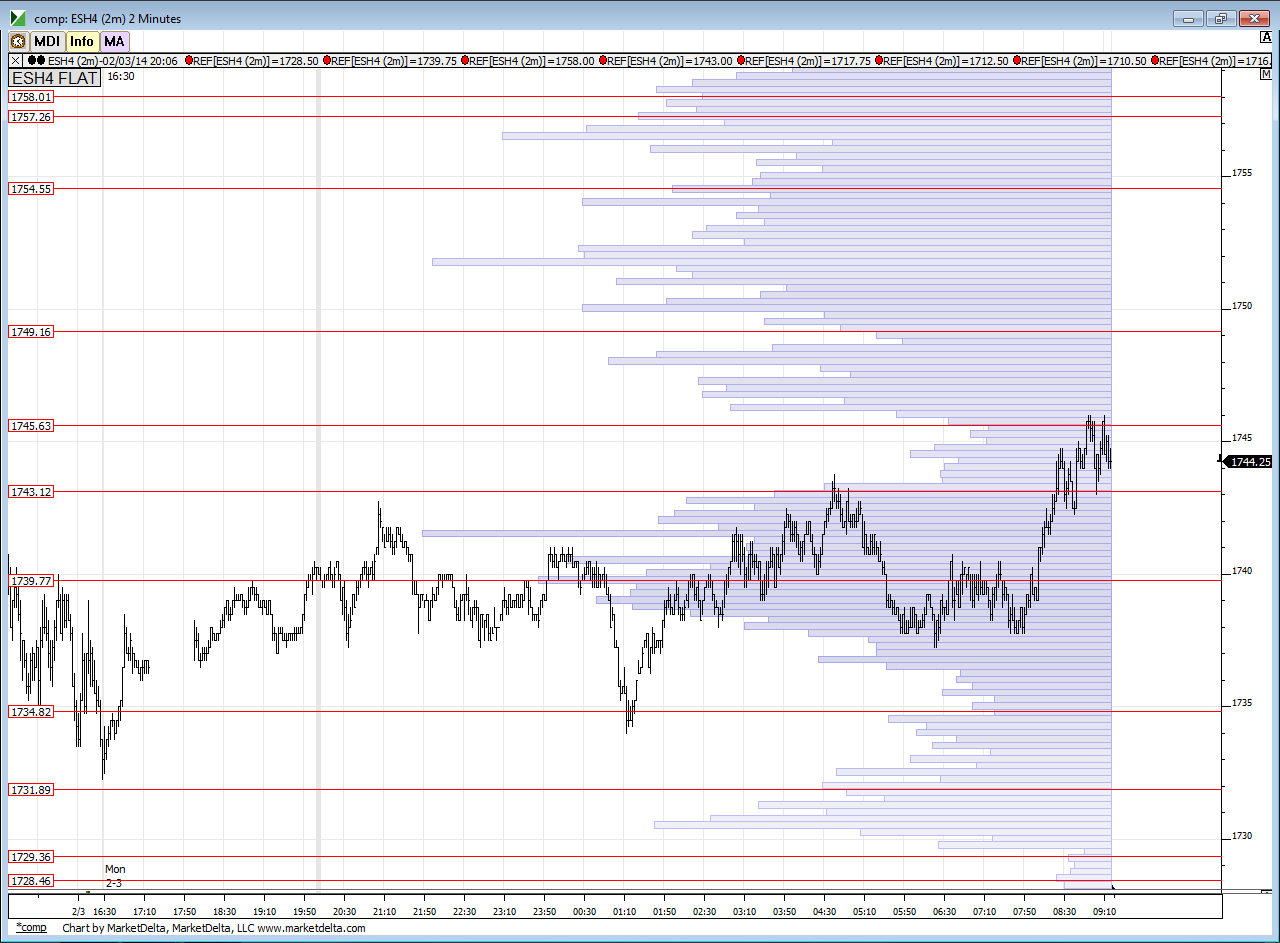 my plan in day session now is to sell at 45 after the
O/N
high is run....I will try this 3 times..
taking something at 42.50 to take a two 1/2 point profit...If buyers are gonna show up I think the 42.50 - 43 would be the spot...so logical to get out here and try to hold runners only...40.25 is my final target and will let others try to get that 39.75
on my data the
O/N
midpoint was at 39.50..that matched the
POC
of yesterday and the
VPOC
and
POC
of the overnight perfectly...looks like they are trying to reverse the role now of the 42.50 - 45.50 zone.....so it will be interesting to see if they can form support on a drop back down to it from the highs of 48.25...I will try one more
fade
but only if it goes into our next zone above into the 49 - 51.50 spot...otherwise we may get chopped up.....so far they are buying breaks and selling rallies...typical post trend day behavior.....next sell campaign will be small if they can push up into that zone ...
bruce and rburns how are your calls working out? i ask this with respect..
duck I commented on those at later part of yesterday but the bottom line for me was that I lost some money on those..I closed them out when price was at about 1741.....those were weekly options and have very quick time decay....so I think even if I was holding them now ( I bought them when price was at 47.50) I would still be losing some money....

thanks for asking and remembering...I hope Rburns is doing better with his..

I didn't take any sales in this upper zone but it would have been the same concept as this morning and that is this......since the zone was so big you would probably need to try at both edges...so sales at the 49 would have failed but sales near the 52 would have had to target the 49 and that would have made you some money....same thing happend this morning at the 42.50 - 45.50 zone....since that was so big that sales at the 45.50 upper edge of the zone would have to had target the lower edge of the zone...this is something to keep in mind when you have to create a zone and it is wider than you would like
Duck took a small loss will look to re establish should and when we have a retest of yesterdays lows
my data has one tic
single print
at 48.75....so if you think they are just messing with us up here at the 52 area then it would be ok to try shorts I think......we would not want to see this go above 54.50 as a loss point
you nail bruce..no trade or not.. nice