ES Monday 11-17-14
Volatility numbers for the day. We have already touched the 1/2 band in
O/N
Click image for original size

We are back in the big bell curve of last week so the waters are a little muddy. Will wait and see what to do.
here my basic plan...and most of it will require some patience I think....Friday was inside Thursday so we are even more on the lookout for possible break away mode....meant to say "testing a previous weeks high" at the start ...any time we have an
inside day
u want to watch those extremes more closely as consolidation will eventually lead to trend.....so we have been consolidating for a week...value has built higher than the previous week but the ranges have dried up......and so far we can't really extend ranges higher......this could be one of those weeks or even one of those days that makes new all time highs ( to clean up the all time high made in an overnight session) and then roll back down...I think longs should be cautious if we make new highs
Bruce,
It is again interesting to note that my volume for the week of 11/3 looks quite a bit different than yours. Again, must have to do with our different data sources.
See attached picture.
Click image for original size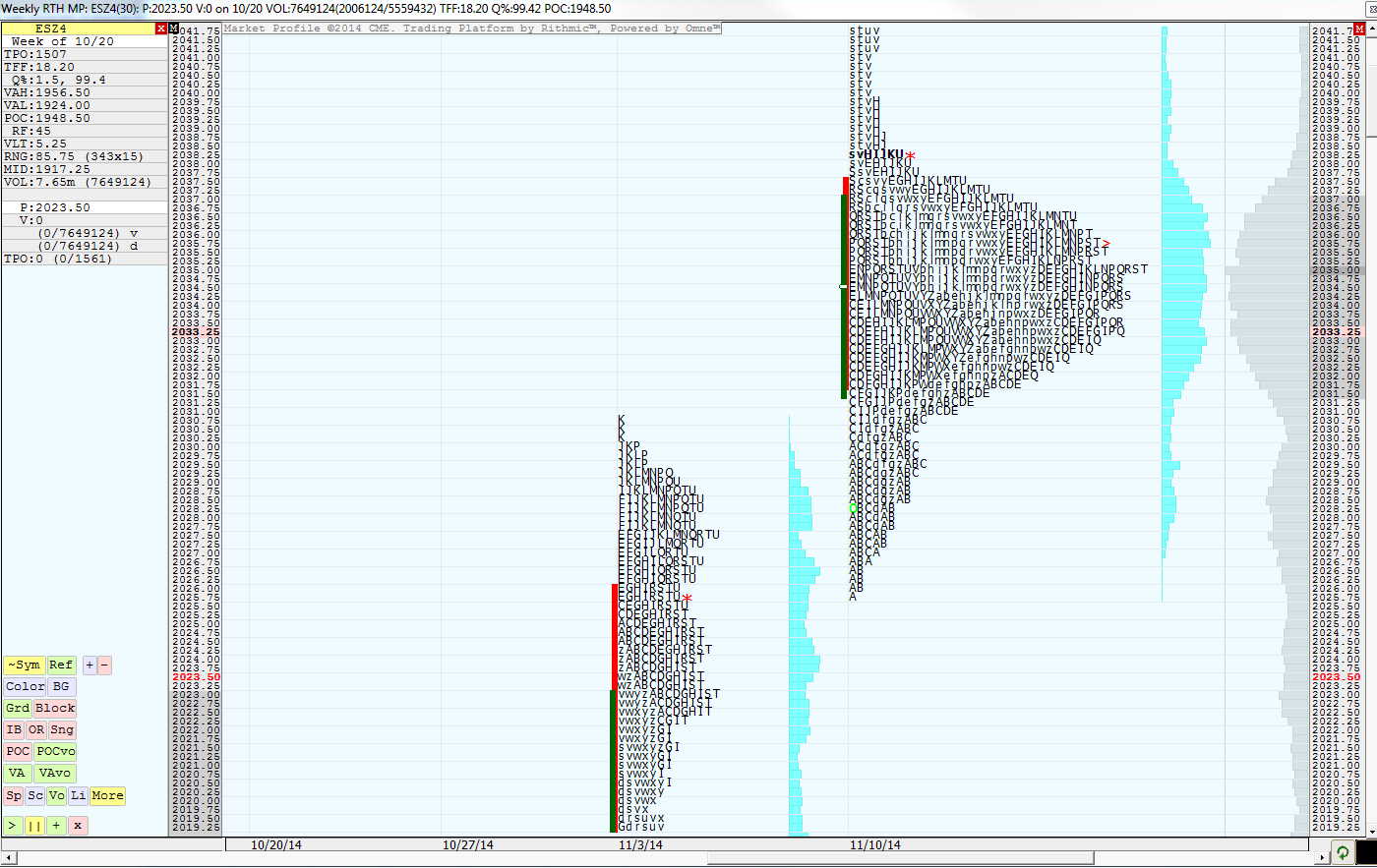 I have On
Vpoc
at 32.50 which implies that they are watching fridays lows closely.....so I am revising my plan to include fridays lows a bit more.....if we open and drop down under Fridays lows before they tag 35 - 36 magnet prices then I will also look for a long under there if I can see some form of selling dry up.......my ideal buy zone is still the one mentioned off the weekly chart though.........all buys under that 32 will be smaller as I do not want to be on the wrong side of a real breakdown if it comes today
that for one and then if you look at the week before, you will see the volume bars appear different as well as the
VA
are different. Could it be a difference in setting for the
VA
?
no On midpoint test yet and I have current
Vpoc
near Friday s
poc
.....but I am frozen....I just can't try the
fade
inside all this crap ...i gotta stick to my plan
value is ovelapping to lower so those trying to get
O/N
midpoint should eventually hit that but you certainly wouldn't want this to get back above Fridays
Va high