ES Thursday 1-15-15
Here are the bands for Thursday. On Wednesday we came within 1 point of the 2
SD
band which meant there was a 95% chance we were not going to close beyond that. Yikes!
The open itself was close to the 1.28
SD
value (80% chance) so that was interesting.
Maybe if we open so far off, we expect at least an attempt to close the
gap
? They tried and failed today but there was definitely a rally at the open. Something to ponder over...
Click image for original size

~433k of volume in
O/N
so far with a range of 41.25 points. Yikes! Looks like a lot of stops got run..
here is how the lines have worked so far in
O/N
. not too shabby at all...
Click image for original size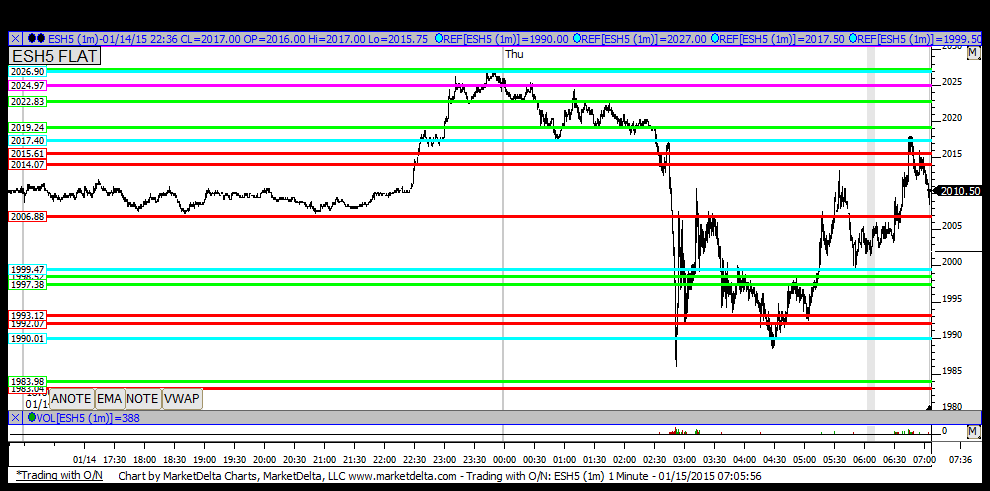 key price for me is 2011.25....refining areas some more I would look at 2014, 2019 ...2022.75, 2026.75 .......key thought for me is that if greenies get tested often then are they going to be able to rally it all the way to 2045 - 2047 or does it seem easier to come back to YD greenie at 1997.50...watch 2005- 07.75 too ..
lvn
from overnight and questionable spot at 2001 may come into play ....prefer sells even though I want market to rally today
video ramble for those who have time later...as mentioned YD ...watch Mondays bell curve and
single prints
from Tuesdays session to confirm...that is critical resistence if bulls are going to win over this week.....selling up near 14 now in On........midpoint sits below at 06.50...but target is 2011 because it is another zone
oopps...here is video ramble
on video I changed 2009 to 2011 as a key number...I can't have too many so booted the 2009
see if we can get back to 11.50
tyryingto hold 2 runners one for 07.75 and the other for 1997.50
revising final target to 1998 but this probably has lots of back and fill to do....so me getting final with take a miracle...