ES Thursday 1-22-15
Watching 36.50 - 39 ( 1/2
SD
band off weekly is here too)very closey as key area to let us know if they will go back to yesterdays highs, the 29 - 30 area and the greenie at 26.50...otherwise they should go back up for
O/N
highs up at 46 - 48 as a target....video goes over the lines if u have time
a chart of key zones
Click image for original size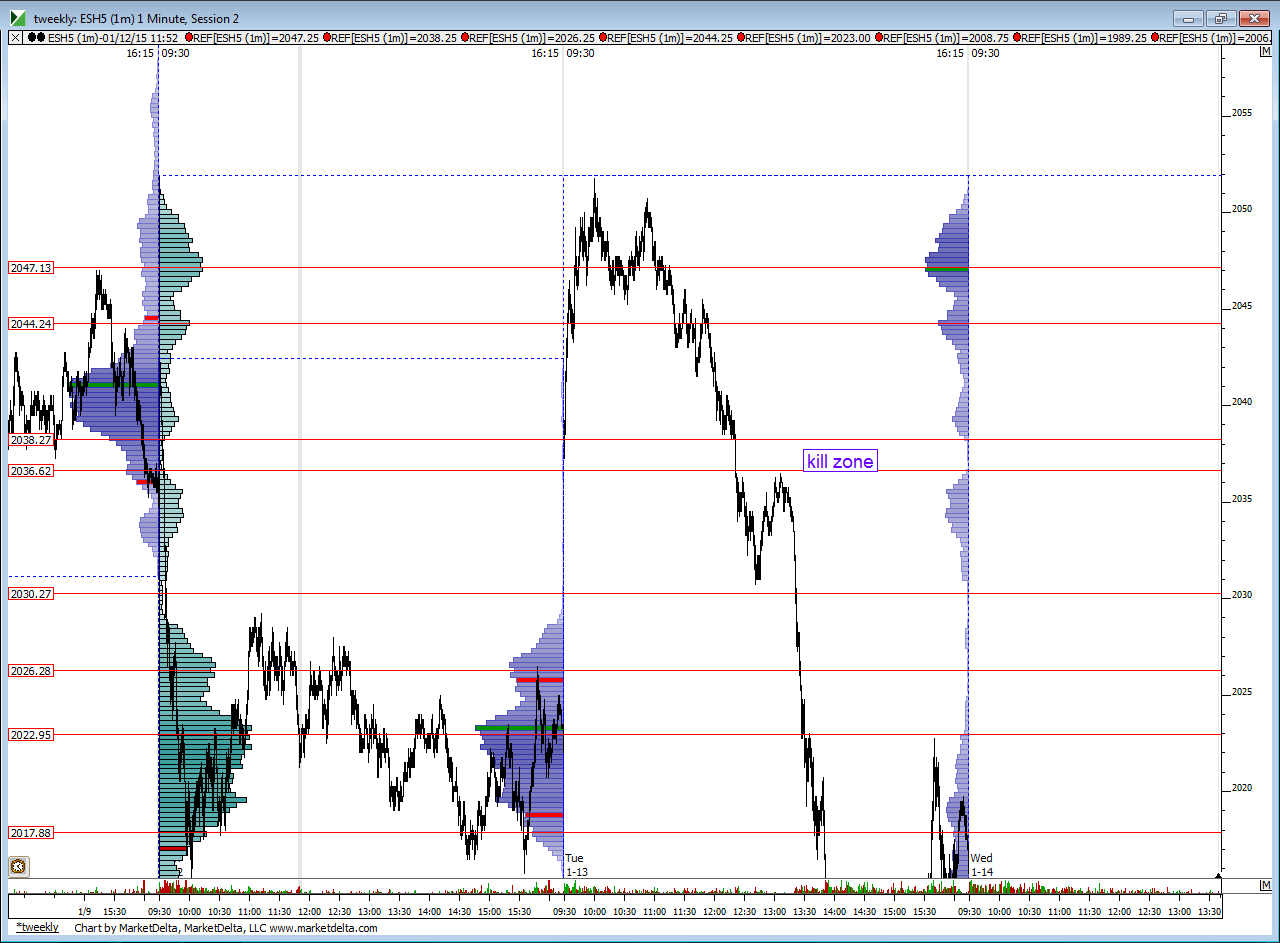 i'm not so sure...maybe today is just one big "P" pattern and the buyers are now struggling as they can't elongate the profile.......another reason to only trade in the morning when they are testing extremes or the last hour of the day........but last hour can trend so morning is better for me
very well could be the case. i could make a case either way so who knows.....
Originally posted by BruceM

i'm not so sure...maybe today is just one big "P" pattern and the buyers are now struggling as they can't elongate the profile.......another reason to only trade in the morning when they are testing extremes or the last hour of the day........but last hour can trend so morning is better for me

well they are consolidating above the
LVN
from 1-13 ..the KILL ZONE ...so that would support your upside bias
This week's Bittman is already stopped out. I use it only to trade
SPY
not /
ES
. It is based on theory that a touch of 1/4
SD
will result in the other side's 1/4
SD
not being touched before expiration. If it gets touched, trade is over as a loser. Regarding 252 or 365, the trade is done using weekly options thus we use trading days (252) any option trade with =/ >30 days to expiration gets calculated on calendar days (365).
It's the only option trade I do unless I buy a put or call for a directional trade.
Originally posted by BruceM

is that the only signal u use of his....? I haven't followed it but didn't like that they are using 252 days for their calculations....this week has half an sd at 2036.25...but that is is 365 days .so what would Bittman be doing with that...just curious...glad the pitbull made you money...that was a fast one

Originally posted by Big Mike



Originally posted by BruceM

oh man...not boasting but that was a cool trade........OK, OK....u can vote this one down for me being arrogant......that's the show for me today hope all enjoy the rest of today..u will be wacthing the upper part of the bell curve from 1-13....buyers want to keep this above the 36 -38 area I would think




Boast away Bruce, you've been on here calling trades for a looong time. Took the Pitbull after the +4 move and the as at fell through the Euro open IB. Lucky day, total time in 36 seconds.

Good luck to all.

Today's Bittman struggling a bit so far, we'll see.




u called it newkid......and thanks big mike
odds favor multple tpos at last weeks highs so i expect a retest today and/or tomorrow morning