ES Monday 3-9-15
Feb
VPOC
: 2099.5
Feb
POC
: 2091.25
Weekly
VPOC
: 2109
Weekly
POC
: 2097.5
All time high: 2117.75
Greenies:
2109.75/2110.75
2103.5/2105.5
2100.5/2101.75
2092
2069.25/68
2062
2052.25
2049/47.5
Practice telling your story for the day- with specific trigger points-. You don't have to disclose them if you wouldn't want to.
My story is I expect a smaller range today after Friday.
O/N
went 5 points- to the
tick
- and bounced above Friday's close.
leaning long to get back some of Friday, thinking 5 points off the open around
O/n
and fri lows.
Good luck to all.
here is my basic plan....I like the sells above the 72.50 magnet price.....but more important area above is 76.75 - 79 ( daily pivot here) and then 84 - 85 ( weekly Pivot is here too) but I am also throwing 82 into the mix but will treat 82 separate from the 84 - 85 ....weakness on Firday should spill over and no Midpoint test on Friday also
video babble more
a hard copy of key upside areas
Click image for original size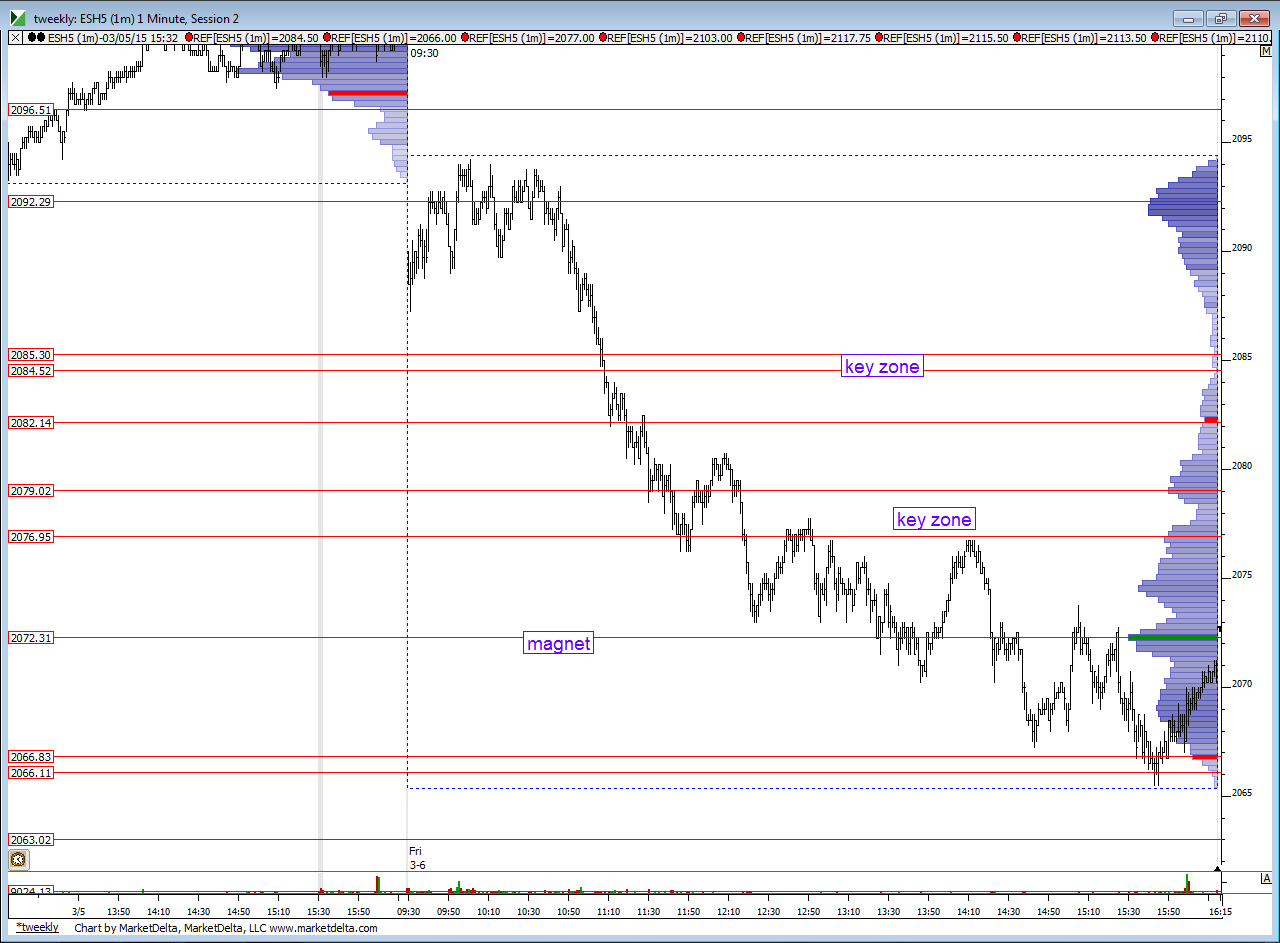 i like sells at 77, 84, 88.75 and buys near 68... will see how things shape up after the open.... i suspect i will not be able to get a play in for the
O/N
mid-pt because i might not get a good entry
and I would also watch 2069.50 as that approximates the cash unchanged level from friday...my On took Fridays
ES
close and will try to hold for midpoint......Hoping we have another opportunity in
RTH
for midpoint...so kind wish would pop up before the open
my story is that I trade the lines, use the midpoint and expect weakness on Friday to carry over a bit early monday....
anticipating new lows for midpoint test
starting new shorts at 74.75....new highs.....72.25 is target again..runners getting no love ....YET !!....front running nmy own zones by a big
margin
By keeping it simple and letting my wife push the buttons while I was out...the
fade
off 77 (5 points off open) and 83 (10 points off the open) worked sweet. Notice too how far those moves went, yup 5 points each (not that I target 5 points).
Good luck tomorrow!