ES Tuesday 3-17-15
Bands for the day. Good luck to all.
Click image for original size

Feb
VPOC
/
POC
: 2083.5
March
POC
/
VPOC
: 2067/39
Weekly
POC
/
VPOC
: 2038.75/39
All time high: 2117.75
Greenies:
2085
2064.5
2052.25
2050.5
2036
2029.25
2022.75
-5 from Y close doesn't seem to have much influence today. Will wait for +/-5 off open print.
here's how I see it...gonna be cutting back on Trading Vids...taking too long and options stuff is taking over a bit but hoping to keep posting some charts etc....going for midpoint and then expect to see some selling back into the LTN area below...I think that needs to be filled in...I'm on the 63.25 now but think better longs will come in
RTH
or after 9 a.m if we can hit 59.25 or 57 area
edit...what I think are the most important lines to be watching hard copy
Click image for original size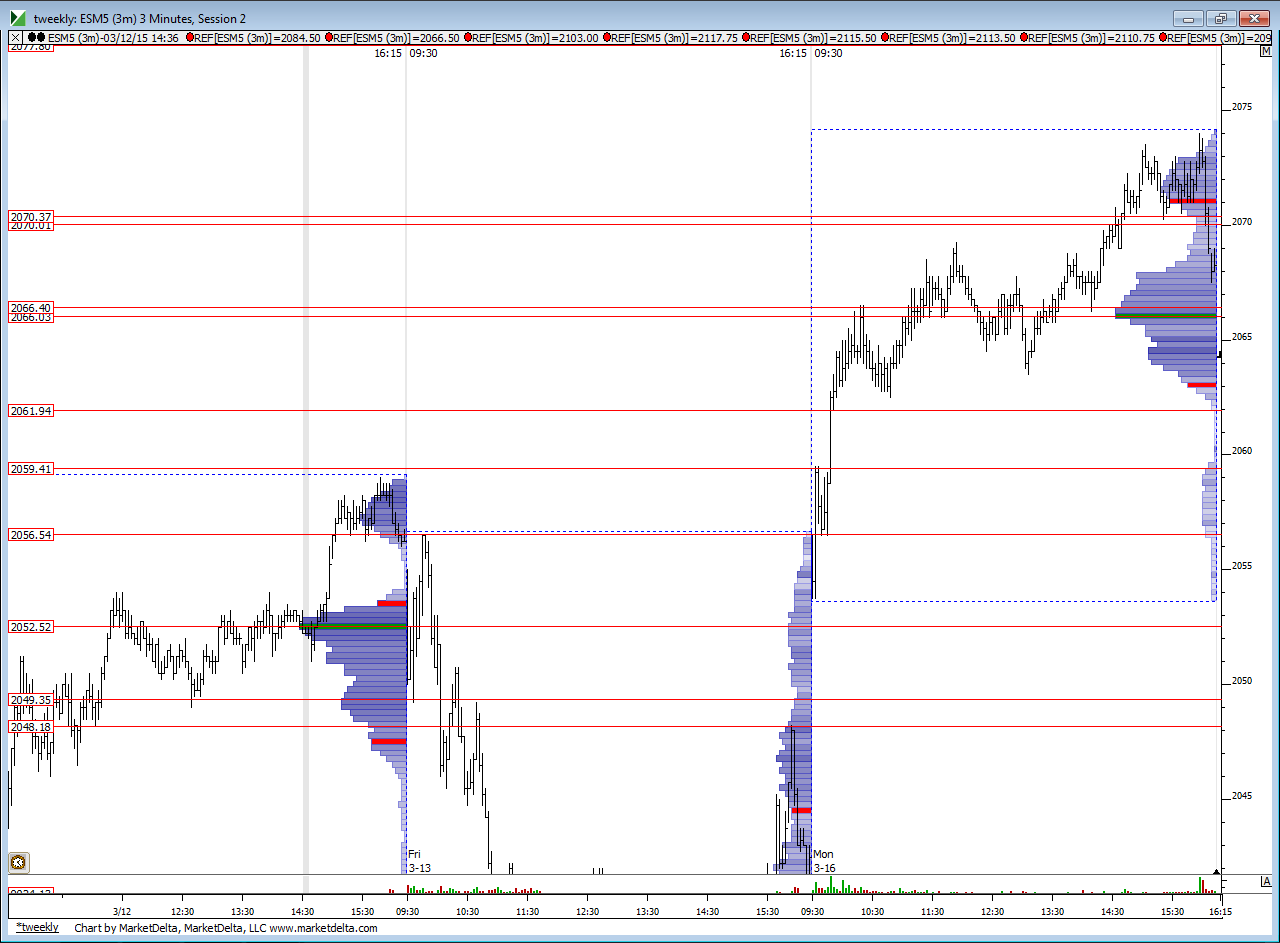 starting
rth
longs at 62 even,,,want to get back above YD value quickly...will try multiple small times at my key lines this morning..so just at
single print
edge is a good first place
cash is almost at 1/2 sd band on downside according to options market makers
taking most off at64.50........don't trust midpoint and center of that bell today
Would also sell 68-69 whichever comes 1st
best for me was that 66 center...flat now and not planning on doing much else
-5 worked great. i used it as my exit and couldn't get long in time. Done for the day too Bruce.
Options wise, i have an Iron fly on in
TLT
(bonds) Sold 126 put and call. Bought the 116 and 136 wings. Flat now, April expiration
Good luck to all.
Mike and Bruce..you guys are the tops...great stuff!!!
Good for you Bruce!
Your son will thank you a thousand times over if/when he gets the trading bug. Give a man a fish/teach a man to fish and all that good stuff.
Your vids and charts have opened my eyes a great deal as has big mike's posts. Appreciate the time you and everyone here takes to help others.
An options thread would be great. I'm dipping my toes in and having a tough time figuring out
TOS
with regards to what the
margin
requirements are etc. as well as grasping the nuances of getting out of a trade and when.